Help pick the SewStylish Fall Fashion Challenge winner!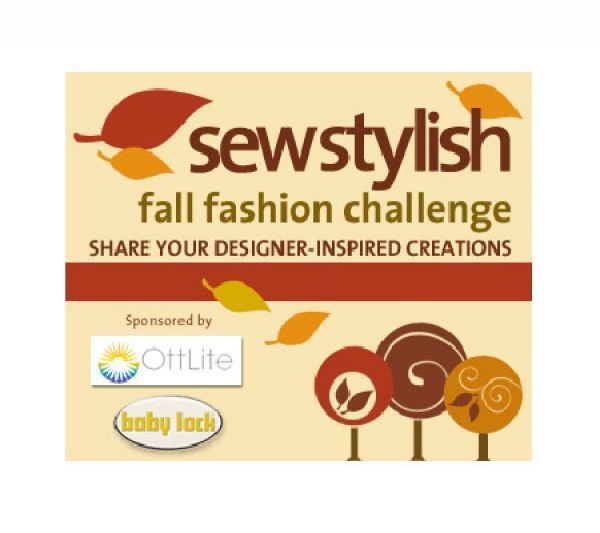 There were so many fantastic garments entered in the SewStylish Fall Fashion Challenge that we didn't know where to begin. It was a difficult job, but we have managed to narrow down the entries to our top five. Now we are asking you to vote to choose the grand prize winner.
To cast your vote, head over to the poll on SewStylish.
Winner will receive:
The Ottlite Craft Plus Floor Lamp: Shed a little light on your sewing projects with this amazing lamp. See colors true to their actual tones with the patented bulb, and adjust the flexible neck that's perfect for any working area.
Baby Lock Sophia Embroidery and Sewing Machine: Start sewing and embroidering with BabyLock's Sophia Embroidery machine. This machine does double duty with a removable embroidery bed and 70 built-in embroidery designs. The machine also has 67 built-in stitches for regular sewing and comes with 8 snap-on presser feet.
Threads Industry Insider Techniques DVDs, Volumes 1 & 2 : Learn techniques and tips from the pros with these DVDs. Straight from the editors of Threads, these DVDs are full of know-how any sewer can't live without. Perfect for sewers of any level, this collection will become an invaluable tool in your sewing room.
Vote in the poll below before 11:59pm, Tuesday, October 6th to have your vote count. Winner will be announced on Wednesday, October 7th.
Scroll down to see more images of each design along with photos of their designer inspirations. You can also read on to find descriptions from the designers on how each garment was created and how their inspiration played a part in their designing process:
Flowing Gown by JFulks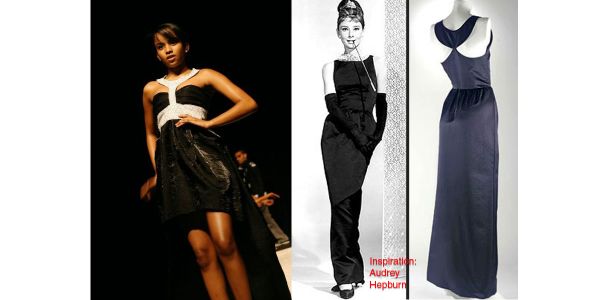 For this dress, JFulks found her inspiration in one of the most famous fashion icons of all time–Audrey Hepburn. She took the back of the design and brought it front and center in a textural play that's both elegant and fashion forward.
"This is my submission for the fall challenge. I was inspired by the back of the infamous Audrey Hepburn'sBreakfast at Tiffany's black dress. I was more inspired by the back of the dress, therefore I brought that detail to the front of the gown that I created.
The gown is made mostly out of Foil Crush 100% Polyester with digitally printed cotton for the top detailing. The gown is has a shorter length in the front with a long flowing back."
Fun Spring Dress with Pockets by Lauraleeva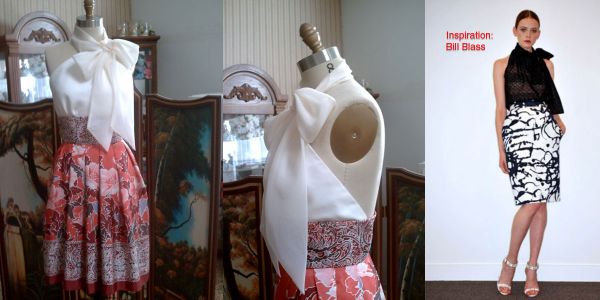 Lauraleeva created this dress with inspiration from Bill Blass. We love her use of color and print for a ladylike dress that's perfect for day and evening.
"I was inspired by a black and white Bill Blass design when making this fun spring dress. I do not know if the Bill Blass design is one or two pieces, but I decided to make my design a one piece dress so it is easier to wear. I made my own pattern for this dress by draping it on a dressform. The skirt and midriff of the dress are made of silk and the bodice is a sheer cream polyester. I also wanted to make the dress more fun for spring so I used a pretty floral silk. I liked how the Bill Blass design ties at the neck and has pockets, so I kept both of those elements in my design. But I wanted my dress to have more movement so I decided to make the skirt of my dress fuller and pleated, which gives it a fun swing when the wearer walks. The bodice of my dress if cut on the bias and is lined with two layers of lightweight cotton to avoid sheerness and to add comfort. The midriff of the dress is fully boned to add structure. I did a lot of hand sewing on this dress including the hand stitched blind hem."
Ivory Strapless Dress by abit2011
Abit2011 created this stunner with inspiration from Christian Dior's womenswear collection in 1991.
"This dress was inspired by the menswear meets womenswear collection by Dior in 1991. The dress is made from a cotton blend stretch twill, and the accents are done with a cotton plaid flannel. I created the facings for the garment in the accent plaid material so that when folded back, the facings are exposed at the front. I made piping from rattail cord and bias strips of the plaid fabric. I draped the dress in muslin to make the pattern. The opening is a center front metal exposed separating zipper. I played on this metal inspiration by adding hand-linked chainmail to the neck piece and back embellishments. The neck piece gives this garment the extra flair to be a designer piece. For the neck piece, I pleated a small plaid section and frayed the end of the fabric to create a feather-like appearance. Then I added the brass chainmail which I linked with pliers. I embellished the garment further by adding a bias strip applique of plaid, ending with a small bow at the small of the back. Over all, I am very pleased with the way this garment turned out, and look forward to wearing it!"
Anglomania-Inspired Plaid Vest by Very Prarie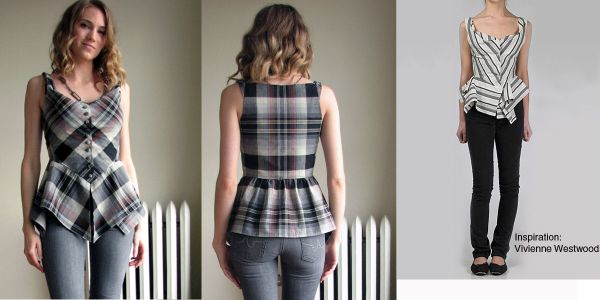 Here user VeryPrarie took inspiration from Vivienne Westwood to make a cute and stylish vest. Her perfectly matched plaids and effortless style make this piece a true standout.
"This vest was inspired by a Vivienne Westwood Anglomania top. It's a great piece for fall because it can be worn alone on warmer days or layered over another shirt when chilly. I used Vogue 8385 to construct the top and drafted an L-shaped peplum pattern to better resemble the designer original. I carefully lined up the plaid cotton fabric and added a row of covered buttons to the front. My favorite part is that the inside is completely finished with rayon lining, so it looks just as nice as the outside."
Colorblock Knit Dress by ahallet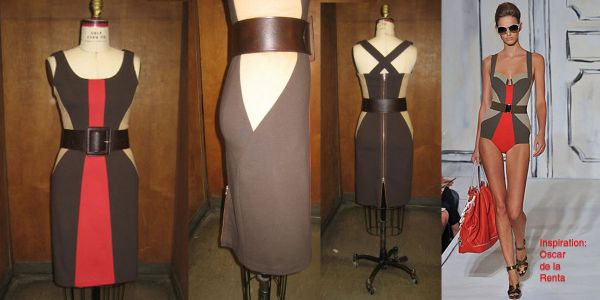 This knit dress was created by user ahallet. We just love how they took an Oscar de la Renta swimwear inspiration and transformed it into something you could wear every day.
"This colorblock knit dress was inspired by the swimwear in Oscar de la Renta's summer 2009 line. The colors and weight of the fabric are perfect for transitioning into the fall months. The dress can be worn as a sheath or with a long sleeve stretch top underneath. I draped the design on a size 6 form as shown here. The design is intended to be slimming, and the assymetrical side seam adds visual interest and makes the dress a bit more special. I used a 2-way zipper along the center back seam, which gives the wearer the option of creating a longer 'slit' in the back."