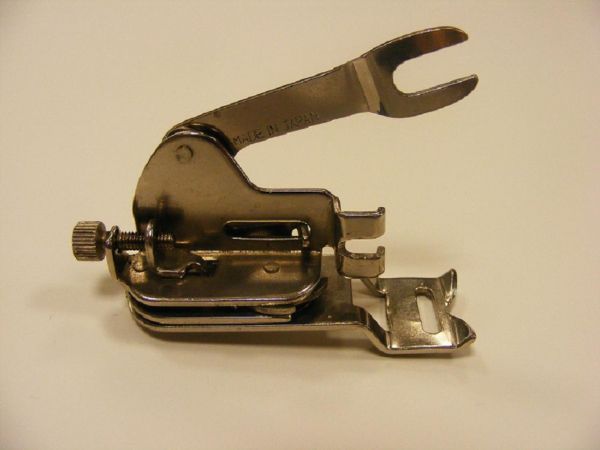 In September, I sought the assistance of Threads online readers to help figure out the purpose of an old sewing machine foot that I have never been able to use. The foot had been part of my mother's collection of sewing notions that I inherited many years ago. As in most mysteries, a combination of input from many sources led me to the solution.
Many of you thought it was a ruffler. I didn't agree, because I also have an old ruffler. Although they look very similar, when you hold them side-by-side, they are quite different.
Others believed it was a zig-zag foot for an early machine that didn't have zig-zag capability. My mother's machine could only make a straight stitch, so this was a good possibility. But when I tried to use it on my machine, the base of the foot didn't go down far enough to meet the throat plate. (All of my mother's old specialty feet fit perfectly on my machine.) It wasn't until I read the comment from sewnso for about the third time that the light-bulb went on in my head. She said, "I thought I was one of few that had this heavy sewing machine foot…" Although she was incorrect about the use of the foot (she also thought it was a ruffler), her word "heavy" got me thinking. My mother made lots of coats over the years for herself and for my sister and I. I pondered the possibility that perhaps this foot was a specialty foot meant for heavy fabric. I took some heavy double sided fleece and gave it a try. To my surprise, it stitched a beautiful zig-zag stitch. It was interesting to watch, because the needle stitched a straight line, but, as many of you suggested, the foot actually moved the fabric from left to right as it stitched. The button screw at the back of the attachment controlled the width.
I'm thrilled to finally know what this foot is for, but even more importantly, it made me truly appreciate my sewing machine. My machine may not be the newest machine on the market (far from it), but at the touch of a finger, and without special attachments, I can create many different zig-zag and other stitches that my mother and grandmother could only have dreamed about. How fortunate we sewers are in today's world. Not only do we have great machines available to us, but we also have incredible notions to make our sewing easier, quicker and better constructed. Are we lucky, or what??
Thanks to all of you who helped solve this mystery. Watch for another mystery attachment coming soon.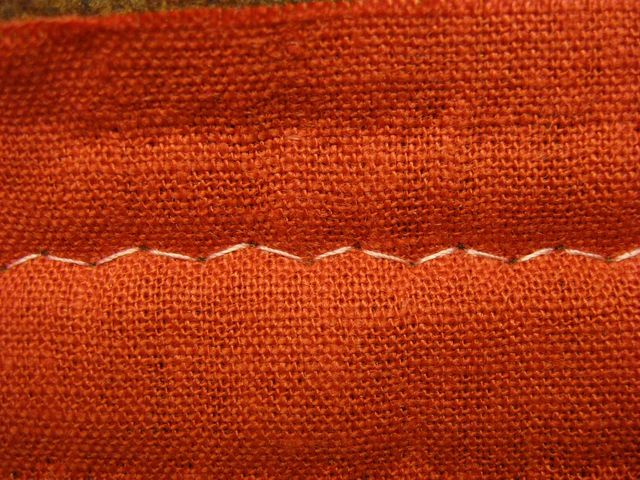 The mystery foot is actually a zig-zag foot for a straight-stitch-only sewing machine. It is designed for use with heavy fabric. (The linen shown in the photo was added on top of heavy fabric to make the stitches more clearly visible.)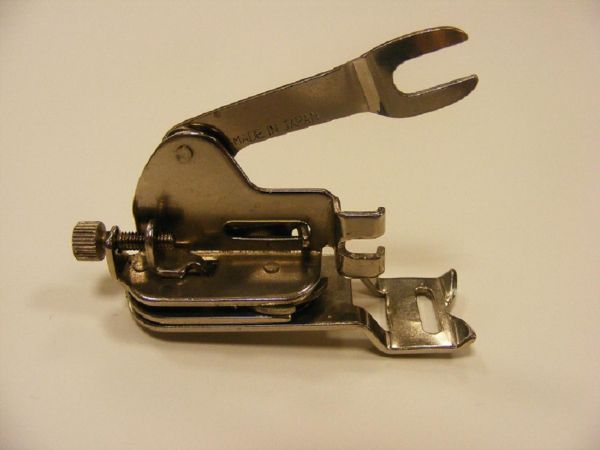 Readers helped solve the mystery of how this unusual sewing machine foot is used.