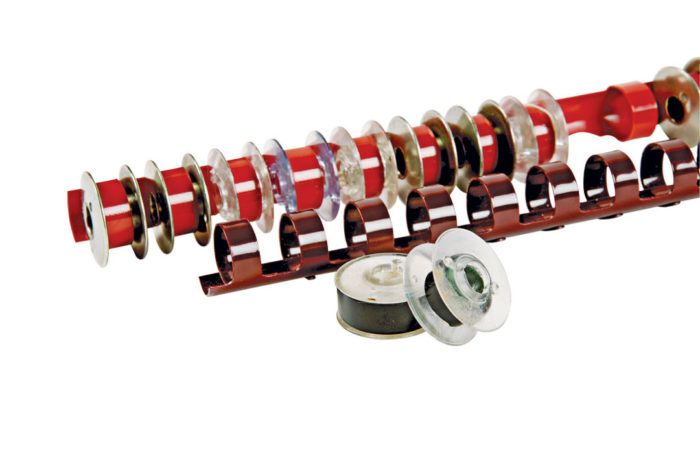 When my husband cleaned out some of his paperwork, a notebook with a plastic, spiral-looking closure was unearthed. When I examined the closure more closely, I realized it was not a spiral at all; each section of the binding was a separate plastic tab that curled back around itself to hold the pages in place. The binding was easy to remove from the paperwork, and I found that I could use it to store my bobbins and hold their loose threads in place. Simply insert a filled bobbin into one of the tabs, and then wrap the binding around the bobbin. Turn the bobbin to secure the thread tail.
There are up to 25 tabs on each binder strip, and they're easy to store with my notions. I can leave the tabs connected and store my bobbins in one strip, or I can use scissors to cut the tabs apart. These binder combs can be purchased inexpensively
at stationery-supply stores. I've found that smaller diameter bindings (3⁄8 inch or 1⁄2 inch) are the best fit.

-Elizabeth Martin, Brantford, Ontario, Canada
Do you have a good sewing tip? Send it in, and we'll pay you if we publish it in Threads magazine. We'll also select the cleverest tip in each issue, and the winner will receive a gift package from Taunton Press including Threads DVDs and other instrucional sewing books.
Send tips to:
Threads Tips
POBox 5506
Newtown, CT 06470
or by email at:
ThreadsTips{at}taunton{dot}com