[CLOSED] Upload photos of your costumes for a chance to win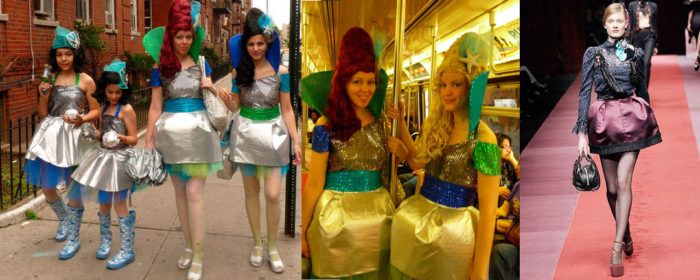 I think sewers must love Halloween–I know I do. Every year I usually make a costume that I spend almost the entire year thinking about and then finish last minute as I'm running out the door. Yes, you can go to the costume shop and get an outfit in a bag along with a smashed wig to match, but where's the fun in that?
Are you making your costume this year? If so, upload it to the Threads Halloween Costume gallery for a chance to win a prize pack from the Threads editors.
Enter your handmade costumes into our Halloween Costume gallery by 11:59pm, November 8, 2009, and you could be one of five winners to take home the prize.
One winner will be selected for each of the following categories:
Best Adult Costume
Best Children's Costume
Most Creative Costume
Best Use of Recycled Materials
Scariest Costume
You could win a prize package including:
Threads Fitting DVD Series
More Fabric Savvy by Sandra Betzina
Couture Sewing Techniques by Claire B. Shaeffer
Easy Guide to Sewing by Lynn MacIntyre and Marcy Tilton.
ENTER NOW!
See official rules for more details.
To get you into the Halloween spirit (or just perhaps inspire me to get my butt in gear and finish my costume already!), here are a few of the costumes I've made over the years. Hopefully they'll inspire a laugh or two.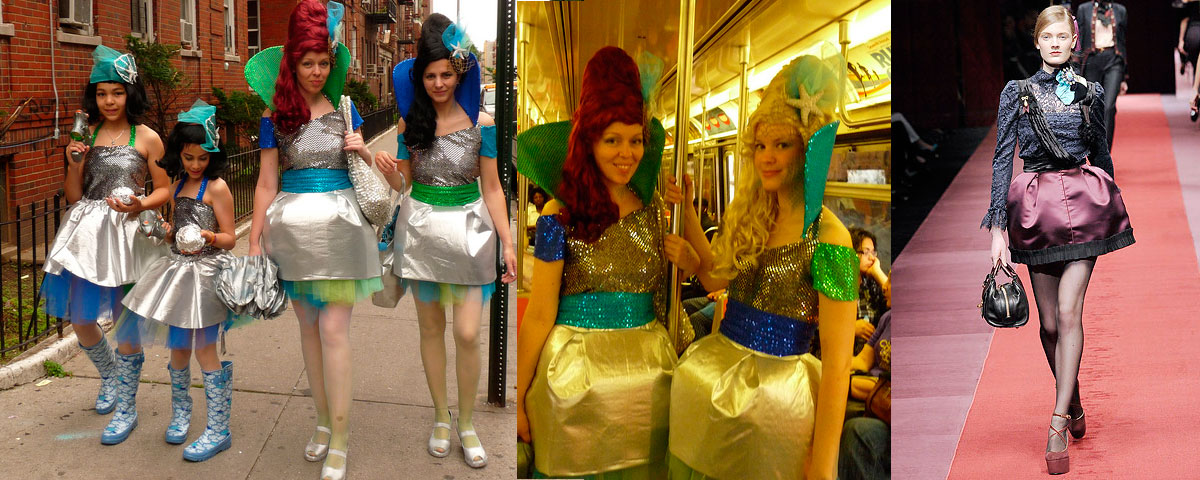 These are the costumes I made for this year's Mermaid Parade. I was inspired by the D&G skirt at far right for the adult skirts. The white tights were dip-dyed green at the feet, although you can't hardly see it in the photo. The parade ended up being drenched in a rainstorm and our space-villan collars turned into sequin capes. Note to self: buckram doesn't work when wet.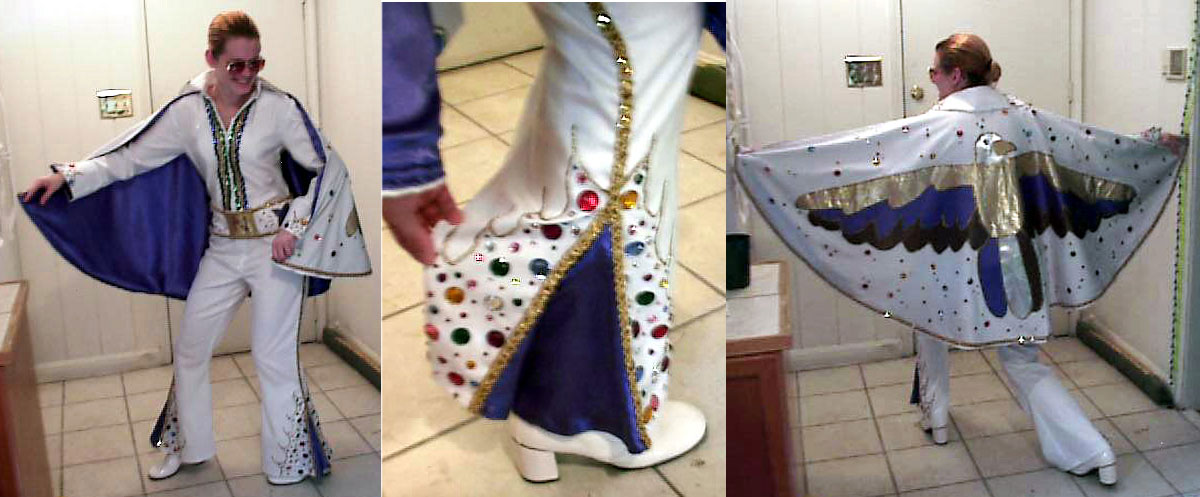 In 2001 I was in college and a manager at the local Hancock Fabrics store. I was told I could make my own Halloween costume for free, as long as I put it on display in the store during the month of October. Needless to say, I used almost every jewel that was available in the store to create my very own Elvis costume, circa the Vegas years. I wish I still had this costume, although all night long I was telling people that I was Elvis and NOT Evil Knievel.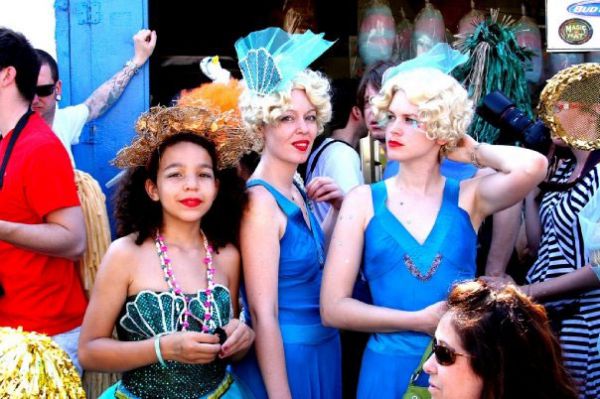 These costumes were dresses I made for the Mermaid Parade in 2008. They started as vintage dresses, and I didn't end up altering the originals that much.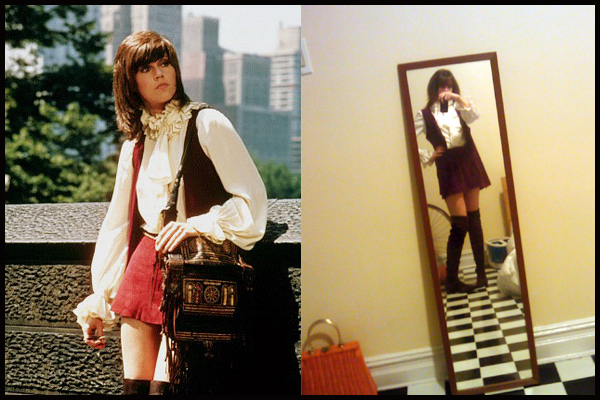 For Halloween 2008 I decided to be Jane Fonda in the movie Klute (that's Jane to the left, and my version to the right.) I'm sad to report, however, that this is the only photo taken of me that entire night, despite the fact that I spent quite a few nights crafting that blouse from silk and the rest from suede. I have fantasies of remaking the movie still at left which was taken in Central Park, but my hair's too long now and my costume mysteriously ended up with nacho cheese stains all over it.
This year, I'm going as Rachel the Replicant from the movie Blade Runner. I almost have the jacket done, complete with massive shoulder pads. I haven't started the skirt yet, but I figure that will be a piece of cake after that jacket. Below is a picture of Rachel along with the fabrics I chose to make my version of this sci-fi classic.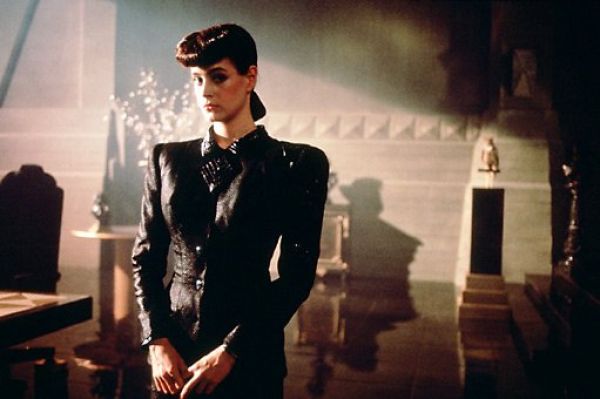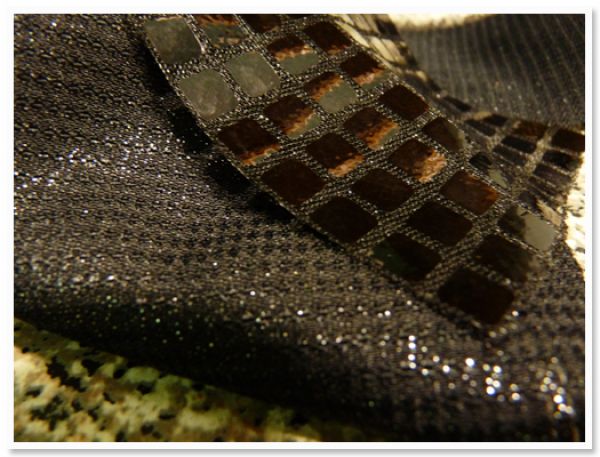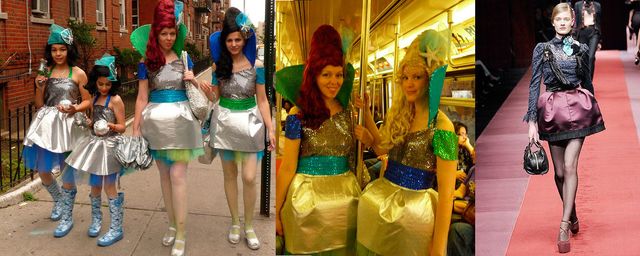 The costumes I made for the Mermaid Parade in 2009.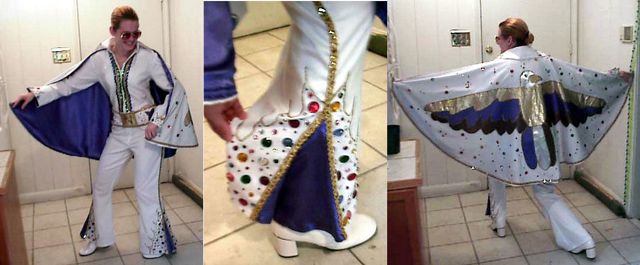 The Elvis costume I made in 2002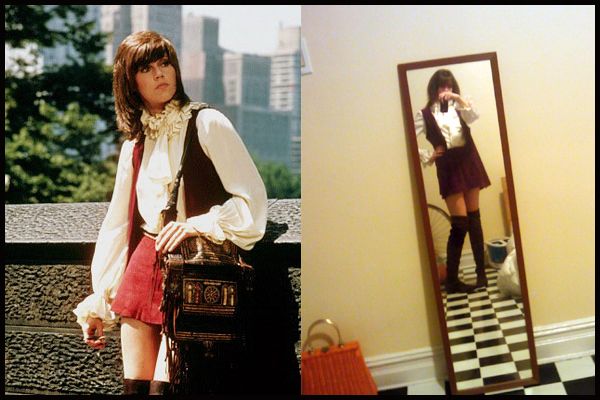 The Jane Fonda costume I made in 2008.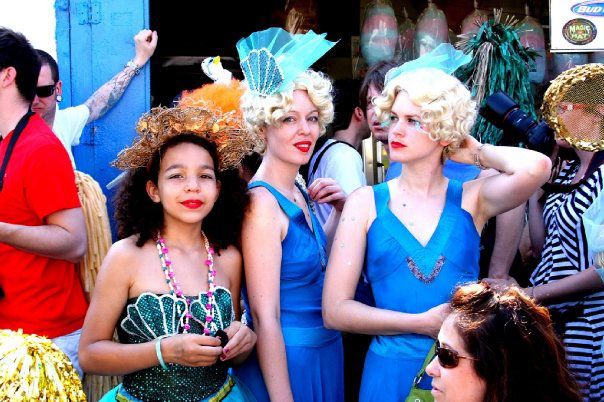 Costumes I made for the 2008 Mermaid Parade.