[CLOSED] Halloween Costume Contest 2009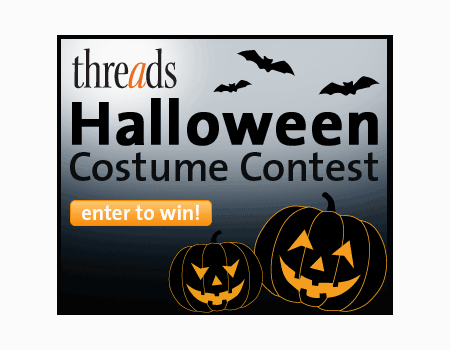 Halloween is just around the corner, and if you haven't finished making your costume (or haven't started like me) you may be looking for some help or ideas. Here are a few sites that may help you out.
A few months ago I came across a site called The Costuming Page that has some great ideas for some Halloween costumes, and a bunch of links to instructions on how to make them.
Jo-Ann Fabrics has a few Halloween sewing projects on their site. They spice up a few Halloween patterns and show you how to alter them to make them more unique. Check out their reversible queen/witch costume, a variation on McCalls pattern 2853.
We all know Halloween comes with a lot of new sewing challenges. If you're having trouble with your fabric or pattern and you don't know what to do, check out the Threads 'Gatherings' forum. Post your question, and someone will help you out.
Also, if you're sewing for a child, you may want to look at this article about making sure your child's costume is safe. Make sure it isn't likely to get caught on anything, and keeps them visible!
Don't forget to share your finished Halloween costumes in the Threads Halloween Costume Contest by November 8th. You could take home a Threads prize package including some of our books and DVDs.