As a sewist, what are you most thankful for?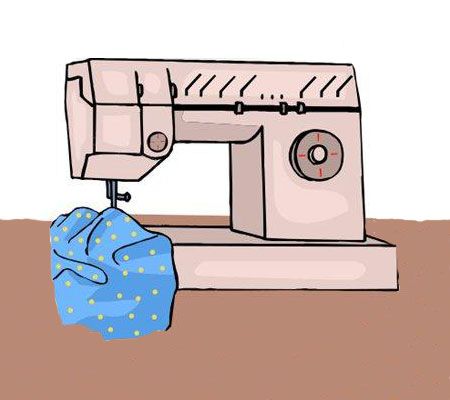 In the United States we observe Thanksgiving, a national holiday instituted to celebrate and give thanks for the blessings we enjoy. I have so much to be thankful for—family, friends and good health to name a few. Thanksgiving isn't usually a time to focus on sewing-related blessings, but I thought this year it might be fun to do so.
What sewing-related item are you most thankful for? Select only one—if you can. I'll share my thanksgiving, and I hope you'll share yours.
There are so many sewing-related items to be thankful for. I could have chosen any one of the great sewing notions that help to make sewing easier and better. I could have selected my sewing room itself—well, actually it's our guest room, but when we don't have overnight guests (which is most of the time) it is my sewing room. I could have selected the staff at Threads who provide so much sewing inspiration. It's surprisingly difficult to select only one thing. I had to do some thinking…
When my mother and her sister graduated from High School (an all-girls school in Brooklyn, NY), the graduates were all required to make a white dress to wear during the graduation ceremony—no traditional caps and gowns for them! When I was a kid, the graduation-class photo mesmirized me. I used to scrutinize each of the dresses and examine the clever creativity, elaborate embellishments, and stunning details that were clearly visible. Each was beautiful in it's unique design. When my mom informed me that every dress had been hand stitched, I was flabbergasted and in awe. The school didn't have sewing machines for the students to use, and all sewing had been done in class. EVERY SINGLE stitch had been hand-sewn!
You must understand that I more-than dislike hand sewing. I have been known to make a new outfit only to have it hang in my closet for weeks or months just waiting for the final hand-stitched detail. Hence my current decision. I am most grateful for my sewing machine. It may not be new, but with the push of my foot it sews quickly, smoothly and with amazing precision.
Oprah Winfrey is a proponent of gratefulness. She recommends keeping a "grateful journal" in which you "list five things that happened this day that you are grateful for. What it will begin to do is change your perspective of your day and your life. If you can learn to focus on what you have, you will always see that the universe is abundant; you will have more. If you concentrate on what you don't have, you will never have enough." I actually tried this, and it's really worth doing. Surprisingly, I found that the frustrations and annoyances in my life became insignificant. I have a magnet on my refrigerator which is a reminder to me. I'm told it's from a song, but I don't know which one. It says, "Happiness is not having what you want. It's wanting what you have." It's something worth thinking about during this Thanksgiving season.
You don't have to live in the US to be grateful for what you have. Nor do you need a special day designated for that purpose. Gratefulness can happen any day, any time.
Please tell us what you're most grateful for in your sewing-related world.
UPDATE: Check out what our fans on facebook are thankful for in terms of their sewing on the Threads facebook page.