Dating Thread and Freeing Grandma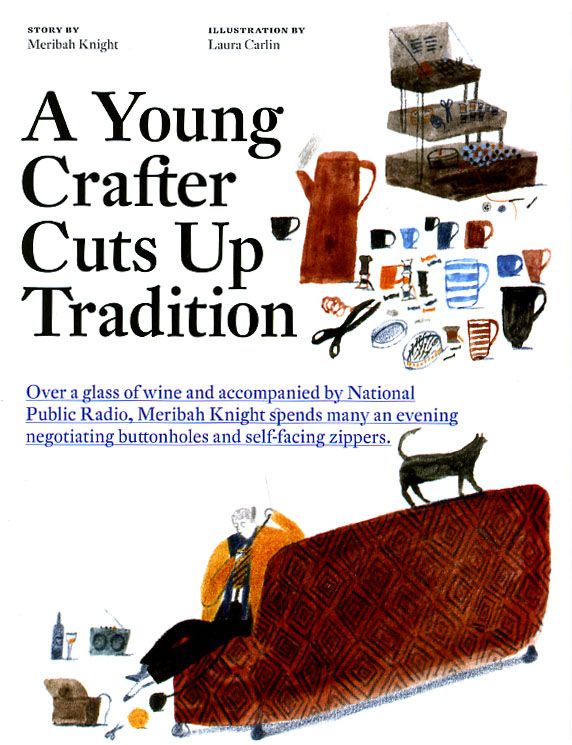 I love magazines. Even as a child I delighted in the delivery of Highlights or the Weekly Reader. This week I opened several magazines expecting nothing related to sewing, and what pops out? Information and inspiration I may never have thought to Google without the nudge from these printed pages.
First was American Craft, Vol. 69, No. 6, December/January 2010, a story by Meribah Knight with charming illustrations by Laura Carlin. The subtitle reads: "Over a glass of wine and accompanied by National Public Radio, Meribah Knight spends many an evening negotiating buttonholes and self-facing zippers." In the thought provoking text Meribah writes about her grandmother and mother and how their relationship with sewing differs. She says, "Our grandmothers had been oppressed by such women's work, our mothers had opposed it, and we would elevate it." She speaks to the desire we all have for something tactile in a digital world and quotes Feminist predecessors, "…it was finally OK to take back knitting because we had established ourselves in the workplace." She's on a mission to redefine the changing craft of sewing from what her grandmother did with it and what her mother thought of it. Look for an essay about sewing through three generations of women in her family in the December issue of O Magazine.
Then, I picked up the November 2009 Smithsonian and read they've found 30,000 year old thread! This is thrilling. It all causes me to do some Online searching which took me this post on public radio to read more about these ancient threads. I guess this is living in the 21st century and experiencing multi-media. And now for that needle in the haystack.