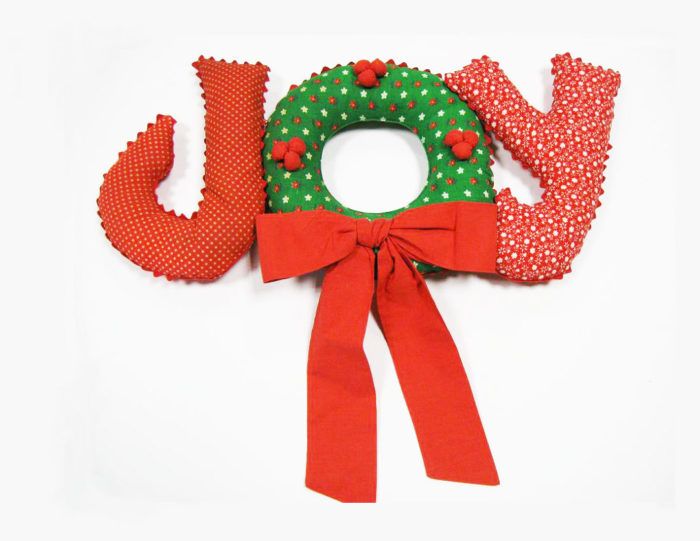 Those of us who sew often give gifts that we have created, and sometimes we receive them from our sewing friends. Have you ever given or received a gift that was extra special because it touched you in an unexpected way? Because it provided incredible joy? For another reason?
I've both given and received sewn gifts that fall into one or more of these categories. I'll tell you about two of them, and I hope you'll tell us about the sewn gifts that were particularly special to you.
The gift I made…
When my husband and I were first married and I was a stay-at-home mom, we lived on one income. I made a lot of gifts during those years to help out. One gift in particular continues to have a special place in my heart. I made a JOY wall hanging that year for a close friend whom I still keep in touch with even though we no longer live in the same town. She is not a sewer, so she was touched by the fact that I had taken the time to make her a gift. Every year since then, some time during the weeks before Christmas, she calls to tell me she just unpacked JOY (as she refers to it), and was thinking of me as she placed it on her wall. The phone call reminds me of how much I treasure her frienship. We reminisce about the good times we've shared and catch up on "life" since the last time we talked or visited. I am truly touched by the mere fact that she remembers that I made it, and thrilled that it's still in use 35 or so years later–even if it does look dated!
The gift I received…
The gift I received that meant the most to me was not a holiday gift. In fact it wasn't even a present wrapped in pretty paper. It was totally unexpected and to this day makes me smile with pleasure. As many sewers, I made my wedding gown and veil. I got married right after college, and didn't yet have a full-time job, so I didn't have a large budget to spend on fabric, etc. I wanted my dress, train, and long veil to be trimmed with lace, which meant lots of yardage. I discovered absolutely gorgeous laces while shopping in NYC–exquisitely embellished with beads, pearls and sequins. But I couldn't afford any of those lovely trims. I opted for a beautiful plain lace, feeling a little bummed by my state of financial affairs!
As I finished each part of my gown, I hung it in our hall closet wrapped in a white, opaque dry-cleaner bag. Unbeknownst to me, as I finished each piece, my grandmother (who lived with us) snuck it from the closet and painstakingly hand stitched seed pearls and sequins on the lace while I was out of the house. Imagine my joy and surprise when I did my final try-on the day before the wedding!! It must have taken her hours and hours. Every stitch was a labor of love, and to this day whenever I look at photos of my wedding–or any wedding for that matter–I think of Grandma and what a treasure her gift was.
Tell us about your special gift–either one you made for someone else or one that you received from sewing friend. How did the gift touch you?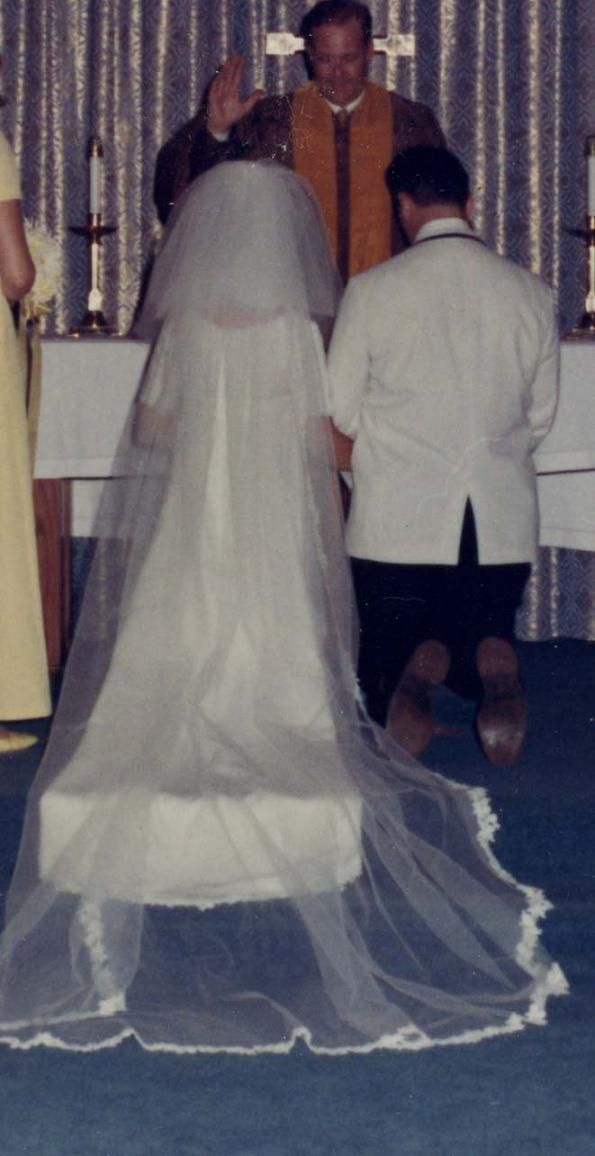 The trim on my veil, dress and train was hand embellished by my grandmother.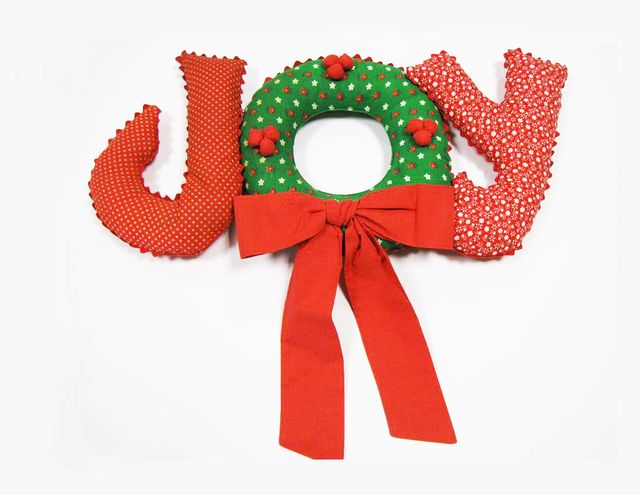 The JOY wall hanging I made 35 or so years ago.