Use a Machine Stitch as a Perfect Guide for Hand Sewing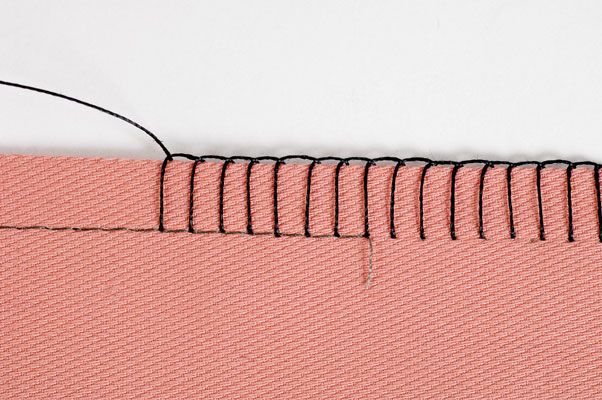 Creating a rhythm when I hand stitch helps me maintain equal stitch tension. I also find it helpful to use lightweight interfacing on both the fashion fabric and the facing wherever possible to provide extra body as I stitch. My greatest hand-sewing assistance, however, comes from my sewing machine. When I want to sew evenly spaced hand stitches, I machine-baste a line and use it as a stitch guide. I adjust the stitch length to the hand stitch I plan to use. I remove the machine stitches just before hand sewing and follow the stitch holes left behind. But if it's difficult to see the holes, I leave the stitches in place until after I finish my hand work. I can use the machine stitches as a guide for many different hand stitches-blanket stitch (shown), topstitch, herringbone stitch, to name a few-and I always get perfect hand stitching. It takes some extra effort, but making a garment with details that rival very expensive designer clothing is a satisfying accomplishment that's well worth the time.
-Janice Engle, Aurora, Illinois
Do you have a good sewing tip? Send it in, and we'll pay you if we publish it in Threads magazine. We'll also select the cleverest tip in each issue, and the winner will receive a gift package from Taunton Press including Threads DVDs and other instrucional sewing books.
Send tips to:
Threads Tips
POBox 5506
Newtown, CT 06470
or by email