Charles Kleibacker (1921-2010)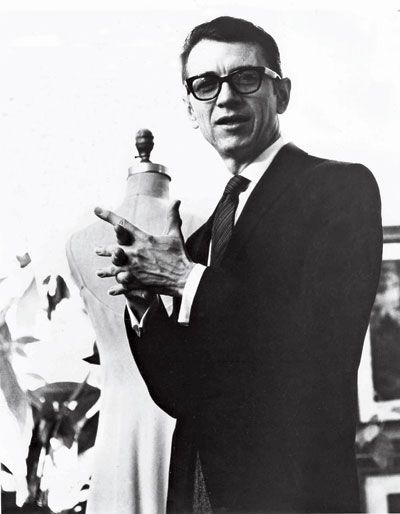 I am saddened today to learn of designer Charles Kleibacker's death. According to the Columbus Dispatch, Charles died yesterday, Sunday, January 3, 2010. Just slightly over a year ago he and I shared dinner in Chicago with Sandra Ericson, founder of the Center for Pattern Design, after judging the Association of Sewing and Design Professionals' annual Threads challenge. Charles was honored by this same organization some years earlier for his lifetime contribution to the sewing and design communities. How can I adequately express the charm, style, and graciousness this man exuded? He was a delight to be around and generous with his knowledge. I envy every one of his students. Perhaps you've met him on the pages of Threads where he first appeared in issue #6 and has been with us ever since—always a willing contributor with proper solutions and helpful suggestions. He will long live in our hearts. Here is some of Charles' life from the pages of Threads:
Kleibacker, who was literally brought up in women's ready-to-wear at his family's department store in Cullman, AL, began his career as a reporter for the Birmingham News. Next he wrote copy for Bernice Fitz-Gibbon at Gimbels, NY, where he extolled automobile tires and garden accessories. When a fashion copywriting job opened, Fitz-Gibbon chose him. "He was horrified. We talked him into it," Fitz-Gibbon recalled. (As a designer, Kleibacker is "right up there next to Norman Norell, maybe alongside Norell," wrote Fitz-Gibbon in her book. Macy's Gimbes and Me.)
After many visits to the house of Dior in Paris (where singer Hildegarde, his promotion-writing charge, was a client), Kleibacker realized that women's fashion had always been his first love. Returning to New York, he and two partners opened a women's custom and limited-edition ready-to-wear business. He eventually sold designs through Hattie Carnegie, Bergdorf Goodman, Bonwit Teller, and Neiman-Marcus to celebrities such as the late Gertrude Lawrence and Lady Iris Mountbatten.
In 1953 he closed up and went to Paris to work as a designer for Antonio Castillo in the house of Lanvin. He admired Paris designer Alix Gres, who did "beautiful, lyrical, lilting, soft body clothes." But of his own designs he said, "I feel what keeps me in business is what I have to offer as an entity. . .not something taken from here, there, and everywhere and not a garment watered down for production purposes." Kleibacker also worked in Italy. He did two small collections on his own in Rome before returning to this country in 1957.
After three years of designing for Seventh Avenue's Nettie Rosenstein, he opened his own business in 1960. His designs were usually on-the-bias, soft body shapes, in silk. The clothes were painstakingly made, individually cut, and supervised by Kleibacker in his studio in the Hotel Park Royal on New York's West 73rd St. and sold for $950 to $2,500. Kleibacker believed in simplicity, fit, and comfort, His designs may have been dramatic, but they were never flamboyant in silhouette or color.
In 1983, Kleibacker began a collaboration with Ohio State University, which grew to include a position as Designer-in-Residence, as well as Director and Curator of the world-class Historic Costume and Textiles Collection at the College of Human Ecology.
This impressive designer and "Master of the Bias" will most certainly be missed. Share your stories of how this great designer has inspired you, as we celebrate the life and work of Charles Kleibacker.
For more information on the designer, read the following articles from the pages of Threads:
"Close Up with Charles Kleibacker: An interview with the "Master of the Bias" on fabric, design, and being original."
"Hands on with Kleibacker: Lessons for Working with a Bias"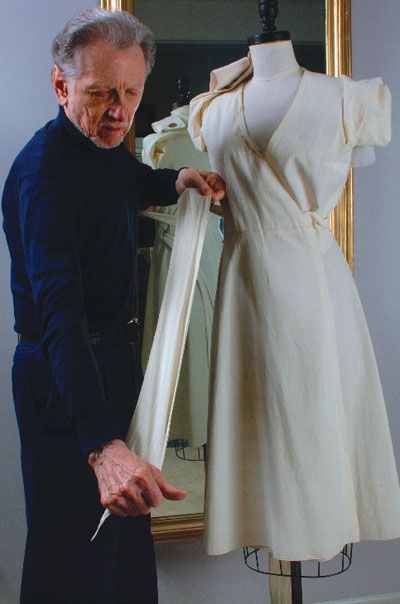 Charles Kleibacker stretches a bias band after it has been machine stitched to make sure it shows no signs of broken thread.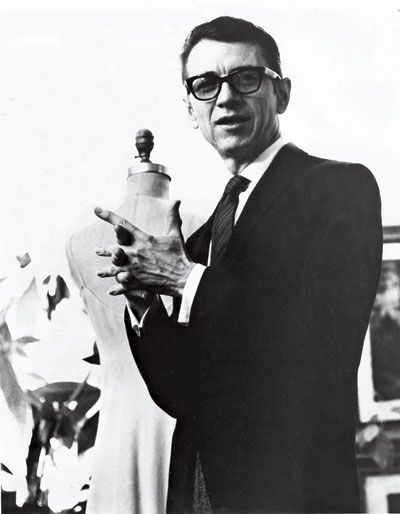 Charles Kleibacker in his New York studio circa 1965.