A Super Bowl Sunday Sewing Retreat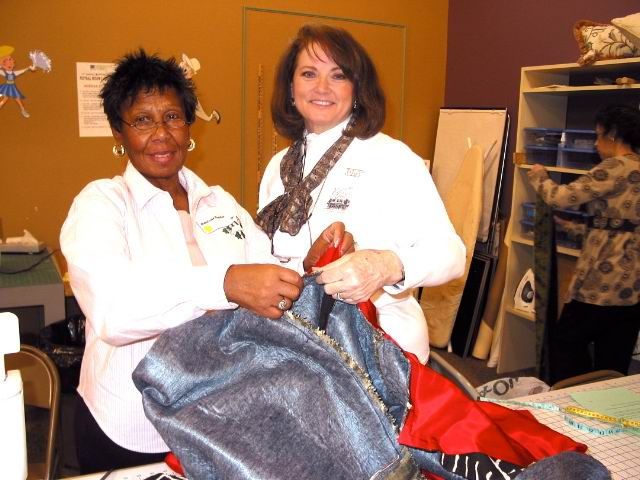 I've always thought Super Bowl Sunday has a festive spark, even in the years when I had zero interest in the game. (I write that as a long-time Buffalo Bills fan. Some years, I had to pretend the Super Bowl never happened.)
Haberman Fabrics in Royal Oak, Michigan, has a wonderful way for sewers to enjoy the energy of Super Bowl Sunday, no matter how they feel about football.
The store will host its 13th Annual Super Bowl Sunday Football Widows' Sewing Retreat, noon until 5 p.m., on Sunday, Feb. 7. It offers a full afternoon of sewing, plus the inspiration to keep sewing as the rest of the world is mesmerized by the big game.
An added feel-good bonus: Every admission donation (minimum $20 in advance, $30 on the day) will be donated to the Shades of Pink Foundation, an organization that helps women with breast cancer.
Back in 1998, store owner Toby Haberman and her staff of experienced sewers first thought of offering customers a reprieve from the barrage of Super Bowl hype. "We put our heads together and came up with free demos of cool sewing projects that people would enjoy learning and could create during the afternoon or at home during the game," Toby says.
The event is for sewers of all experience levels, ages 12 and up. Bring your own machine or use one of Haberman Fabrics'. Store staff will offer guidance during an all-afternoon sewing clinic, where you can get help on stalled sewing projects or get started on something new.
Toby has planned three new project demonstrations with clever football themes:
"Third and Ten": At 1 p.m., Lucky Weddigen will give help create a "game plan" for handbags with instructions for sewing a handy accessory case.
"Sideline Cowl": Lynn McCabe will teach sewers to make a versatile garment, perfect to wear to a live game, at 2 p.m.
"Grandstand Jacket": At 3 p.m., Toby Haberman will lead a class in making a garment she describes as "Stylish and so easy to make!"
You may register or find more information for this year's party at Haberman Fabrics' website, or call (248) 541-0010.

How the Shades of Pink Foundation helps women

In 2009, 80 sewers attended Haberman Fabrics' 12th annual Super Bowl sewing retreat, contributing $1,600 for the Shades of Pink Foundation.
The foundation gives temporary financial assistance to breast cancer patients struggling with the financial burden of treatment and recovery.
"We've supported various non-profit institutions over the years, mostly related to women's causes," Toby says. "Then, in 2006, I became a breast cancer survivor and a huge fan of my surgeon, Dr. Pamela Benitez."
Last year, Dr. Benitez, Shades of Pink medical director and a breast cancer surgeon, greeted the retreat's sewers and answered questions about the foundation's work and women's breast health. She also gave her all-female audience a briefing on football rules and jargon. They were ready for watching the game when they got home!
Dr. Benitez will attend this year's event as well, and she'll share some of her expert knowledge about early detection and proper nutrition as well as other breast cancer news.
Find inspiration for your own game day get-together
"It's a shame that women outside of southeast Michigan may not be able to join our 'huddle' on game day," Toby says. "We have so much fun. But they can gather groups of creative friends, round up some tasty treats and plan some cool projects."
If that sounds like a good game plan, take note: There are free ideas for projects at Haberman Fabrics!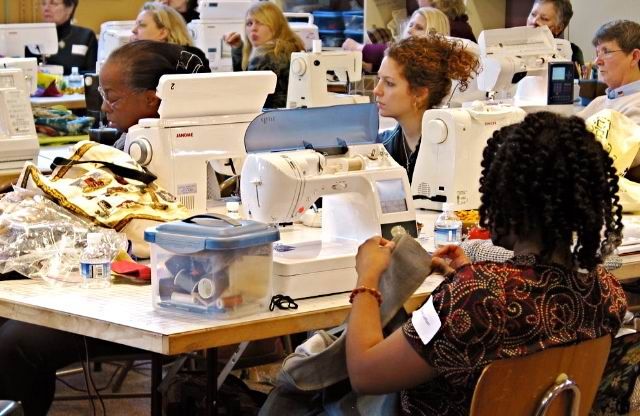 Bring your own machine or borrow one from the store - everyone sews during the Super Bowl sewing retreat at Haberman Fabrics in Michigan.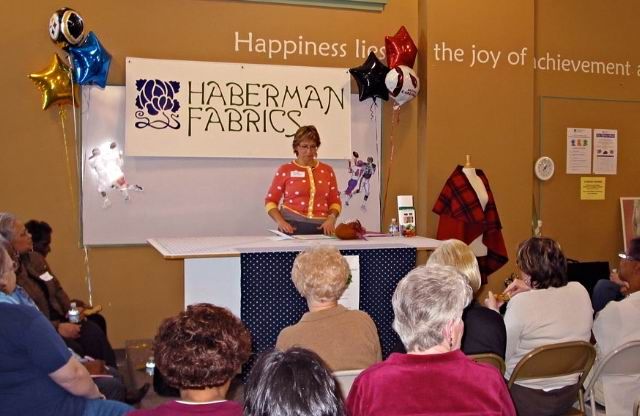 Dr. Pamela Benitez will speak again at the 2010 sewing retreat, Feb. 7 at Haberman Fabrics. Dr. Benitez is a breast cancer surgeon and medical director of the Shades of Pink Foundation, a non-profit organization that offers financial help to women with breast cancer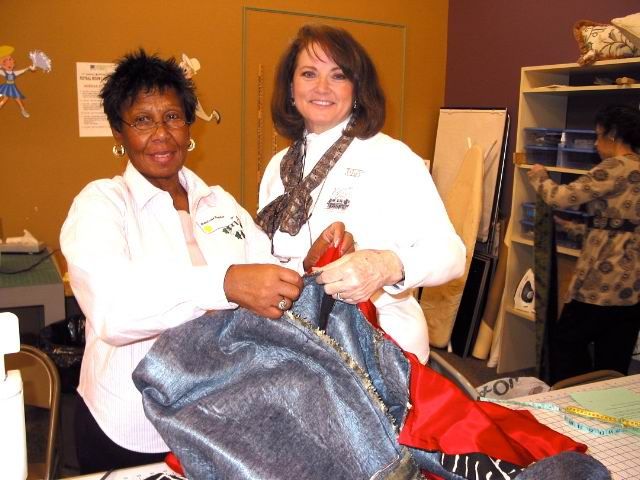 Help with projects is something new or experienced sewers can expect during Haberman Fabrics' Super Bowl Sunday sewing retreat.