Threads February/March Issue is on sale now!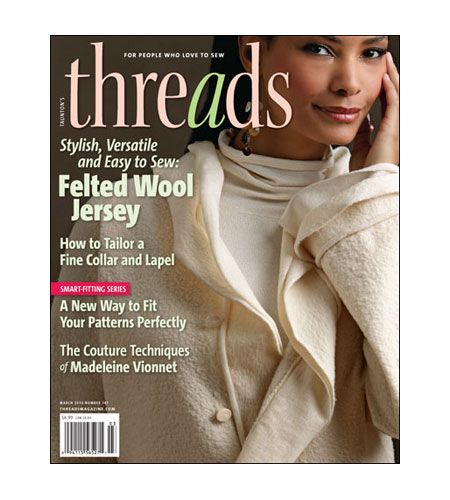 We're so excited about the latest issue of Threads, February, March 2010 Issue 147, which is on newsstands now. This issue comes at a time when many of us are thinking about New Years resolutions; and, it's a great time to set some New Year's sewing resolutions. We hope this issue will inspire your sewing efforts and help you achieve your sewing goals during these long winter months and throughout the year. Here are a few highlights from the issue, along with some of my favorite, can't miss articles.
Felted Wool Jersey: Check out this fantastic cover story from Linda Lee on sewing with felted wool jersey, or boiled wool. Her felted wool jersey jackets are mouthwateringly beautiful and full of great design details. And, if you missed it, check out some more great tips and sewing info on working with boiled wool from contributing editors, Louise Cutting and Mary Ray.
Vionnet: Master Geometrician: This article from Sandra Ericson on the life and work of designer Madeleine Vionnet offers wonderfully simple, couture techniques that will elevate the quality of any garment you apply them to.
ONLINE BONUS: See the wonderful half-scale designs that were made in honor of Madeleine Vionnet by the talented members of the ASDP.
Smart Fitting: In this article, Part I of Kenneth D. King's fitting series, Kenneth shares his unique approach to pattern fitting. You can apply this method of 3 basic principles to any garment you are making to get a truly, custom fit by focusing your alterations right at the heart of the fitting problem.
Pin Weaving: This article is a feast for the eyes! Author, Shirley Adams, shares her technique for pin weaving to create lucsiously textural abstract designs using yarn, ribbon and spectacular threads which you can then apply to a garment or accessory as a beautiful inset or as a cuff or pocket adornment.
Channel Quilting: Learn to apply beautifully, even spaced rows of channel quilting to your garments to set off special details and add strength. Author, Shirley Botsford shows you how to get professional results.
Plus, there's great information on solutions for tricky hems, professional finishes for sweater knits, embroidery projects you can make and sew all in the hoop and more.
If you already have the issue, let us know what you think. If not, buy it now.
Happy Sewing!
Deana Tierney May