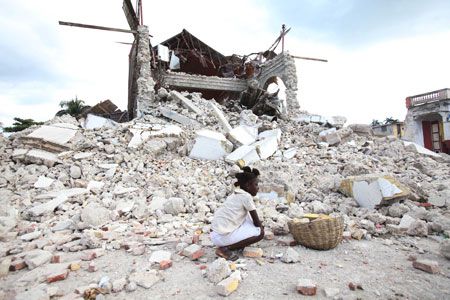 You undoubtedly have been as upset as I have watching the news about the devastating earthquake in Haiti. For years the people of Haiti have been plagued by poverty and political instability. The country was still climbing out from the destruction left by four tropical storms that ravaged their country in 2008. It's hard to imagine that a country already struggling should be involved in another horrific natural disaster, an earthquake said to be the largest to hit Haiti in 200 years. Our hearts and prayers go out to all who have been affected.
Right now the immediate need is for food, water, and medical supplies. Charitable organizations currently request monitary donations only because the transportation network has become so impaired. But once the country's infastructure is rebuilt enough so FedEx and other delivery services can operate there, clothing, bedding and other items will also be needed. The people who were directly affected by the earthquake are left with nothing. All of their earthly possesions are lost. Wouldn't it be a comfort for them to receive a beautiful new blanket to keep the evening's chill away, or a new shirt, pants or skirt to keep them warm and lift their spirits, or maybe a new carryall to contain the few personal items they are able to obtain?
So start sewing now so that you're ready to send when the people of Haiti are able to receive your sewn items. This is a great time to put your stash to good use and make someone's life a little brighter.
Why not consider organizing a special sewing day in your community to sew for Haiti. These efforts have already been started across the US. Contact the following if you'd like more information about their efforts. Sue Rock Originals in Brooklyn, NY, held a Sewing Day for Haiti on Martin Luther King Day. The So-So Sewing Club in Washington, DC, has organized a Sewing Day for Haiti on January 30. Another group in Ohio is sponsoring an ongoing project to make Blankets for Haiti that will be delivered by a local church's mission group currently planning a trip to Haiti. I suspect a lot of churches and other organizations will sponsor mission trips to Haiti in the months and years ahead. As with any donation, use caution when selecting a charitable organization to work with. Be sure to choose one you know and trust.
Is sewing for Haiti or other charitable organizations being done in your community? Tell us about it.