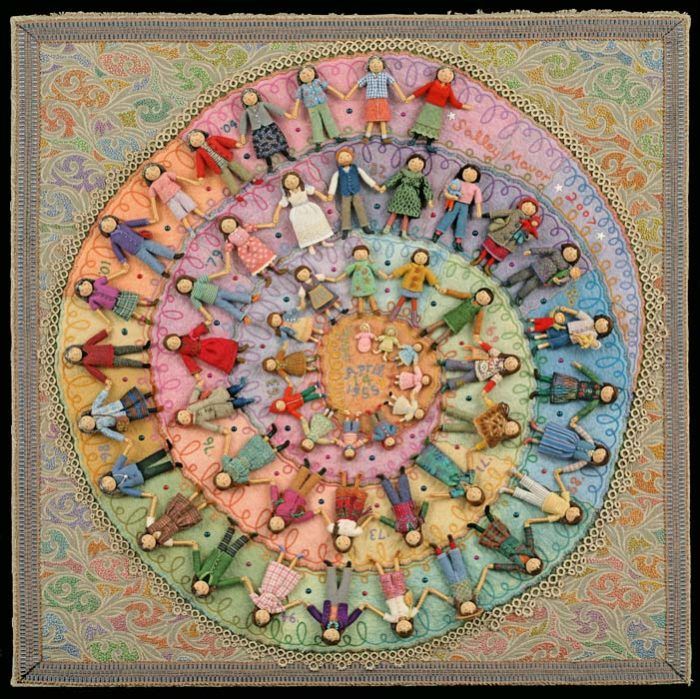 Salley Mavor's autobiography project was born in the summer of 2007 when she received an invitation from the Arts Foundation of Cape Cod to provide a piece for an art exhibition entitled "Self Portrait Cape Cod." The show, which opened in winter 2008 at the Cotuit Center for the Arts, in Cotuit, Massachusetts, included dozens of self portraits done by Cape Cod artists in a variety of mediums.
Since Salley didn't have a self portrait ready to offer, she needed to create one. Her first inclination was to construct a face with found objects and stitchery, but decided it would be more effective to design a time-line of her life of 52 years (her age at the time). Her early design sketches concentrated on dolls standing in different straight-line configurations, but she didn't think the idea successfully expressed the seamless evolution of her life. When she considered using a spiral, she knew the spiral worked more effectively to show the passing of time.
She made the youngest dolls first depicting her childhood, increasing the doll size as each year passed–a different doll representing each year of her life. The dolls' armatures are made from thread-wrapped pipe cleaners, like those featured in her how-to book, "Felt Wee Folk: Enchanting Projects." She dressed each figure in an outfit that she might have worn that year–taken from memories, family photos or imagination. Since she made many of her own clothes throughout her life, it was easy to remember specific outfits from the past. She recreated the garments using smaller-scale fabrics and embroidered wool felt. The wooden-bead faces are painted and glued onto the pipe-cleaner necks. The hair is made from embroidery floss sewn to a felt "wig" that is glued to the bead head. Salley even showed the evolution of her graying hair with strands of white intermingling with the dark brown thread.
Her husband appears the year they were married, and her sons are included during the years when they were young and "physically connected" to her. The tatting outside of the circle was made by her grandmother about 100 years ago. The wool felt spiral is mounted on upholstery fabric, which she embellished with multicolored french knots. Making all 52 dolls and embroidering the background took about six weeks to complete. Her husband, Rob Goldsborough, made a cherry-wood shadow-box frame to display and protect the piece.
In 2008 after the end of the Self Portrait Show in Cotuit, Salley's "autobiography" was moved to Highfield Hall in Falmouth, Massachusetts, where it hung as part of "Rhymes with Stitches" a solo exhibit of her work.
In addition to "Felt Wee Folk: Enchanting Projects," Salley has a new book coming out in the fall. "Pocketful of Posies" is a 64-page children's anthology of nursery rhymes illustrated with photos of stitched scenes including hand-stitched people, buildings and animals. She's also written and illustrated several other children's books in the same fashion. We at Threads are proud to have Salley among our list of contributing authors (issue #82, "Closures," issue #41, "Fabric and Floss in Relief," and issue #32, Back Cover). She's written for several other publications as well including "Needle Arts," "PieceWork," "The Cloth Doll," and "Quilting Arts." In addition she's appeared on the Carol Duval Show airing on HGTV where she has shared her novel techniques with the television viewing audience.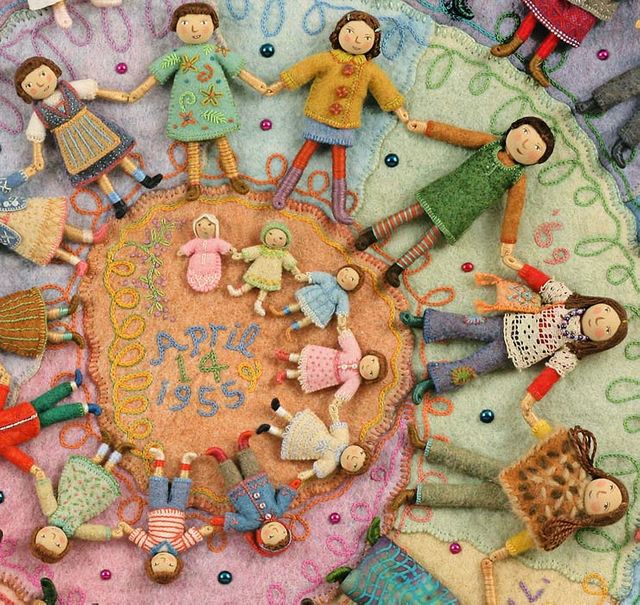 The representation of her life begins in the center of the spiral with her first years. Each year of her life is symbolized by a different doll.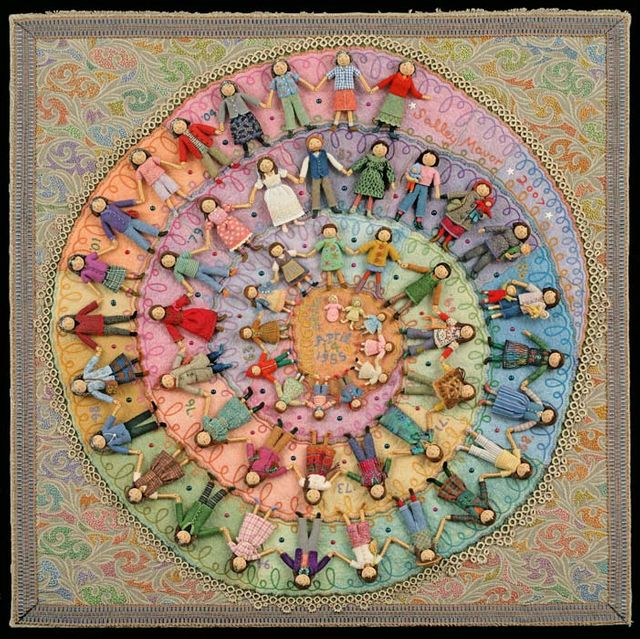 Salley Mavor's Hand-stitched Self Portrait Autobiography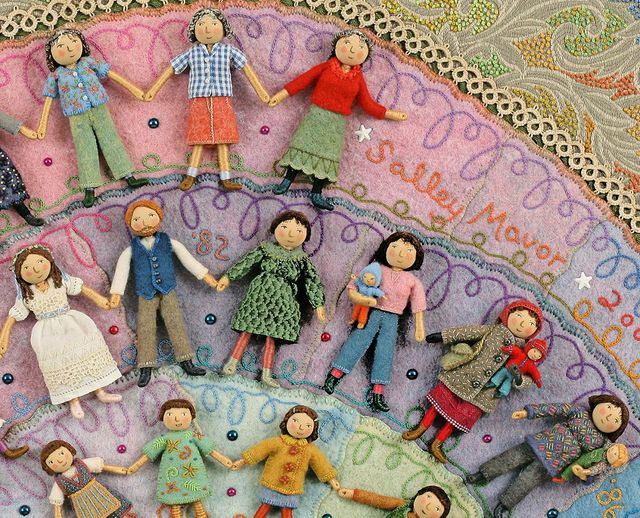 The last doll in the spiral represents Salley at age 52. She was 52 years old when she created her Self-Portrait.