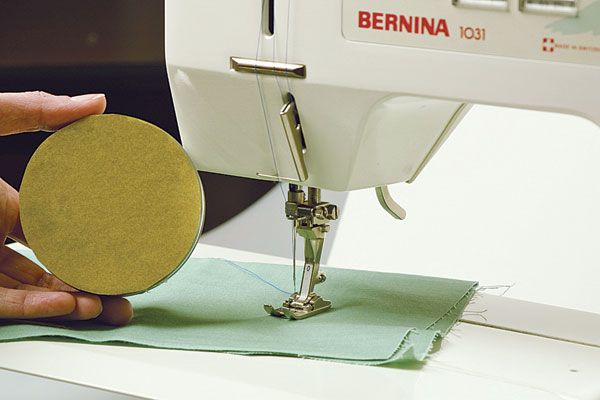 I find a shallow, round object that is about 1⁄2 inch smaller in diameter than the circle I want to sew. Depending on size, the top of a vitamin bottle often fits the bill, as do flat-topped lids or mint tins. I cut a circular piece of fine sandpaper to fit the tin and attach it with double-sided tape.
I then position my fabric with the needle on the circumference where I want to start sewing. I lower the presser foot, hold the tin (sandpaper-side down) against the outer edge of my presser foot, and start sewing. The tin acts as a template, the sandpaper holds the tin to my fabric and causes it to rotate as I sew a very nice circle. I sew slowly and stop with the needle down and lift the presser foot to ease the fabric if it begins to pucker. I've even achieved excellent results using a decorative stitch.
-Judith Long, Cranberry Township, Pa.
Do you have a good sewing tip? Send it in, and we'll pay you if we publish it in Threads magazine. We'll also select the cleverest tip in each issue, and the winner will receive a gift package from Taunton Press including Threads DVDs and other instrucional sewing books.
Send tips to:
Threads Tips
POBox 5506
Newtown, CT 06470
or by email at:
ThreadsTips{at}taunton{dot}com