Join Linda Lee and Louise Cutting During Their Sewing Getaway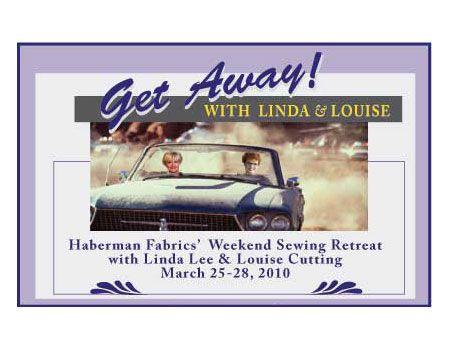 Haberman Fabrics in Royal Oak, Michigan, is sponsoring a fabulous Getaway Sewing Weekend featuring Threads authors Linda Lee and Louise Cutting. They will lead you through an incredible hands-on, sewing-oriented learning experience filled with inspiration and discovery.
The weekend will begin on Thursday evening, March 25, with a Cocktail Party at 6:00. During the party, you'll enjoy a Trunk Show from Linda's Sewing Workshop and Louise's Cutting Line Designs as well as from their exciting new Shapes Pattern Line collaboration. You're invited to attend the cocktail party even if you can't make it to the rest of the weekend.
The Getaway Weekend itself will begin on Friday, March 26, and run through Sunday, March 28, and will be devoted to sewing techniques, fitting, alternative wardrobing, garment making and lots of individualized help. Linda and Louise will assist you in making the right pattern adjustments for a good fit. Throughout the weekend, they will demonstrate easy and time-saving sewing techniques to take your garment making to a higher level. You will find that many ideas will transfer to your other garments. Enjoy and benefit from being with others who share your passion.
For more information email Haberman Fabrics at [email protected] or by calling 248-541-0010.