Measuring with What's at Hand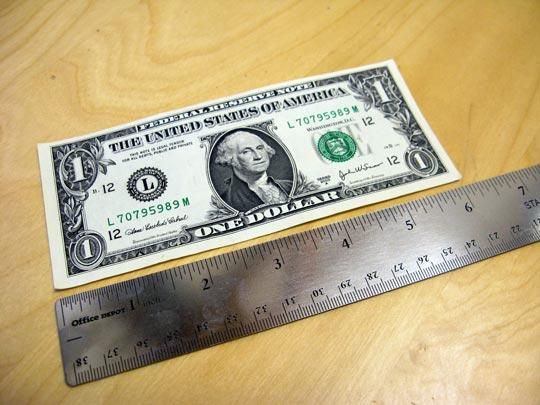 A few weeks ago, I wrote a post, "No Ruler, No Problem," about how I used an Erector set piece to make accurate measurements in a pinch.
Checking back on my post, I found that Threads online community members have left comments with their own nifty measuring tricks. I've collected some of their tips here, and added a few more I've discovered recently:
Natural dimensions
On average, people measure 36 inches from the tip of their nose (facing forward) to the end of their arm, outstretched to the side (tip of the thumb and forefinger pinched together). I just tried this–and it's true for me! Check out how close it is for you. It can become a handy "guess-timation" technique for the remains of a fabric bolt or roll of ribbon.
Check out your handspan and hand length. Threads readers suggested these two measurements. I found that my hand measures 7 inches from the base of the palm to the end of the middle finger. My open handspan is 8 1/2 inches–same as the width of a piece of letter paper.
Paper products
A U.S. dollar bill (any denomination, actually) is 6 inches long.
The standard Post It is 3 inches square.
Many business cards are 2 1/2 inches by 3 inches.
Letter paper is 8 1/2 inches by 11 inches.
Legal paper is 8 1/2 inches by 14 inches.
Tabloid paper is 11 inches by 17 inches.
And one for the metric system–a standard business envelope is 24 centimeters long.
All around
Floor tiles in many buildings (stores, schools, etc.) are 12 inches square.
Common pegboard has holes with centers that are 1 inch apart.
Creative usage
My favorite tip from a Threads community member is from miracleworker. Although she recommends a substitute that's not commonly found, I enjoy her willingness to think outside the box and use a precision tool from her DIY arsenal. She uses a laser level to accurately measure fabric spread out on the floor!
Thank you to everyone who shared their measuring tricks! I look forward to learning and sharing more in the future.