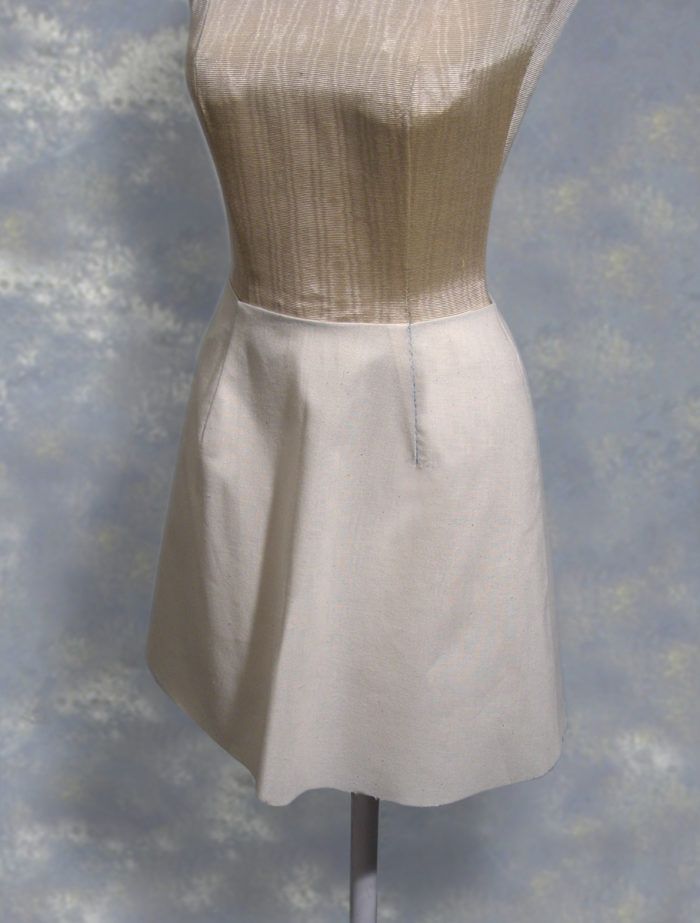 The new approach I have developed for fitting evolved from a sentence I used to hear in classes: "The drag line points to the problem." I'd get frustrated about being told to "adjust" here or there-without knowing how much to adjust. This sentence contained the conceptual framework that underlies the different fitting methods, but I couldn't find any information that explained the principles that make this work. Since I'm not one for rote learning, but need to know why it works, I made understanding this my Holy Grail.
I began to understand the operative principle through an experience with a former studio-mate who was a fashion designer. When the flare in a jacket skirt didn't fall where I wanted, I planned to stiffen and weight the hem to get the proper result, until my studio-mate showed me a trick. He folded the ripple out in the muslin, and then told me to fold it out in the pattern. Then, after that, slash the pattern, and insert the exact same amount right where I wanted the ripple.
Now, this seemed like magic to me, but when I did it, it worked. To my thinking, it didn't make sense, but when I manipulated the pattern, it indeed worked. And yet, to the casual eye, the pattern appeared unchanged.
The connection I made then was, you need to deal with the region of the pattern in question to correct a problem. By doing this, the pattern piece outline is changed to reflect the correct shape for the figure.
I'll demonstrate this idea by showing flare on a skirt, and how you can move it around. In the muslin above, the ripple is pronounced at the center front. This isn't a pleasing line. I'll show you how to move…
Start your 14-day FREE trial to access this story.
Start your FREE trial today and get instant access to this article plus access to all Threads Insider content.
Start Your Free Trial
Already an Insider? Log in