Fresh Start for a Sewing Space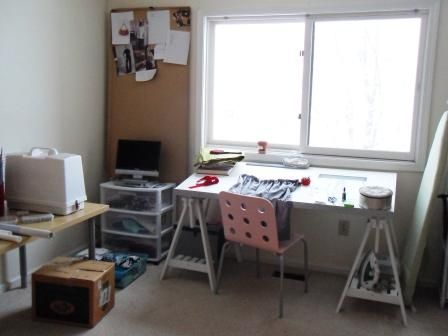 For many years, I've worked on sewing projects without having a designated place to sew. I think that may be a common circumstance for Threads readers. Sewing is a vital creative outlet for us, but because of families, careers, community obligations–plus homes full of all the stuff required for daily life–it's a rarity to have a sewing room.
I'm just starting to plan mine, and I'd appreciate your thoughts and tips on organization and equipment. My goal is to have a space that's not just efficient, but cheerful and inviting.
Five sewing room criteria
Space: I think that no amount of organization, planning or great equipment is going to fully make up for a real lack of space. I've worked around that before, and I despaired of the time I had to put into squirreling things away and getting them out again.
Light: A source of natural light not only is the best way to discern colors, it's a natural mood lifter. For evenings and cloudy days, I know I need to put in excellent task lighting to reduce eye fatigue.
Comfort: Adjustable furniture is a must-have. My first purchase was an IKEA table I plan to use for pattern drafting and general purpose. It has trestle legs and a peg-and-socket system to raise, lower or angle the table top. It also has a glass lightbox section, flush with the table top. It will be handy when there is any tracing to do. Next, I'm looking for a sewing table with a sunken bed for my machine, and a comfortable, supportive and fully adjustable sewing chair.
Organization: No more hunting around for notions, thread, tools or measuring tape. Everything is going to have its place. To keep costs down, I'm looking at simple, stackable plastic cabinetry.
Cost: I want to keep expenses down (that will mean more to spend on materials!). I'm looking for what works–not necessarily what's top of the line. One trick I know I'm going to use is to keep some of the large sheets of cardboard from my moving boxes as backdrops for planning projects. Last fall, I attended a color knitting workshop led by Brandon Mably of the Kaffe Fassett Studio. Brandon pinned the classes' samples to a giant sheet of cardboard. He said that brown cardboard was a great neutral and they used it at the studio to step back and get a good perspective on color combinations. I like that it is free, too!
When I made my recent move to Connecticut to begin working at Threads, I vowed I wouldn't look around in three years and see any unpacked boxes. Unpacking is a process, though, because it doesn't work to open one of those moving boxes if you don't have a place in mind for the contents!
 
I'd appreciate your thoughts and suggestions as I work on making a creative space. In the future I plan to share updates and the best tips I've received from the Threads community. Thanks for reading!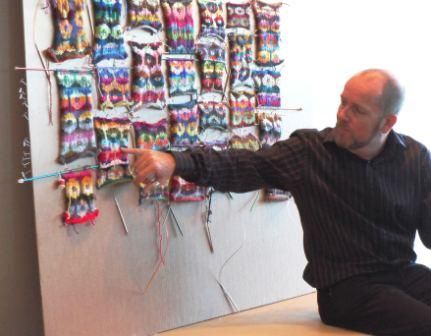 A large sheet of plain cardboard makes a great neutral background for comparing color combinations. At a workshop I attended last fall, Brandon Mably of the Kaffe Fassett demonstrated this with knit swatches; I plan to use it for fabric pieces to plan quilts and garments.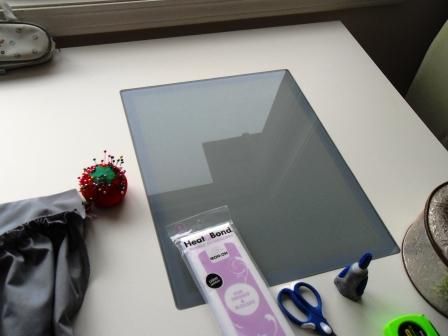 My one sewing room purchase so far, a trestle-leg table, has a lightbox section flush with the table top.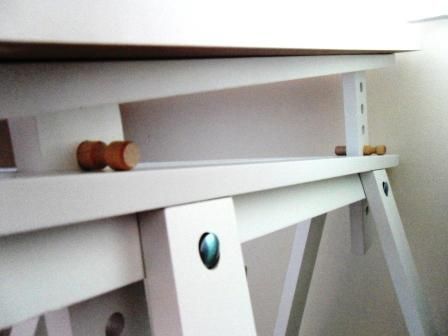 The peg supports on the table make it possible to adjust the top up, down, or at an angle. A metal edge piece keeps writing utensils and notions from rolling off the drafting surface.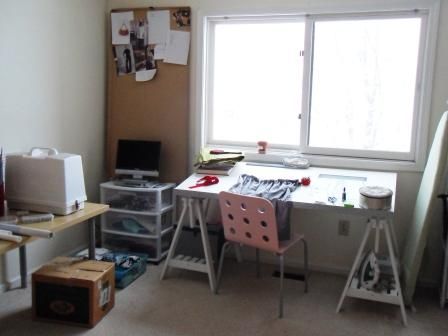 A sewing room has to start somewhere, but the space and the light are good. To come: a sewing table and adustable chair, a cutting counter, a dress form, and more.