Project Runway – Nuts and Bolts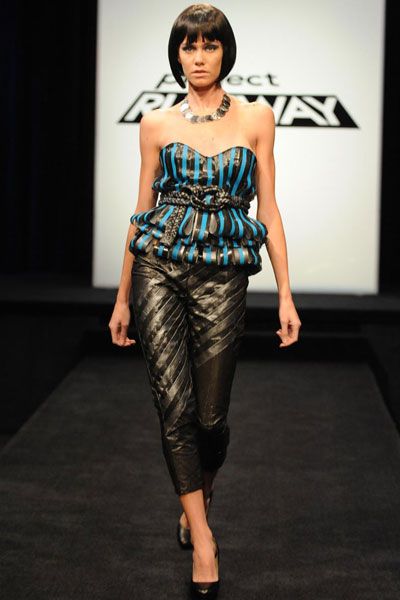 If last week's show was the most thought provoking and novel, this week's was typical Project Runway. The challenge, delivered by Michael Kors, was to create a garment and an accessory from materials found at the hardware store. While it's always interesting to see what the designers will come up with when given odd materials to work with, I felt like I had seen this before. But, in the end, the innovation of the designers did not dissappoint.
The array of materials the designers chose was astounding and worrisome at the same time: copper flashing, sandpaper, paint tray liners, trash bags, chains, screen and sticky mesh were among the choices.
Emilio noted right off the bat that "this is not what he does". And, it quickly became clear that his statement was foreboding as he ended up over budget and leaving the store without half the cord and washers he planned on using. As his "stripper outfit" of pink cord macrame and washers came together, it was clear he was going to be in the bottom, if not going home.
Emilio Sosa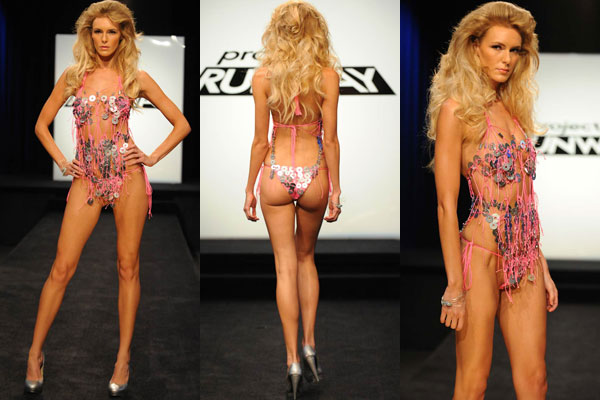 Another concern was Amy. When I first heard Amy say she was working with sandpaper, I wondered who would ever want to wear a dress made of sandpaper? But, she pulled it off beautifully mixing the colors and the textures and cut into different shapes to create a gorgeous fan-like bodice.
Amy Sarabi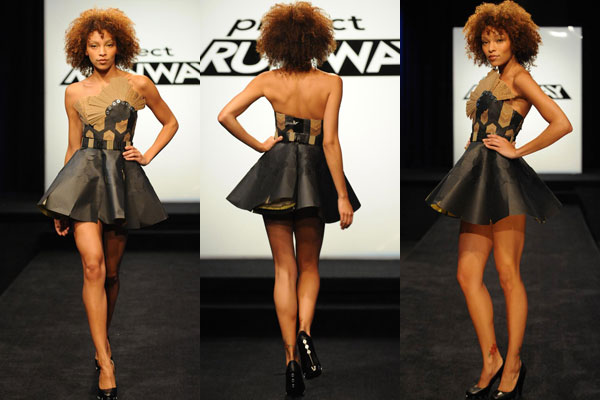 Before the runway, I wasn't sure there would be much to get excited about. But, I was happily proven wrong. My first moment of joy was when guest judge Isabel Toledo was announced! She was joined by Nina Garcia, Michael Kors, and another guest judge, jewelry designer Stephen Webster.
Ben, Amy, and Seth Aaron (who had immunity) were the safeties this week. Little attention was paid to Ben's copper dress and Jonathan's C3PO/Veronica Lake mash-up was just so-so. However, I loved Amy's design and the texture she created with the sandpaper.
Ben Chmura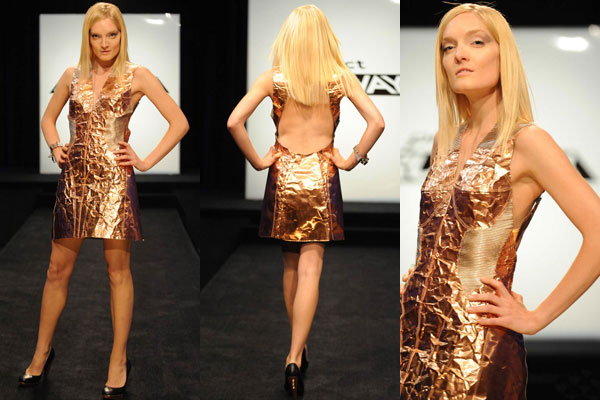 Jonathan Peters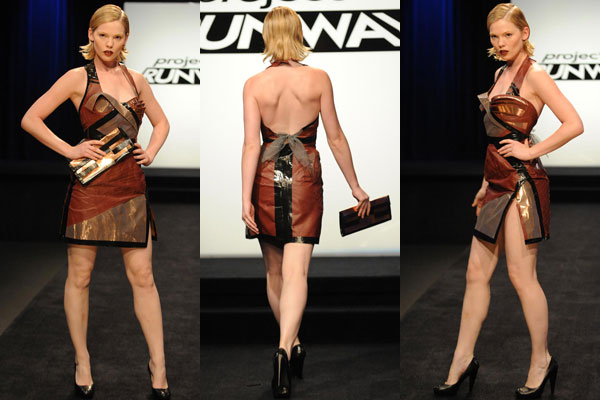 Seth Aaron Henderson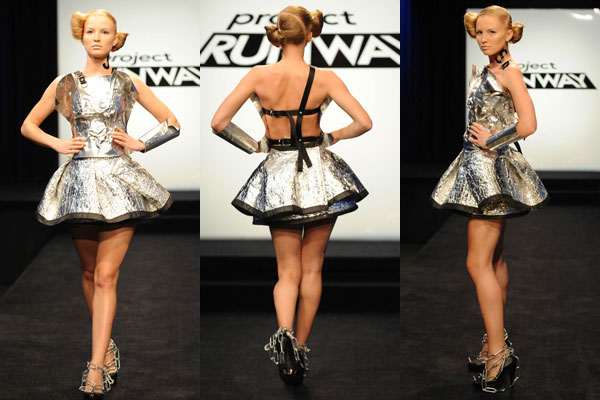 Among the top 3, the judges praised Mila's color-blocked (again) design in black and white which she made from paint tray liners and her cuff bracelet with text, was touted as the wittiest. I was underwhelmed, but I might just be getting bored with her aesthetic.
Mila Hermanovski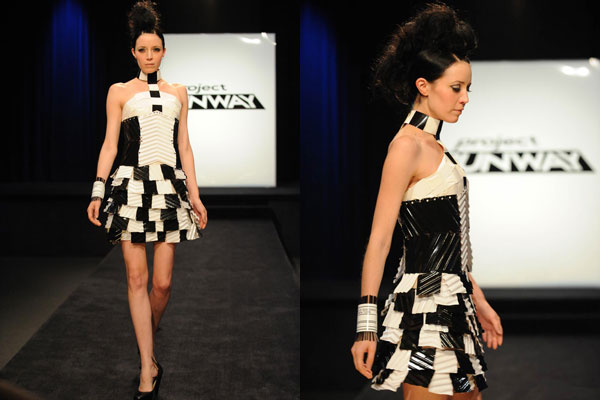 Jay's ensemble was unbelievable. I wasn't sure he was going to pull off trying to make leather out of garbage bags, especially when his model didn't fit into the pants on the first try, but when his garment went down the runway, my jaw literally dropped open. The pants fit well, the shaping of the top was stunning and the color added by the blue painter's tape, topped with the braided belt was exquisite. You would never guess it was made of garbage bags. The judges loved it, and he was chosen as the winner.
Jay Nicolas Sario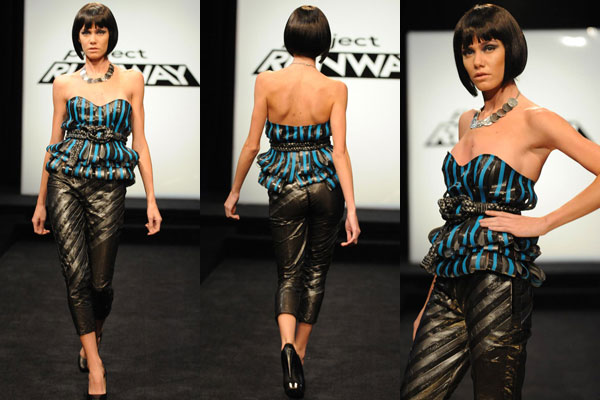 Also a favorite was Maya's look. Her key necklace was amazing, and the judges agreed that hers was the best accessory of the evening. Her woven jacket of Venetian blind cord, and simple dress made of screen set a modern, spare backdrop to her necklace, which was just the right touch.
Maya Luz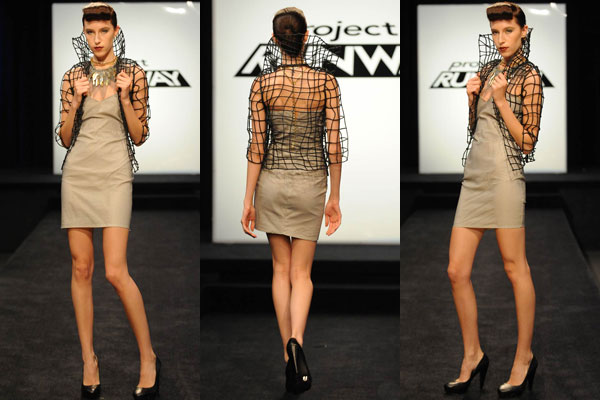 In the bottom were Anthony, Jesse, and Emilio. The judges weren't impressed with Anthony's design saying that he missed the idea of the challenge because he tried to make the hard fabrics look too soft. Michael called it a bad prom dress. I agreed that it wasn't innovative, but it was chic and pretty.
Anthony Williams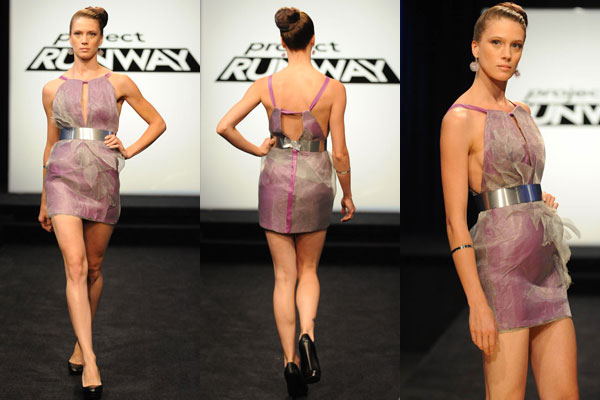 Jesse LeNoir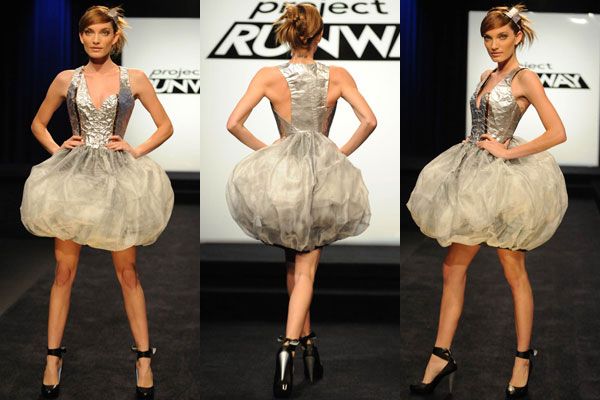 In the end it came down to Jesse and Emilio. Tim said early on that Jesse's painted copper flashing dress was looking "so school project, school play" and on the runway his dress garnered some of the harshest comments of the season. They called it "Tin Man from the Wizard of Oz", "Hershey Kiss", and a "dirty vacuum bag" to name a few. His hairpiece was the most redeeming part of the look, yet he was sent home in a somewhat shocking moment, over Emilio.
Emilio's barely there bikini was a mess, but, I think he was clever to recognize his situation, decide to make a bathing suit and just go with it. When in front of the judges he could have blamed his design on not having enough of a budget to get what he needed, but he stuck with his decision to the end, and gave her an overall cohesive, if not messy, look.
It's sometimes tough to tell how the judges come to their decisions, but I think this time they were looking at the overall vision and were just not impressed with Jesse's "lack of artistry".
What did you think? Were the garments as tortured as Anthony proclaimed? Did you agree with the judges? Should Jesse have gone home?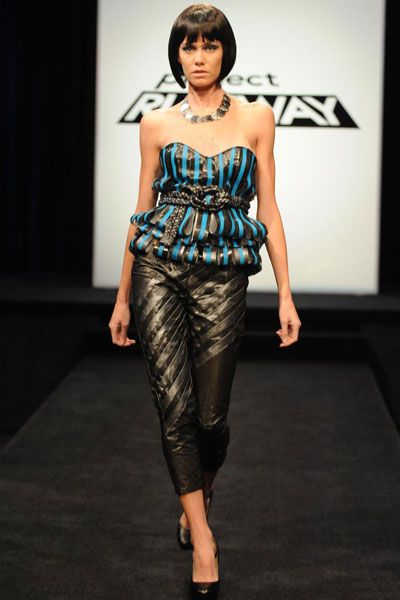 You would never guess this winning garment was made of garbage bags.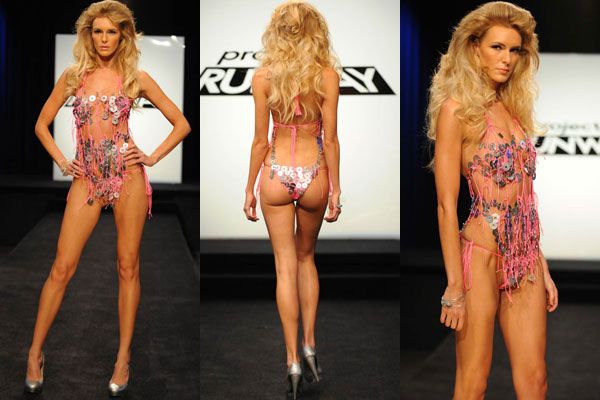 Emilio had a close call with his "stripper outfit" of pink cord macrame and washers.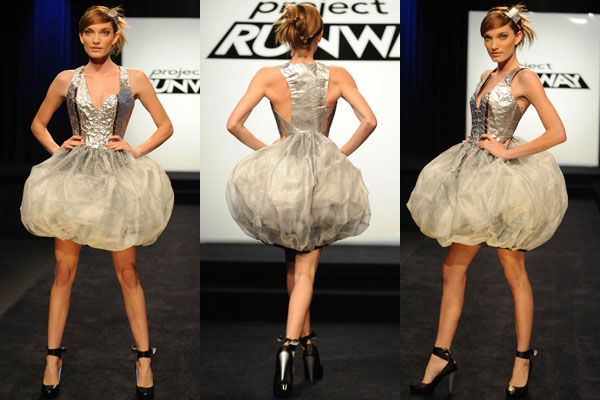 Jesse's losing dress garnered some of the harshest comments of the season.