The Circular Ribbon Flower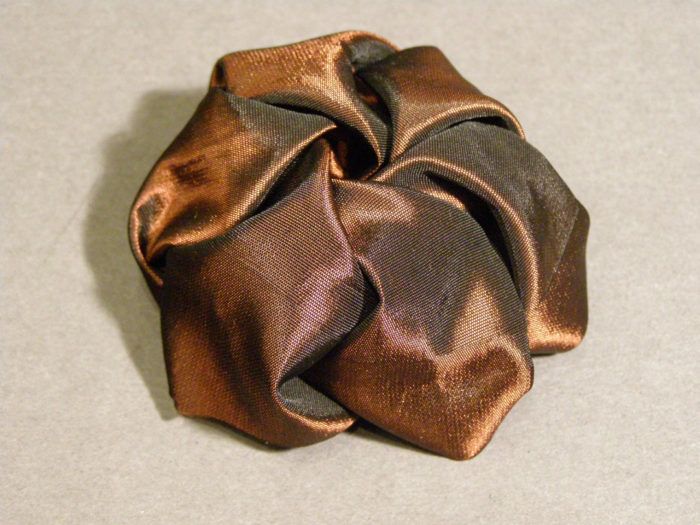 This fabric flower is one I found in an old text I had, and I decided to try it–the instructions in the text were, shall we say, lacking. It can be made from ribbon, or from a strip of fabric. If you choose the fabric strip, you'll have to finish the edges.
First, a definition: Ribbon width as unit of measure. Candice Kling, in her excellent book The Artful Ribbon, came up with the idea of using the width of the ribbon, as the unit of measure, when demonstrating her techniques. This is an excellent idea, which enables you to create any of her pieces in the book in any scale you desire. I will use the ribbon width as unit of measure here as well.
For this demonstration to photograph well, I've decided to cut a strip of taffeta, 3″ wide. The length of this strip is 6 ribbon widths, or 18″ long.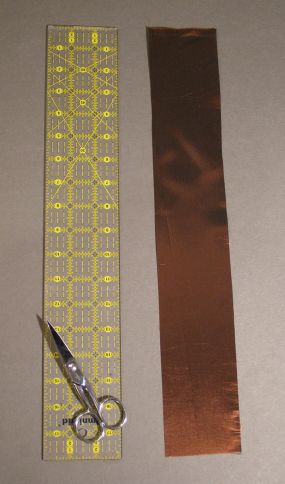 So, the formula: This flower requires six ribbon widths' worth of ribbon to make. You can choose any width ribbon you wish.
Along one edge, mark ribbon widths on the BACK side of the ribbon. This will divide the ribbon into 6 sections, approximately one ribbon width square each.
In our example, the marks are 3″ apart. Now, press creases across the ribbon on the marks you just made, forming 5 creases. The fabric is wrong-side up in this photo. Place the ends of the ribbon right sides together, and hand-sew a seam, about 3/16″ in from the cut ends.  The ends are now joined, and the right side of the fabric is in the center of this loop of ribbon. The flower will be worked around this circle. Fold the sewn seam in half, as shown. Now, fold the ends of this seam back up–it will form a "W"…
Start your 14-day FREE trial to access this story.
Start your FREE trial today and get instant access to this article plus access to all Threads Insider content.
Start Your Free Trial
Already an Insider? Log in