Meeting the Union Special Chainstitching Machine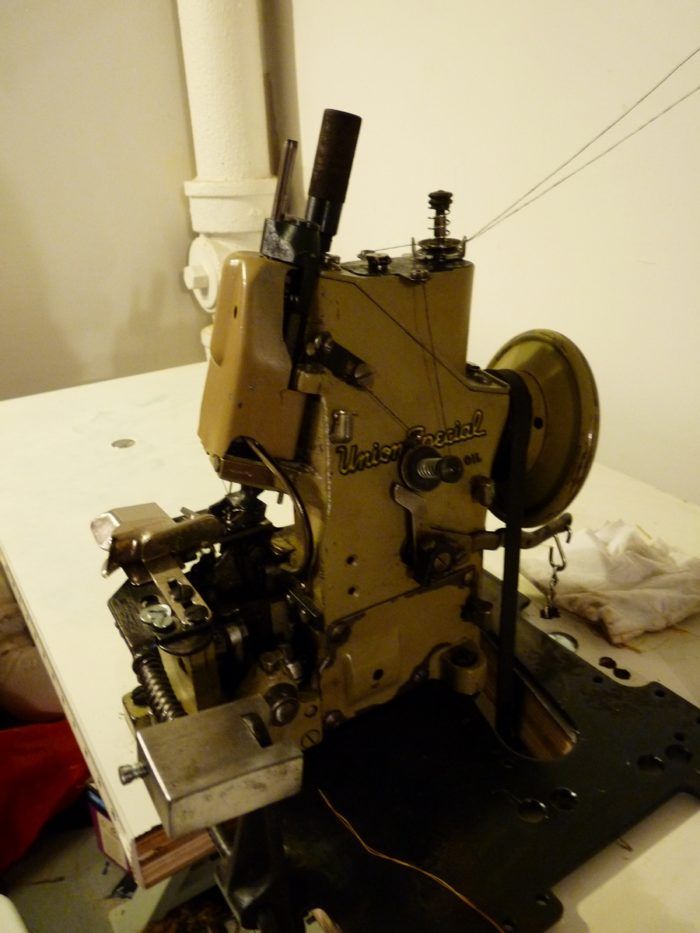 A few weeks ago my friend Justin asked me to accompany him to a specialty denim boutique in Manhattan. He recently purchased a rather pricey pair of jeans there and had been raving about them for quite some time. Justin had to return to the store to get his pair hemmed and requested I tag along as a length-consultant.
The place Justin loves so much is called Self Edge. Self Edge has distinguished itself as a go-to in NYC and San Francisco for serious denim connoisseures. A manufacturer in only men's styles currently, they offer "selvage" denim designs. Some of their lines are so exclusive that they run in limited editions, use sterling silver rivets, or even use python-skin tags from Okinawa.
When we walked into the store, Justin had his recent purchase in hand and began drooling over the heavy-weight styles on the racks and started daydreaming out loud about his next pair. Some of the denim was so stiff I thought it would be painful to wear (they assured me it wasn't).
We then sat down at a desk with the store attendant and started chatting about Justin's jeans' length. The desk and leather tufted chair looked like something from the set of Mad Men; I felt like we all needed some cigars to go over the task at hand to match our setting.
As Justin ran off to try on his pants, the store attendant noticed me turning the leg from a pair of limited cashmere twill pants inside out and examining the bound seam. He started to preach the glories of "selvage" denim and then asked me if I knew how to sew. Justin yelled from the dressing room, "Homegirl has like 8 sewing machines!" That's when I was invited into the basement.
All hem alterations were done on a Union Special Chainstitching machine and they hemmed all pairs bought at the store for free (with pairs hovering around $300 a pop, they better). I'm not sure how old the machine was, but it hummed and purred like it was in mint condition; it's tattered appearance said otherwise. He let me sew a few samples on the machine to test it out and actually left me alone down there for a while. It was surreal; I was at an old machine in a basement on the Lower East Side surrounded by piles of jeans in various repair. The machine's handwheel was actually on the back and it stitched through that super-thick fabric like it was butter.
Side note: For those of you that don't know what "selvage" denim is, it's basically jeans that incorporate the fabric's selvage along the pant side seam. The jeans are often turned up at the hem to show off the contrasting selvage along the seamline. Because of the straight line, it's usually only used in men's jeans and makes the pants cost around 3 to 4 times as much as a normal pair. It's quite interesting, even though I haven't completely grasped the whole benefit of what the selvage edge does for the pants. Although it does make me smile and giggle a little inside when I hear my guy friends start spouting out sewing terms over dinner.
Have you ever encountered a sewing machine like this? What other interesting machines have you come across?