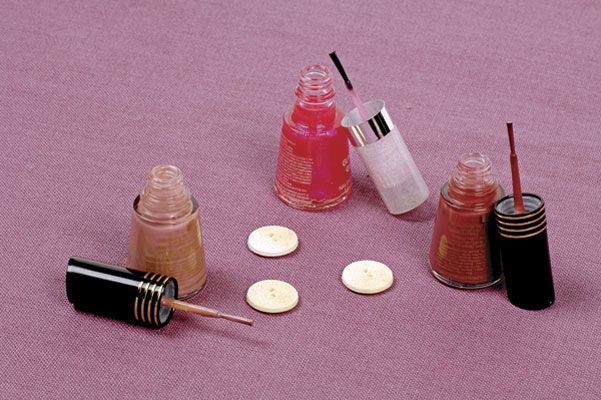 I recently acquired a few hundred old buttons. Most of the buttons were in perfect condition, but several were discolored. I tried to clean the stained buttons by soaking them in bleach overnight, but that only whitened some of them.
Next, I tried painting the yellowed buttons with nail polish. The nail polish hid the discoloration nicely and created some very interesting results. I painted three "test" buttons with two coats of nail polish. Then, I sewed them to a scrap of fabric and washed them with a load of towels. The washing machine did not harm the polished finish at all, but after the buttons came out of the dryer, they stuck slightly to the fabric. I recommend that you air-dry garments sewn with this type of button. Now I have lots of new-looking buttons, and I can be creative with the wide variety of nail polish colors available today.
—Kristine Kadlec, Los Angeles, California
Do you have a good sewing tip? Send it in, and we'll pay you if we publish it in Threads magazine. We'll also select the best tip in each issue, and the winner will receive a gift package from The Taunton Press, including Threads DVDs and other instructional sewing books.
Send tips to:
Threads Tips
63 South Main Street
Newtown, CT 06470
or by email at:
ThreadsTips{at}taunton{dot}com