Project Runway – Earth, Air, Fire, and Water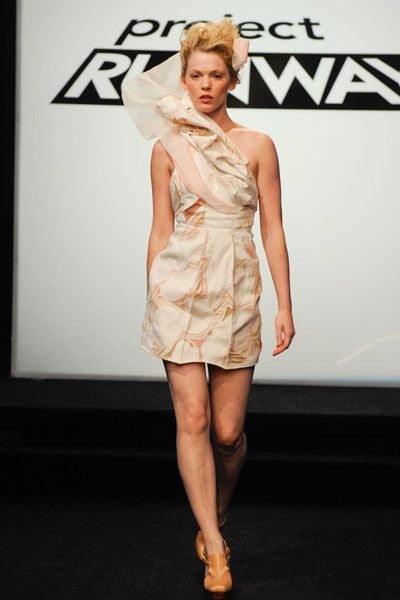 This week on Project Runway, the show started by highlighting the friendships of the contestants, and the bonds they've created with one another thus far. This hint of sentimentatility permeated the show. The challenge this week was to create a garment based on one of the four natural elements. With just 9 contestants left, the competition is heating up and the designers all felt the pressure to take on ambitious designs and really stand out.
I thought all of the designers' concepts for this challenge were super creative and highlighted each of their talents. Here's the rundown of their concepts and designs:
Jay, Emilio and Anthony were safe this week.
Jay, who had immunity from last week, chose air. His design concept was a tornado and he used layers of sheer fabrics accented with bold stripes to create a force of nature on the runway. His look was an interesting mix of flowing layers, but I didn't love the stripe that continued into the hair. What did you think?
Jay Nicolas Sario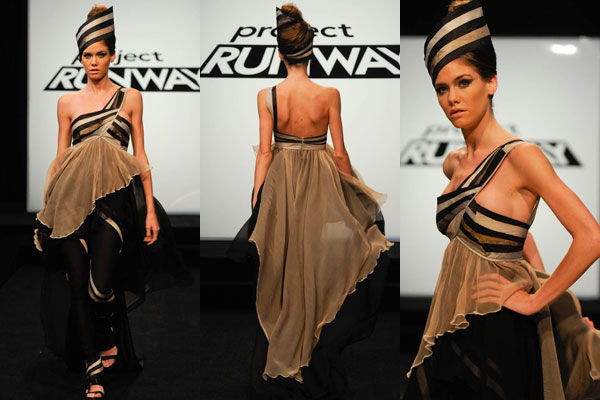 Anthony went for a very different take on fire, drawing inspiration from smoke and ash and working in dark grays and black to create a long flowing dress with a deep side slit. The dress moved and showed well on the runway. While I think it was clever, I was really hoping to see something amazing in red. But, perhaps I am thinking too literally.
Anthony Williams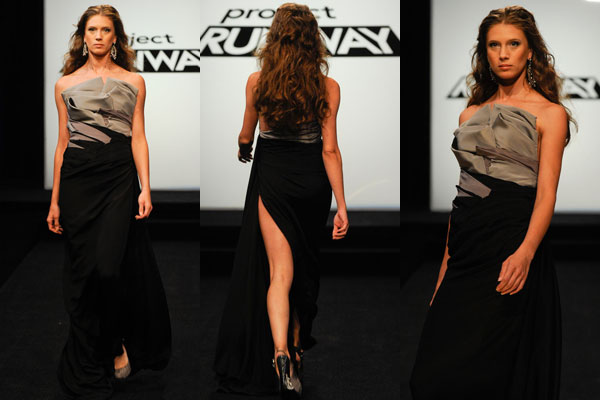 Emilio, who was in the bottom two last week, chose earth. And, he created a safe, but lovely design in rich browns and greens with an interesting texture at the front of the skirt. I would love to get a closer look at this detail to see how he crafted it.
Emilio Sosa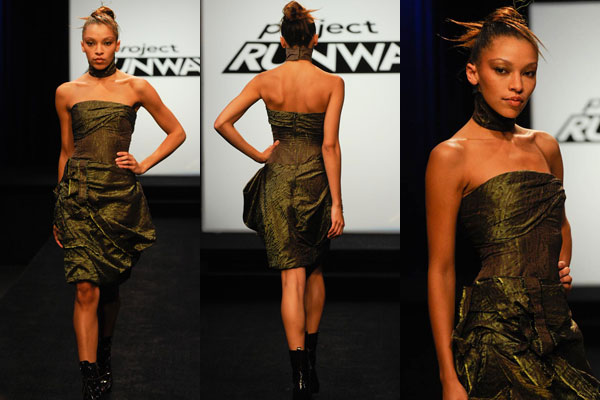 The judges top picks were Seth Aaron, Maya, and Jonathan.
Seth Aaron stuck to his signature style to create a New York midnight sky in black leather to convey air. I loved this very distinct and different take on air and it was so true to his style. He created a a head to toe look, with a skinny metallic denim pant, and huge sculpted leather jacket that swirled around the model, accented with hardware.
Seth Aaron Henderson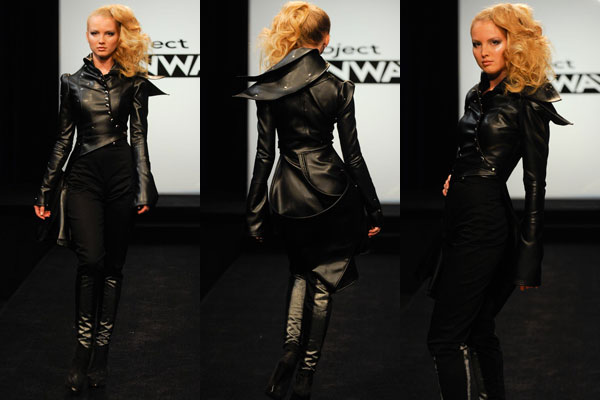 When thinking about water, Maya channeled the sirens to create a chic, long sleeve minidress with a beautiful cowl at the back and long fluttering strips along the arms and along one side to create a fluttering, flowing effect. The judges liked the look, but Nina worried that Maya was being too referential in always being inspired by other designers. She's been challenged to create her own look, and find out who she really is. I, too, will be interested to see what she creates for next week.
Maya Luz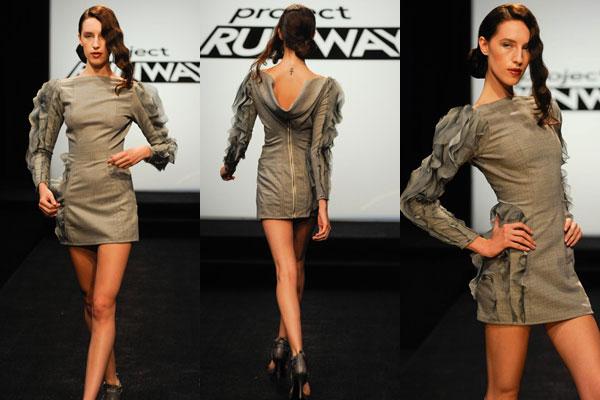 Jonathan was given air and said that he wanted to show everyone that he was a real contender to win. With that, his concept was to envelop his model in a swirl of uncontrollable laughter by creating a textile and cutting into the layers to create an airiness. Jonathan said, "I wanted this garment to give you pure joy when you looked at it, and I think I achieved that." I agree. The draping was gorgeous, the blush color playing off the model's complexion was stunning, and it truly did convey his creative concept. I was thrilled when the judges agreed as well, calling it "perfection" and "poetic" and giving him the win for this challenge. Guest judge Roland Mouret called it pure romance.
Jonathan Peters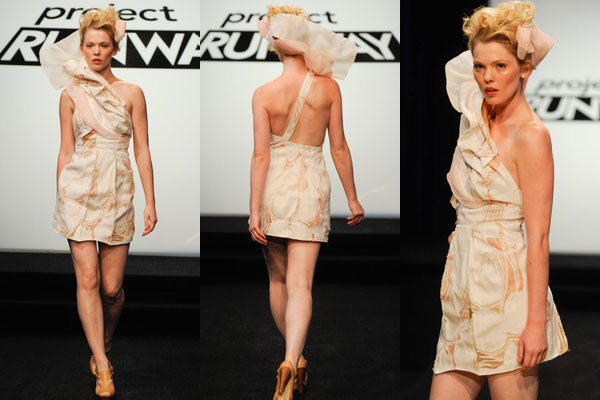 The least favorite of the judges were Mila, Amy, and Ben.
Mila got earth. She used the texture and color of her fabrics to convey her mineral and metal inspiration. She made a 3 piece ensemble including a vest with her signature piecing, a turtleneck and a pant. The judges appreciated her signature geometric style and the intricacy of the vest, but Michael called her a "one-trick pony" and overall they felt the look was boring.
Mila Hermanovski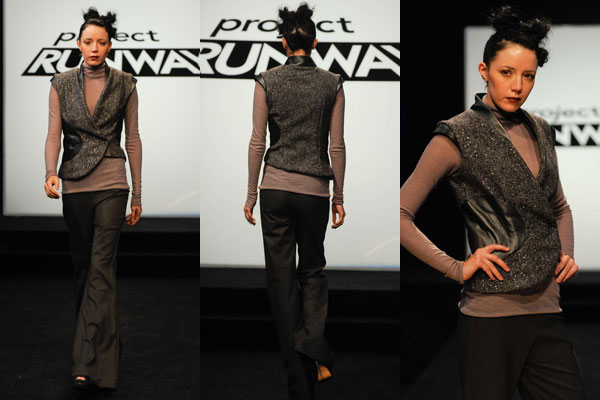 Amy, chose fire. Her design concept was to create a contained explosion. While the concept was intriguing, her misstep was using hair to create the chaos and in the end, the judges found she got too hung up on her concept. The judges thought it just looked weird, and that it just made the model look like she had a hairy chest. Very odd, indeed to see a dress full of hair. Maybe something smoldering in red underneath would have worked?

Amy Sarabi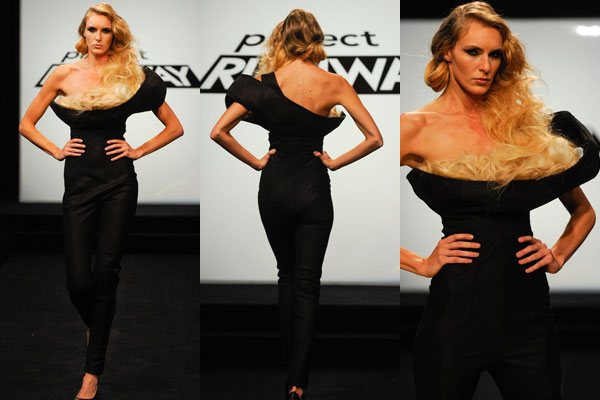 For Ben, his choice of water led him to create a look inspired by a great white shark. Again, his interesting concept went awry as he decided to make a metallic pantsuit, with sleek, sharp lines. Instead, he created a suit that appeared ill-fitting on the runway, and his use of seaming along the crotch area created an unfortunate "jock-strap look". The judges also did not appreciate the literal use of the shark teeth along the sleeves.
Ben Chmura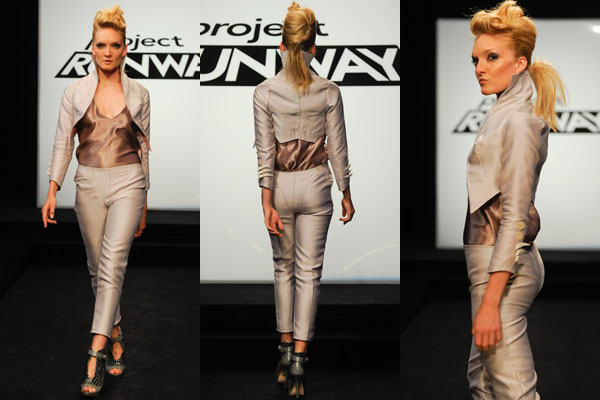 Between Ben and Amy, it was another tough choice as to who should go home. The judges decided that this week it would be Ben. Amidst many tears, Ben said his goodbye's and despite his win, Jonathan, too, shed a tear for Ben.
To echo what some of you mentioned last week, we also appreciate the talent of all the designers and always remark on how difficult it would be to design something and create it in such a short amount of time. While we discuss the highs and lows of the show, those of us here at Threads respect all of the designers for putting themselves out there and going for it every week.
Next week, the designers work in teams, and with no more immunity for the winners, it will be exciting to see how they handle the match ups. Until then…tell us what you thought of last night's show.
If you can't get enough Project Runway, hear more of the judges commentary, and check out even more detail on this week's garments.