Creating Chemical Cutwork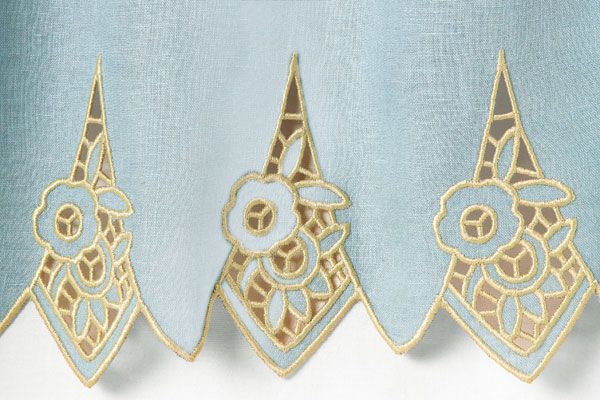 With the arrival of warmer weather, thoughts of eyelet and cotton lace with delicate cutwork style embroidery come to mind. Cutwork embroidery involves removing fabric from an embroidered design to create an airy look. Traditionally, this technique has required a lot of precise hand trimming, which is time-consuming and risky, too, because you're cutting into work you've sewn.
Today, modern advancements—such as Bernina's Cutwork Accessory and Cutwork Software that cut and sew at the same time—are making it easier than ever to get the lacy look from your embroidery machine. But you can also easily remove fabric from your designs with Fiber Etch from Silkpaint. This fiber remover chemically melts away cotton, linen, and other plant-fiber fabrics. Using synthetic embroidery thread, you can embroider a plant-fiber fabric. Just apply a thin layer of Fiber Etch to the fabric that you want to remove, let it dry, rinse or brush it out, and watch the fibers disappear.
To achieve a look that is reminiscent of eyelet or lace, look for delicate cutwork embroidery designs. To get the most from your designs, experiment with embroidery thread colors. Choose thread that is the same color as the fabric for a subtle effect, or pick a contrasting color to pop the overall design. You can scatter the motifs randomly on the fabric for an all-over eyelet or lace design, or align them on the hemline to create a perfect border for a skirt, as shown here.
The stabilizer you choose can simplify your project. I use lightweight paper-based stabilizer in the hoop. Coffee filters also work well because they tear away easily after the embroidery is complete. Fiber Etch removes residual paper that's caught in the embroidered edge along with the fabric in one step. When the cutwork is finished, you have a newly created designer fabric from which to make a skirt or top.
Cutwork without cutting
Making the right fabric and thread choice is key. Pick coordinating fabric and thread that works well with the Fiber Etch. Be sure to also prewash your fabric so the chemical isn't blocked by any sizing. Then select a design, and you're ready to begin.
1. Choose your fabric, thread, and cutwork design. Select a 100-percent cotton, linen, or rayon fabric. Fiber Etch dissolves only plant fibers, so don't use it on silk and synthetic fabrics. Select a lightweight cutwork embroidery design for a delicate look, and using a lightweight paper stabilizer in the hoop, stitch it out in either coordinating or contrasting synthetic embroidery threads.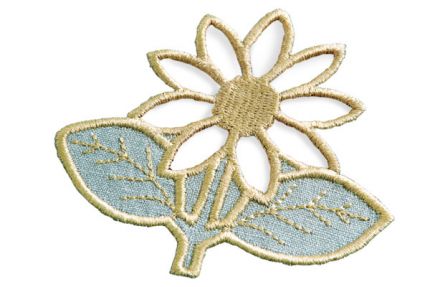 2. Treat the fabric. Apply a thin layer of Fiber Etch to the fabric you want to remove. If you've embroidered on heavy linen fabric, treat both sides of the design.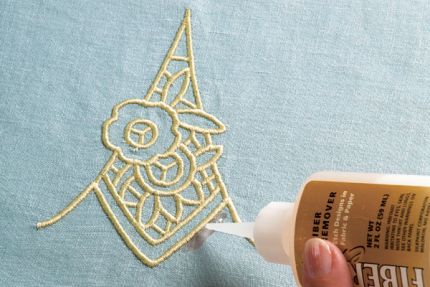 3. Dry the fabric. Use a hair dryer to dry the fabric quickly.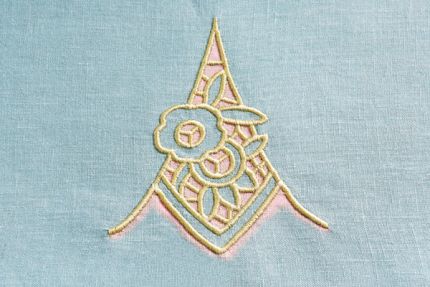 4. Apply heat. When the Fiber Etch is dry, apply dry heat from a hot iron for three minutes. The fabric will become discolored.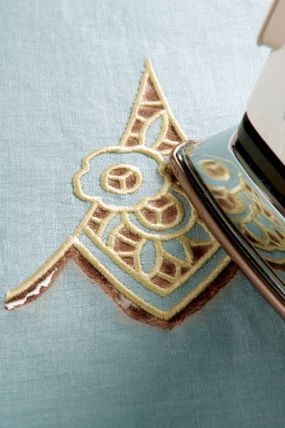 5. Brush or rinse the fabric away. If you've embroidered yardage, you can machine-wash the fabric in the gentle cycle to remove the unwanted fibers and bits of stabilizer.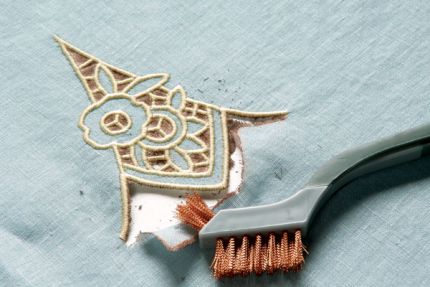 by Jennifer Hasemann
excerpted from Threads #148, p.72