Starter Machines and Beginning Sewers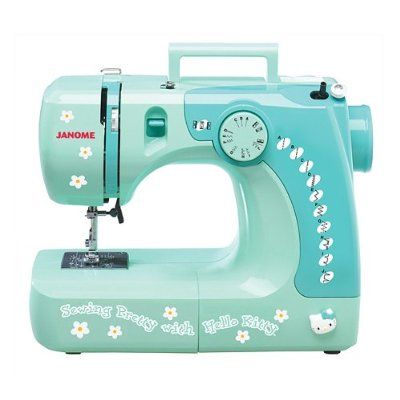 I have very fond memories of my first sewing projects, but not of lugging the heavy, metal Singer I sewed with at home. At school we started out with letter-shaped pillows, but once I'd spelled S-A-R-A-H, I wanted to make CLOTHES!
My mom was great about letting me use her sewing machine and supplies. There was one important rule, however. I had to put everything away before bedtime. Oh, how I came to hate the weight of that olive-green monster. It had a cover that clamped on to the base with two clasp locks. I think I still have dents in my shinbones from swing-walking it in front of me – both hands on the handle – back to the closet.
What brought back thoughts of that first machine was something I came across online at Target.com – the Janome 3/4-size Hello Kitty-themed sewing machine. It's green, but that's where the similarity ends to my original sewing machine. The shipping weight is less than 14 pounds and the machine measures 10″ high by 5.62″ wide by 12.75″ long. It offers six stitch variations (but you cannot adjust stitch length).
I grew up with Hello Kitty, and I want one almost for the cute factor alone. Who can resist "Sewing Pretty with Hello Kitty," as is written across the side of the machine?
I wanted to ask the members of the Threads community how they felt about starter machines. What type of sewing machine did you begin sewing on?
Because as cute and as light as they are, 3/4-size machines seem almost like toys. I have heard of many children who took to full-size, full-function machines right away. Is it better to encourage kids with a machine they can easily handle, or will it hamper their creativity to work on a machine with perhaps limited options?
I know I had a healthy respect for my mother's sewing machine. It was sacred and important, not another toy, but a serious tool. It may have been heavy, but it worked like a charm. And I learned to take care of things and keep them neat for other people.
One last note about starter machines – I read some of the online reviews for the Hello Kitty machine and it was interesting how many sewers said they bought one for a child, but ended up using it themselves because of its portability. How many of you use 3/4-size machines? I wonder if it is enough reason to justify getting one…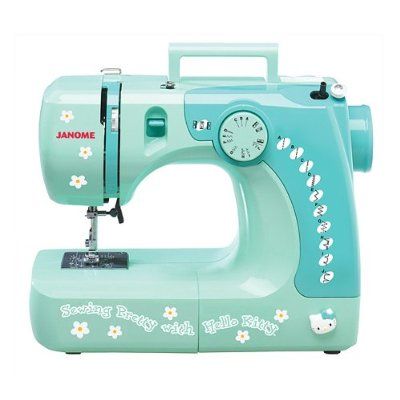 Online reviewers said a reason to enjoy the Janome Hello Kitty sewing machine is its portability. What do you think of smaller, themed sewing machines for teaching children to sew?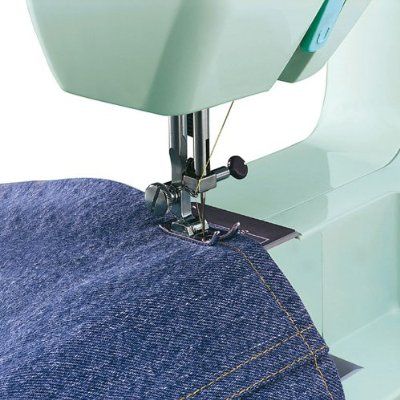 The Hello Kitty sewing machine does stitch backward as well as forward, but you cannot adjust the stitch length.