Project Runway – NY State of Mind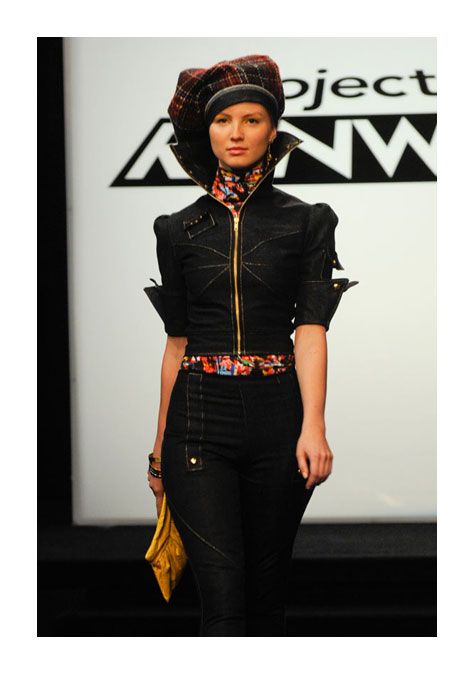 This week on Project Runway, the contestants were paired up and asked to produce two looks–one day look and one evening look–inspired by four distinct neighborhoods in the great city of New York. The pairings were, as expected, not without their drama. I found the idea of using the city as inspiration–in any way they wanted to interpret it–to be quite intriguing.
The match ups were as follows:
Anthony and Maya were paired up and headed off to Chinatown. Amy and Jonathan were thrilled to work together, and mentioned that their detail-oriented aesthetics seemed like a good match. They had the Upper East Side. Emilio chose Seth Aaron and they were excited to find inspiration in Harlem. This left Jay with Mila, who apparently haven't liked each other much all along, but decided to put on their best face and make it work in the Lower East Side. It was great to see the designers walking around each of these NY neighborhoods, and drawing inspiration from whatever caught their eye.
Anthony Williams & Maya Luz (Chinatown)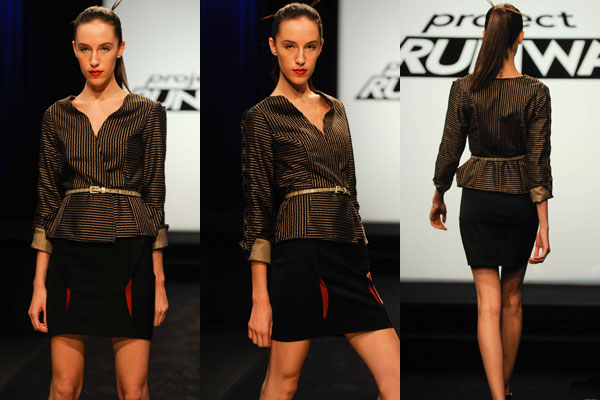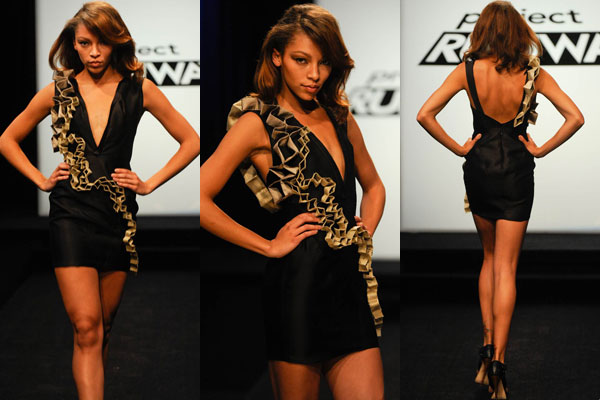 In Chinatown, Anthony and Maya were inspired by the Chinese dragon lanterns hanging in the windows, the bold colors, and the lines and structure of the buildings. Despite a few control issues and Maya's inclination to take over, the two seemed to work well enough together to accomplish their goal.
Maya created the day look, which consisted of a black and gold striped fitted jacket, with a beautiful open detail along the sleeves resembling the laddered fire escapes and an interesting pagoda detail at the side hem. The jacket was paired with a short black skirt featuring unique cutouts that revealed a peek of red fabric. This was really the only shot of color they used, despite the colorful surroundings of their inspiration neighborhood.
Anthony's evening look was a short black, fitted dress with a deep V neck and a unique accordionesque, 3-D embellishment that mimicked the shapes in the Chinese lanterns. I thought this detail was very creative, and had a beautiful asymmetrical effect, but, once again, I found myself wishing for more color.
Overall, the judges liked both looks, and thought this was a successful collaboration. Nina liked the spare use of red, but had also hoped to see more color on the evening look.
Amy Sarabi & Jonathan Peters (Upper East Side)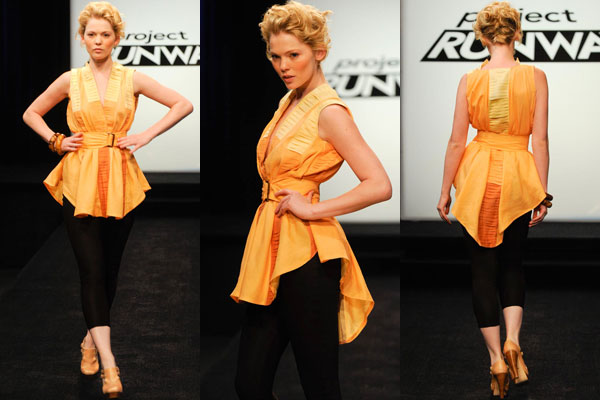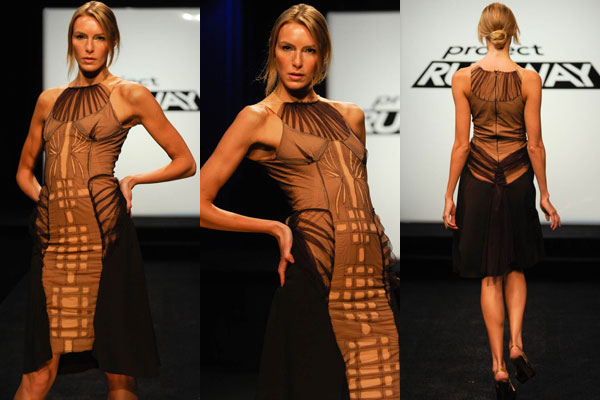 During their trip to the Upper East Side, Amy and Jonathan were inspired by the peach tones in the brick buildings, as well as the wrought iron work they saw in gates and doorways. While they sought to employ their signature details in the looks, and almost didn't finish due to their overambitious designs, they weren't well received on the runway.
Mimicking the colors in the brick, Amy created a shirt dress in peach, yellow and melon tones with intricate pleated sections and black leggings for day. I agreed with the judges that this shirt dress was lacking, and did not speak to the Upper East Side. It looked more downtown than sophisticated and polished. The judges did not like the silhouette, and Heidi called it just plain ugly.
Jonathan's evening look was a dress made in a black sheer fabric over a nude lining, and he used his beautiful cutwork techniques to create intricate designs in an effort to channel the wrought iron effect. While the side panels seemed a bit off, the judges liked this look more.
Emilio Sosa & Seth Aaron Henderson (Harlem)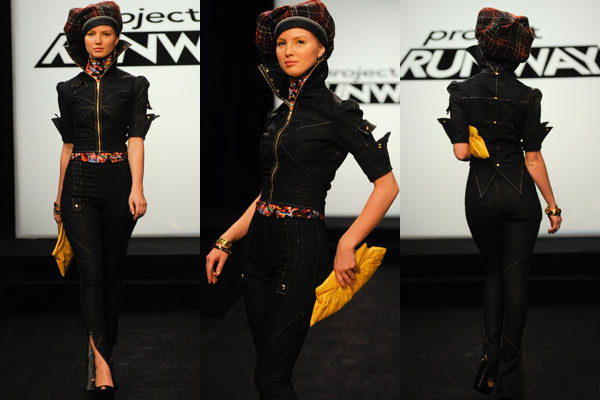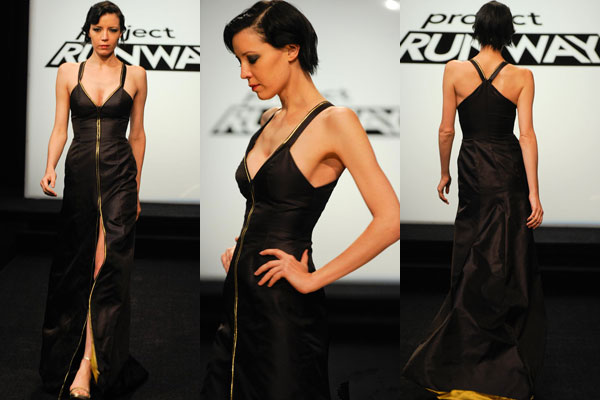 Emilio and Seth Aaron traveled to Harlem. There, they were drawn to the abundance of denim, the rich, bold colors, and the fun and funk of the Harlem vibe. For day, Seth Aaron went for an urban denim look with a fitted jacket in a dark wash denim featuring an abundance of gold hardware and zippers. He also made a matching skinny jean. At the behest of Emilio to add some color, Seth Aaron also created a striking top in a tiny colorful print that peeked out of the jacket. Overall the look was amazingly hip, and totally Harlem.
Emilio took on the evening look, focusing on a Modern-day Billie Holiday inspired, body-skimming floor length gown in black. The dress featured a gold center front zipper, which opened up to the knee to reveal the gold side of the fabric underneath. I loved the gold detailing that continued along the front and back necklines. I thought both garments were awesome, and I was happy that the judges agreed, giving Emilio and Seth Aaron a double-win, which is a first for Project Runway.
The judges commented that both looks related and there was excellent styling. They did note that Seth Aaron's jacket may have been a little over-the-top in terms of details and that it would have been more sophisticated if this had been more restrained. On camera, it looked great, but perhaps in person it was a bit much.
Jay Nicolas Sario & Mila Hermanovski (East Village)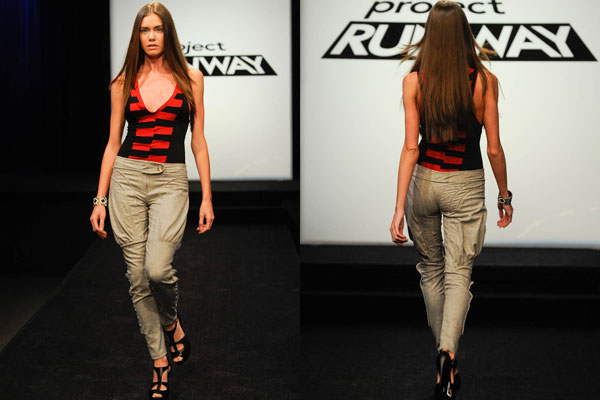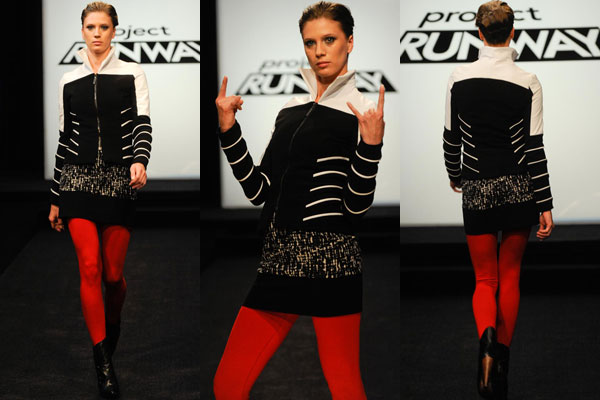 Jay and Mila, with their mutual distaste for one another, were definitely the most dramatic pairing, which I'm sure the producers played up to make for good TV. However, I thought the pair did a great job at trying to put their personal feelings aside and remaining professional to accomplish the task at hand. While their personalities weren't a match, neither were their design aesthetics, so it was tough going in the Lower East Side.
Jay's day look featured a pant with lots of style lines, paneling and a gathered poof detail just below the hip accompanied by an ill-fitting, shapeless tank top. I thought the pants were well constructed and well conceived and some of the judges agreed, but overall they did not like the look. Even Jay had to concede that the "tank top tanked".
Mila created the evening look, which consisted of a funky black and white jacket, worn over a dress and red opaque tights. I thought Mila's evening look fit the graffiti inspiration well, and had a very rock-and-roll meets punk feeling with its graphic patterns and blocked detailing.
In the end, it was Jay and Amy in the bottom two. Amy is out. Jay is in. While I was sad to see her go, I think it was Amy's time. I loved her attention to detail and unique aesthetic, but I think the last few garments struggled with wearability.
Let us know what you thought of the episode. With the number of contestants whittled down to 7, I'm excited to see what next week brings.