Meet Threads' Contributing Editor, Kenneth D. King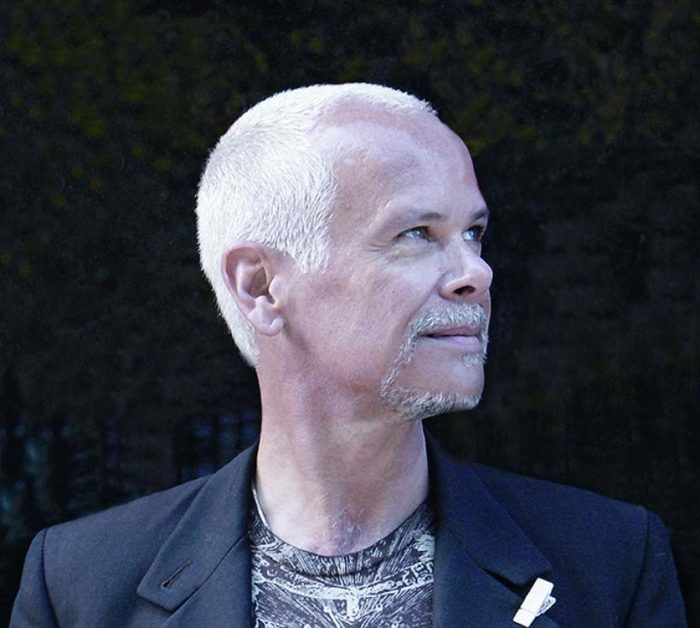 Threads is fortunate to include 4 amazingly talented contributing editors on our masthead: Louise Cutting, Susan Khalje, Kenneth D. King, and Mary Ray. They are each an expert in their area of sewing interest-but their interests are extremely varied. This blog will focus on Kenneth. Watch for future blogs about Louise, Susan and Mary. We want you to get to know them the way we know them-as more than simply a Threads author.
I asked Kenneth several questions, and I know you'll enjoy reading his responses.
Threads: How would you describe your current career? What's your favorite part?-that is, besides writing for Threads!
Kenneth: My career right now is a mixture of teaching at FIT (The Fashion Institute of Technology) and elsewhere, writing, and making couture. I still get thrilled when I reflect on the fact that I get paid to talk about, write about, and practice sewing, which I'd done for free for so many years. Having had the time over my 23 years of self-employment to explore different kinds of sewing has been a tremendous luxury, and one that I'm thankful for.
Threads: Did you always anticipate working in the "sewing" arena or did your life evolve in that direction at a later time?
Kenneth: When I started my business in the mid-80's, I hadn't planned on teaching and writing, but early on I was asked to teach at The Sewing Workshop when Marcy Tilton still owned it. (Sandra Betzina and Barbara Kelly did some arm-twisting to convince Marcy to contact me.)  It was a lark on my part, but people seemed to like what I taught, and everything in the sewing world that I've done since grew from there.
Threads: Do you have any advice for people just starting to explore sewing and/or design?
Kenneth: With my teaching and writing, I've been fortunate to meet a lot of nice people. I'm often asked for advice for people who are just embarking on the journey called exploring sewing and design. If I were to say one thing and only one thing, it's this: perfectionism is a disease, and a form of fear!
When learning the craft of sewing (which I believe is absolutely necessary in order to know what's possible when designing), you should expect to destroy several acres of fabric before you get good. This is an acquired skill which can only be perfected by means of repetition-practicing over and over, learning from mistakes, learning when you can save something, and when you need to cut your losses and start over. 
If you are afraid to make a mistake, afraid to ruin some fabric, or afraid to waste some time, you won't ever get really good at this craft. It's the dues you pay for becoming proficient.
However, if you are willing to charge forward, cut into that fabric, try something different, and risk making a mistake, there will come one day when you realize that you're sewing without that knot of worry in the pit of your stomach, and the process effortlessly glides along.
Threads: I can't think of any advice that's better than this!
If you've ever had the pleasure of taking a class taught by Kenneth, or you've had the opportunity to meet him, please share your story with us.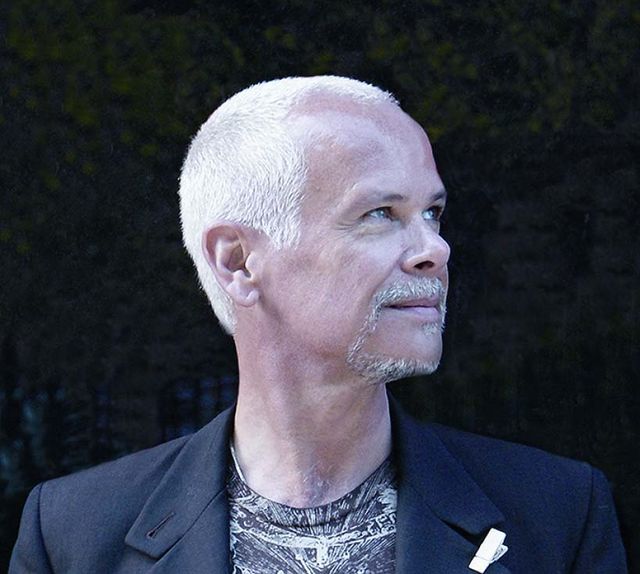 Kenneth D. King, author, professor, and made-to-measure couture designer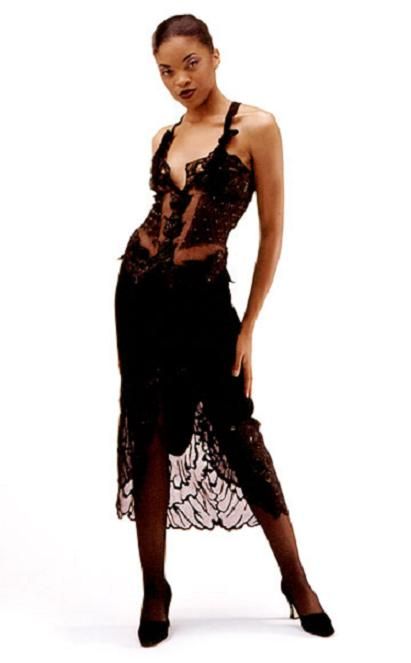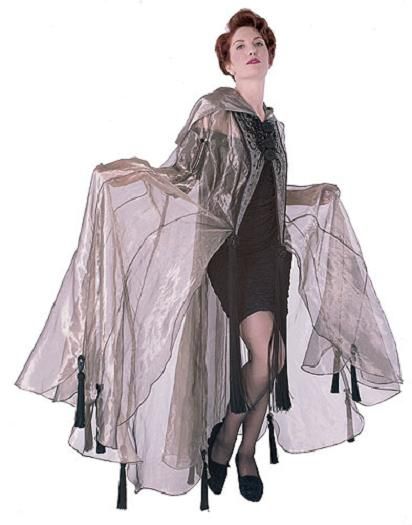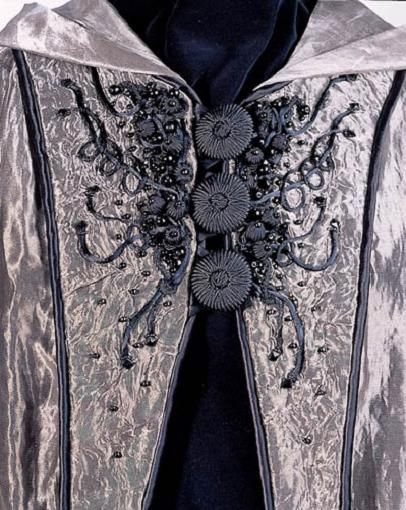 Detail of silver cape closure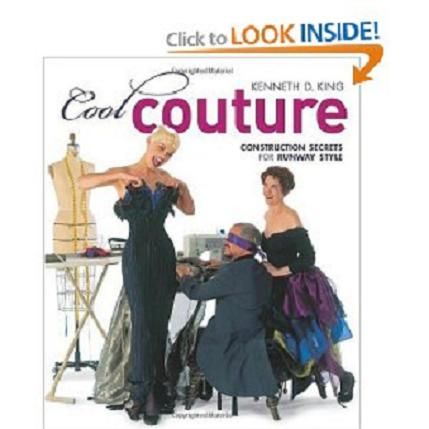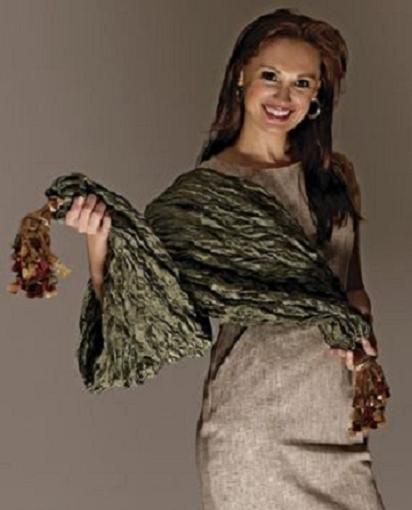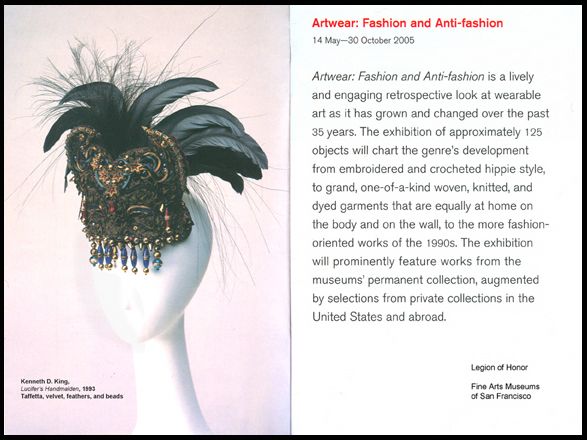 Fashion and Anti-fashion at the Fine Arts Museums of San Francisco.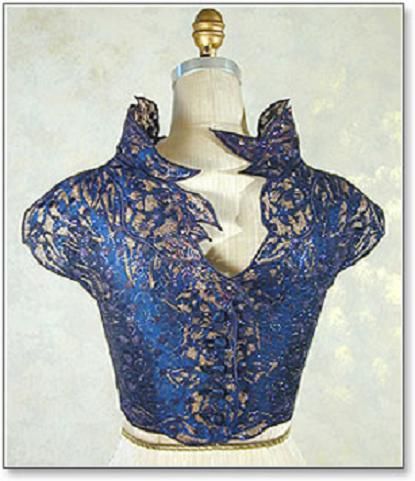 Blue, lace embellished top