Project Runway — Welcome to the Circus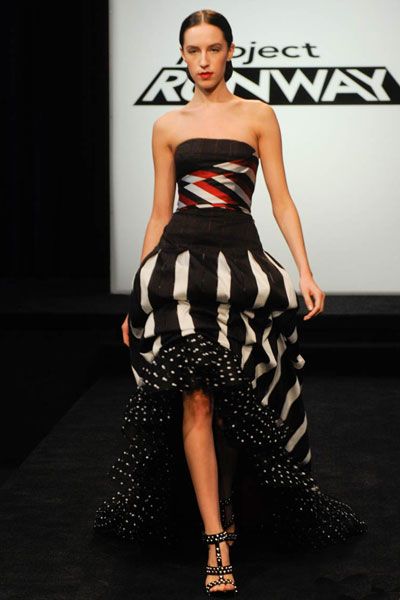 This week on Project Runway, the challenge was to create a high-end look inspired by the circus (the key being high-end). So off they went to Brooklyn for a private showing of the Barnum & Bailey's circus complete with swirling trapeze artists, bumbling clowns, death-defying tricks, a brilliant, blinged-out ringmaster and more. One could quickly see how easily this inspiration could turn costumey, and Tim reminded the designers to "Think Fashion" as they got to work.
Emilio was the winner of this week's challenge and he will show in Bryant Park. His dress was hands-down the favorite of all the judges, and of me too! Although his smug attitude throughout the show made me not want him to win, I couldn't help but love his dress. It was sophisticated and whimsical all at the same time without being garish. The mix of fabrics and prints was brilliant and I, too, was glad he added some color. It worked beautifully.
Emilio Sosa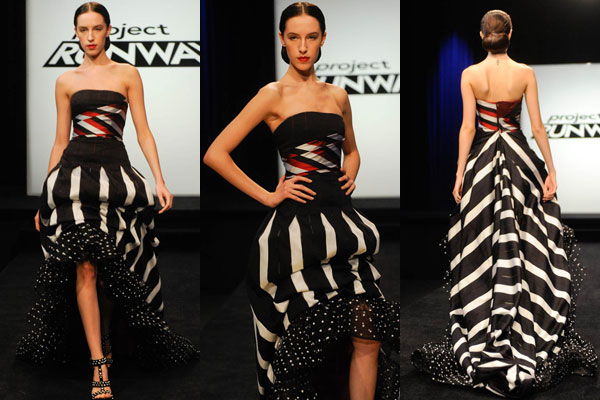 Seth Aaron will also show at Bryant Park. His design consisted of a way-out-there long coat in a thick black and white stripe, a white shirt with an exaggerated collar, and fire-engine red pleather jodphurs. Seth Aaron has a distinct look, but I found this look completely unwearable and costumey. However, Seth Aaron puts on a great show and for that I really enjoy seeing what he will make each week. I can't wait to see his collection at Bryant Park.
Seth Aaron Henderson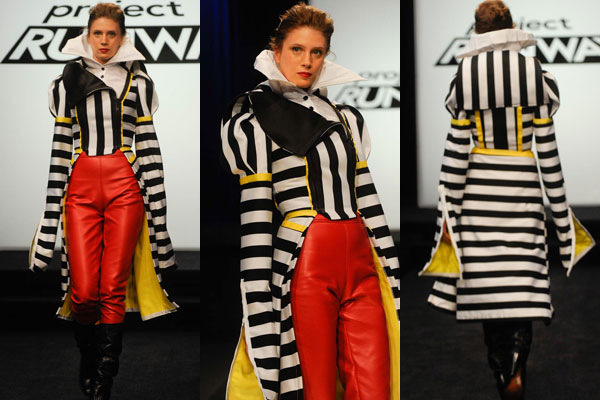 Anthony, who was inspired by the trapeze artists, chose to make a long blue gown in what he thought was silk crepe de chine, but ended up being polyester which hung terribly and distracted from the overall design. The dress was reminiscent of those we've seen before from Anthony, and not of his better designs. While the oversize ruffles at the neckline were over-the-top, the dress was ho-hum overall. And, Anthony is out.
Anthony Williams

Jay created a Michael-Jackson-esque cropped jacket inspired by the ringmaster. I thought it looked well made and I appreciated the details that fit the inspiration well. I particularly liked the addition of fringe at the shoulders. The voluminous pants were a signature Jay piece, and while they are stunning, they didn't have much of an impact on the runway with their subtle color and texture.
Jay Nicolas Sario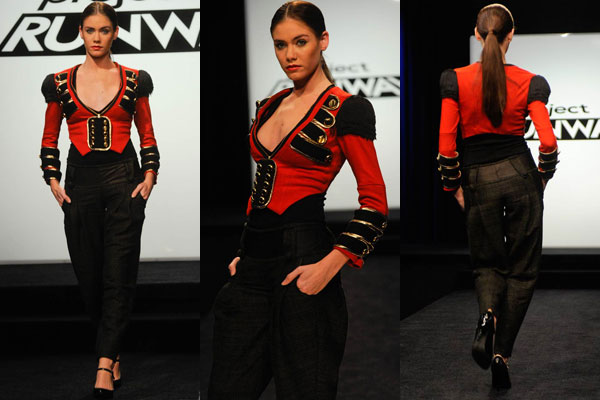 Mila was also inspired by the ringmaster and created a long coat in a black shiny material with a black and white collar, accompanied by a bright pink satin pant and a neon yellow bodice. The judges found the design somewhat appealing but did not like the overabundance of shiny fabrics.
Mila Hermanovski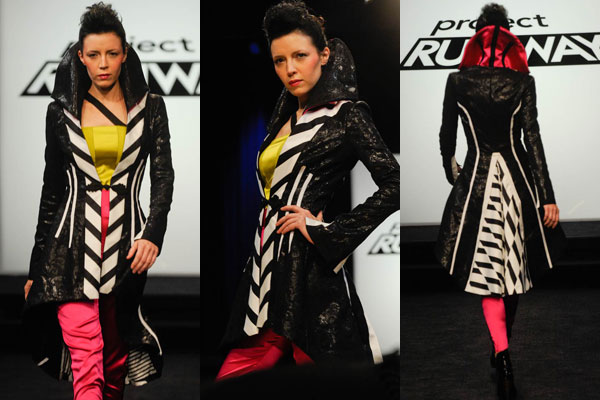 Jay and Mila will both create collections, but will have to duke it out over who will actually get to show at Bryant Park.
Next week Tim travels to each of the designers' homes to get a sneak peek at what they're up to. I can't wait to catch a glimpse of what they're making! As for the winner this season, I like Emilio and think his designs are very strong. He has created some beautiful garments this season. But, I love Seth Aaron as well and appreciate his unique style.
Did you agree that Emilio was the clear winner this week? Who are you rooting for? Tell us in the comments below.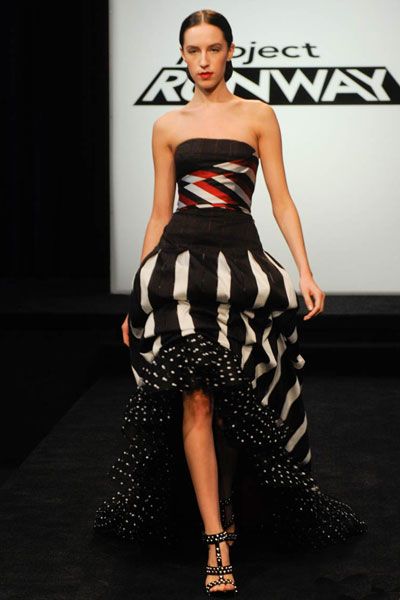 Emilio's hot streak continues and sends him directly to Bryant Park.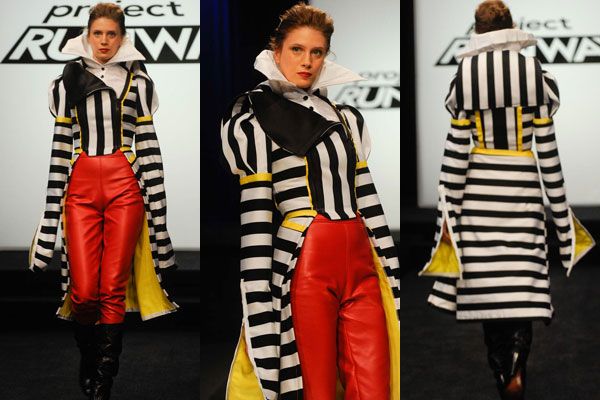 Seth Aaron has another good week and is sent through with his circus inspired jacket.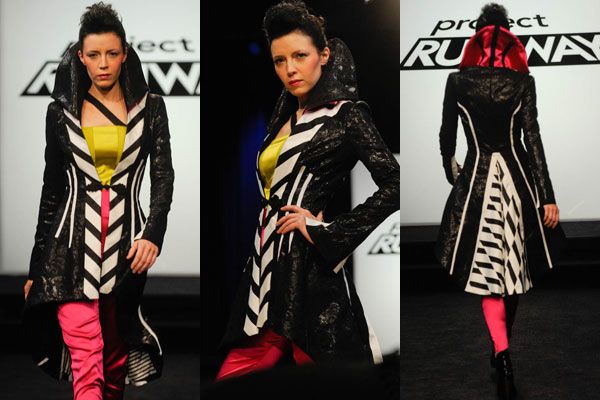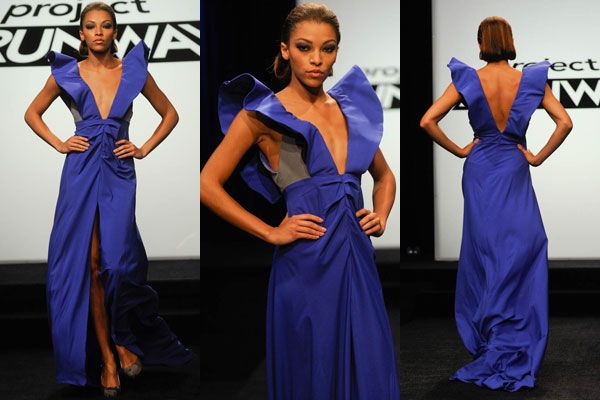 After Anthony's surprise return last week, he is finally eliminated.