Circular Ribbon Flower Redux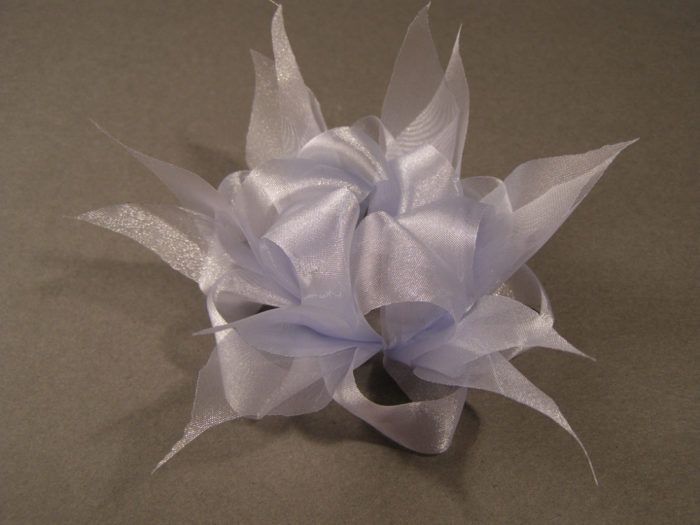 There seems to be a good response to the circular ribbon flower, so I wanted to share a variation that I came up with for a project recently. This flower can be made with one strip of ribbon, or two, for a fuller effect.
This is a beauty shot of the single layer flower, which I'll cover first. Begin with a strip of ribbon or fabric, 3″ wide and 18″ long. (Referring back to the earlier post, this proportion is six times the ribbon width.) Press creases into the strip to divide it into six equal parts. On each section of the ribbon, cut petals, as shown. You can free hand this, making the shapes, as you desire them. The cut is an exaggerated "Z"-shape. Now, sew the ends of the strip together. Fold the seam in half. Fold the edges of the strip up, to make the "W"-shape, referred to in the previous post. Whipstitch the "W"-shape closed. Fold the subsequent creases in the ribbon, into the same-shape, and whipstitch them to the previous one. When you finish sewing the last unit, join it to the beginning one, forming a circle. Fluff the flower, lifting the petals out so they stand away from the flower as shown. If you feel this flower isn't full enough for your purposes, you can do one of two things. You can make a circular flower without cutting the petals, for the center-this is shown in the photo. The burgundy center flower is made from a 2″ wide ribbon. An alternative is to make a smaller version of this flower to fill the center. This is a photo of what I'll call the double circular flower. The strip you will cut for the center of the double circular flower is 2/3 the width of the original…
Start your 14-day FREE trial to access this story.
Start your FREE trial today and get instant access to this article plus access to all Threads Insider content.
Start Your Free Trial
Already an Insider? Log in