Sewing tools from the art- and office-supply store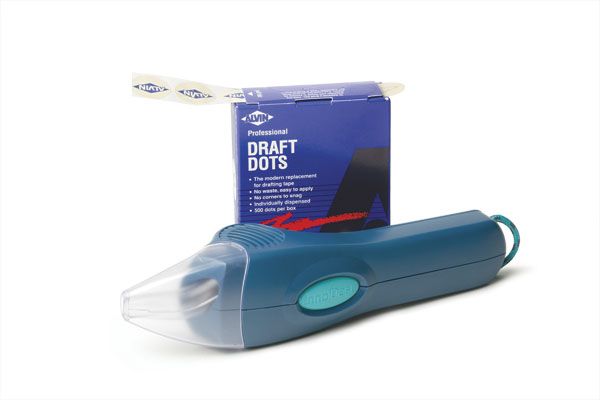 On my latest forays to art- and office-supply stores, I found some useful marking and cleaning tools. While a lot of sewers know the virtues of drafting tape-it's inexpensive, can be removed from paper, and can be written on-they may not know about drafting dots. These adhesive dots, 7⁄8 inch in diameter, come on a continuous tape in a box of 500. They pull out easily with a pull tab, are a little quicker to use than drafting tape, and are handy for marking anything small (notches, dots, directional arrows, etc.).
Another useful item I found is a handheld, battery-operated air blower. This blower makes a nice addition to your cleaning and dusting equipment. It isn't quite as powerful as canned air, but it won't harm the most delicate machine innards, doesn't blow cold air, and won't add cans to landfills. It is made by a company called InnoDesk. Go to its Web site, InnoDesk.com, to find a retailer.
– Lonnie Piposzar, Pittsburgh, Pa.
Do you have a good sewing tip? Send it in, and we'll pay you if we publish it in Threads magazine. We'll also select the cleverest tip in each issue, and the winner will receive a gift package from Taunton Press including Threads DVDs and other instrucional sewing books.
Send tips to:
Threads Tips
POBox 5506
Newtown, CT 06470
or by email at:
ThreadsTips{at}taunton{dot}com