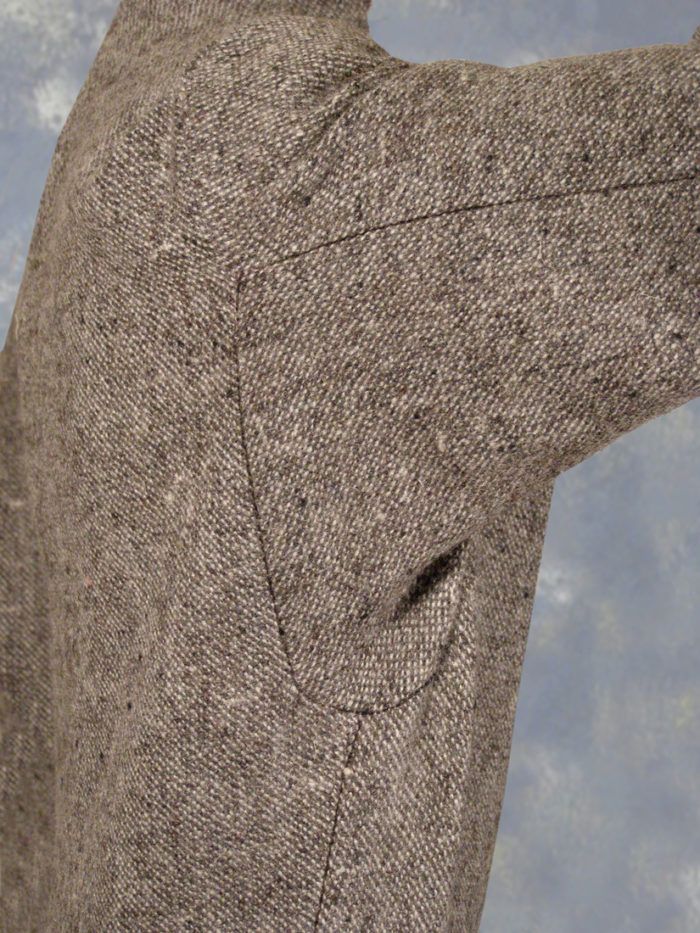 Recently there came to my hand a Norfolk jacket. This jacket, while being close-fitting, was amazingly comfortable, in that I could really move my arms up and forward. On studying the cut, I noticed this strange design detail under the arm. On further examination, I realized that this was a cut-on gusset for a two-part tailored sleeve!
Before I start this demonstration, I'll explain a little about gussets. A gusset performs one of two functions–it will replace fabric into a pattern, where the fabric was lost during the drafting process. The classic example of this is the diamond gusset on a kimono sleeve. The gusset replaces the fabric under the arm, where the sleeve and body patterns would overlap while grafting the sleeve to the bodice.
The other function the gusset performs is to give extra fabric in an area of the pattern, where greater than normal mobility is desired.
When a gusset is referred to as "cut-on", that means it isn't a separate piece but is included in one of the main pieces of a pattern–it is, in a sense, invisible. So, this is why I didn't notice the cut-on gusset in the Norfolk jacket–it was a subtle detail that didn't attract attention, just silently provided extra movement in the sleeve.
Know that in my pattern illustrations, I draft sewing lines, no seam allowances. So, understand that you will add seam allowances later on, after the pattern is drafted.
The photo to the left shows the arm up, with the seams forming the cut-on gusset. It also shows just how high the arm can raise with this sleeve. This is the way the garment looks when the arm is down-just like a regular set-in tailored sleeve. This is the view from the…
Start your 14-day FREE trial to access this story.
Start your FREE trial today and get instant access to this article plus access to all Threads Insider content.
Start Your Free Trial
Already an Insider? Log in