Check out the Threads June/July Issue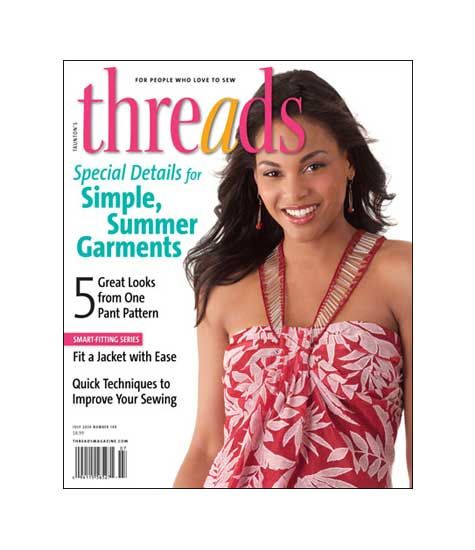 Although we've had a touch of a cold-spell here on the east coast, the days are warming up again and we're all a-buzz here at the office with ideas for summer sewing. Now's the perfect time to start planning your summer wardrobe–and the June/July 2010 issue of Threads can help you do just that. In this issue, our sewing experts share unique, simple details that you can use to create summer garments that standout from the rest. Here's a hint of some of the great articles and techniques you'll find in the issue:
Clever ideas for Gorgeous Summer Garments:
One Pant, Five Looks: The Sewing Workshop pattern designer, Linda Lee, shares 5 unique, yet simple ways to transform your favorite pants pattern so you can make a variety of styles from that one special pattern you love.
Add a little Texture, Sparkle, and Detail with 4 techniques from longtime Threads author, Anna Mazur. She'll share how to make a stunning edge with fagoted cording, how to create a beautiful strap for a blouse or dress with bugle beads, how to accent style lines with topstitching, and how to use beads to enhance a print motif.
Turn Ribbons into Blossoms: Owner of the ribbon boutique, Soutache, author Maili Powell shares a method for making beautiful blooms from a few yards of ribbon or trim. They're great for embellishing all kinds of projects, especially summer accessories like hats and totes.
Remember the winner of our Summer Sewing Challenge last summer? So many of you asked about the dress and the design, we asked the winner Patricia Keay to share her technique for creating the beautiful bias tube embellishment on this mother-of-the-groom dress.
Techniques to Improve your Skills:
Find out how to get superior results on your hems, facings and darts from contributing editor Louise Cutting in the article Better Basics.
Don't miss contributing editor Kenneth D. King's latest in the Smart-Fitting Series focused on jacket fitting. This time, he shares how to apply basic fitting principles to the task of fitting a garment that's meant to be worn over other clothing.
Fun Projects and Tool Tutorials:
Make a quick Little Black Sewing Bag designed to keep all your sewing tools at the ready.
Vintage Presser Feet: Get to know the adjustable hemmer, the tucker foot, and the edge stitcher. You may have some of these lying around, and are wondering what to do with them and how they work. This article by Charlene Phillips will show you how to put them to good use in your sewing today. And, you don't need a vintage machine to use them!
Plus, lots more:
Get expert answers to your toughest sewing questions with Q&A, and ever-helpful reader tips. Learn about the latest patterns to make and see what other sewers are up to in Reader's Closet. Don't forget to submit your own designs into the online gallery for the chance to be featured in the magazine.
We hope you enjoy this summer sewing issue! Look for it on newsstands now, or buy it here.
Did you already get the issue? Let us know what you think in the comments below.
Happy Summer Sewing!
Deana Tierney May
Editor