See Sewing Rooms and Fabric Stashes on Flickr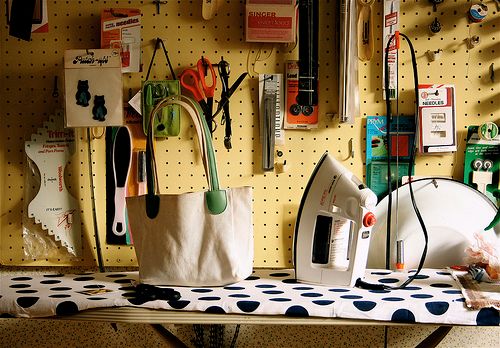 I love finding inspiring new sources for sewing room organization, storage, and projects. Seeing how someone else manages their fabric stash and arranges their equipment is fun. It's like paying a visit to a friend's house and getting to check out her sewing space – after the oohing and ahhing, you almost always find something you can apply to your own space!
I just recently came across the fabric and sewing photo pools on Flickr. Flickr is a photo management site, owned by Yahoo. I don't use it to edit and share my photos – but it is free to become a member and do so. Right now, I just like to check out photos, and Flickr allows you to look at groupings of photos connected by topic "tags." There are photos tagged for sewing, tailoring, couture, sewing rooms, craft rooms and so on… plenty of eye-candy for people who love to sew.
Some users use it as advertising – they are selling items in their Etsy stores, or parting with some or all of their fabric stash. Others post images of recent projects.
My favorite images right now are of sewing rooms and storage ideas. In the "Craft Rooms" group there are currently 4,388 members and 11,782 photos, enough to keep me interested for a while. If you are a Flickr member, you can comment on other users' photos, offering suggestions or asking questions.
Where do you like to look for inspiration? Do you track your progress on projects with photos?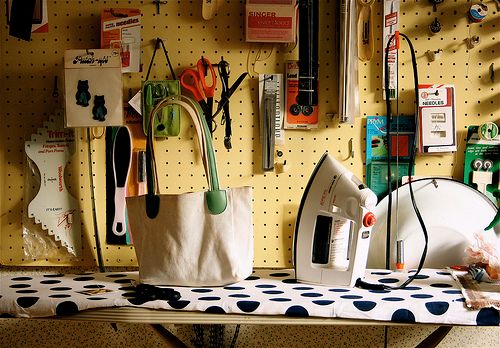 Flickr member Abby Stanglin posted this image, "Grandma's Sewing Room." Painted pegboard is my next storage improvement.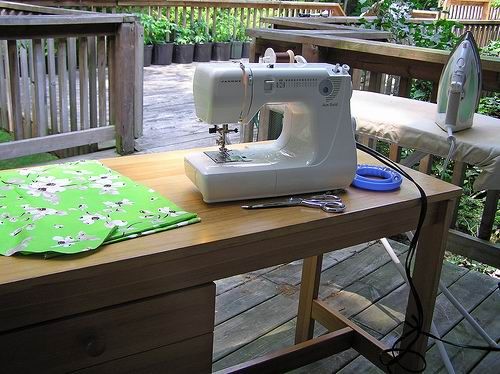 "Sewing Outside" by Anne Norman. Anne calls this her "one-season sewing room."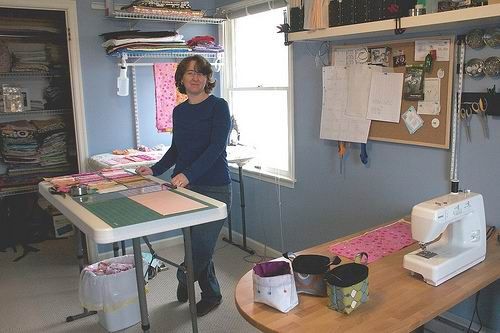 "Me In My Craft Room" by Heidi Elliott. Heidi says she and her husband converted an extra bedroom into a shared hobby room.