Hair elastics for closures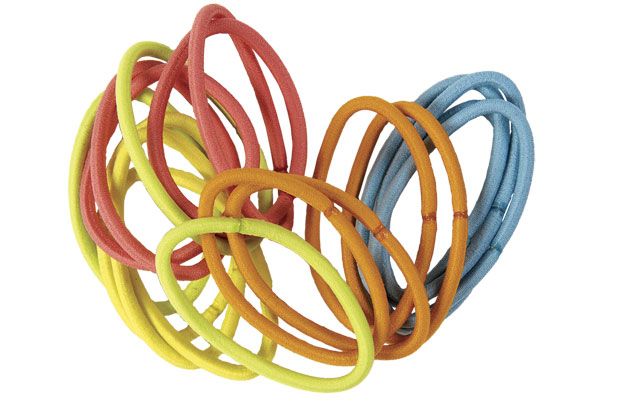 Hair elastics make excellent button loops, and they're perfect for many other embellishments as well. I use a simple circle elastic joined with crimped metal, glue, or stitching. The elastics give a professional finish to a garment, and they come in an extraordinary array of colors, patterns and finishes. They can be sandwiched between the facing and the fashion fabric or added as an embellishment on the outside. Use them intact, or cut them for smaller loops.
Loop one over a button on one side of a jacket opening, and twist, stitch, or knot it in the middle. Then loop it over a button on the other side so that the elastic holds the two sides together without having to bother with buttonholes.
Use thicker elastics to fasten handbags and totes using a plain, chunky, or oddly shaped button to complete the closure. I've learned to be careful not to sew over the crimped or glued section of the elastic, and I've found thinner elastics are much easier to work with when stitching by machine. I often keep a variety of elastics on hand, ready to incorporate them in my sewing projects.
-Margaret James, Kingswood, South Australia
Do you have a good sewing tip? Send it in, and we'll pay you if we publish it in Threads magazine. We'll also select the cleverest tip in each issue, and the winner will receive a gift package from Taunton Press including Threads DVDs and other instrucional sewing books.
Send tips to:
Threads Tips
POBox 5506
Newtown, CT 06470
or by email at:
ThreadsTips{at}taunton{dot}com