Simulators Let You Sew Virtually with Bernina's 8 Series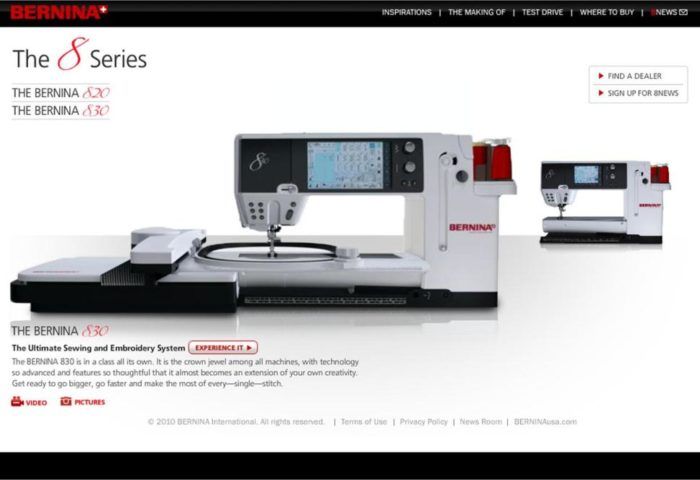 The Internet offers sewing enthusaists many learning opportunities, from sewing machine manuals and free patterns to download, to advice from experts and sewing video tutorials for a multitude of techniques and sewing machine features.
This week, Bernina launched a website that offers all that and more to promote their 8 series sewing machines. Bernina8Series.com presents what was to me a unique experience: Simulators you can download to get an first-person, sewer's-eye-view of using a Bernina 830 or 820.
It would take me weeks to explore all of the options the simulator presents. In just a few minutes however, I was experimenting with stitch patterns on the 830 simulator. I could select a design, adjust stitch length and width, control the foot pedal or push button start/stop, and see a simulated version of my stitch created. The simulator mimics the display on an actual Bernina 8 Series machine.
The graphics allow you to see the needle position (horizontally and vertically), start and stop stitching, and see a animation of your stitches being formed. You can switch between sewing and embroidery mode, examine presser feet options, lower the feed dogs… the options go on and on.
The simulator is also a alternative to any instruction manual – It's chock full of general use instructions. For example, if you select the "Tutorial" button, you can read how-to information about features and see animated instructional videos. I watched "Winding a Bobbin" and the animation is clear and easy to follow. It moved slowly through the process, magnified parts of the machine as they were in use and repeated until I paused it or moved on to another section.
I know I was far from discovering all the simulator has to offer, but I could quickly see it would be a great reference and a chance to test techniques and stitches without wasting thread or fabric. What do you think of the chance to virtually use a sewing machine before you buy it?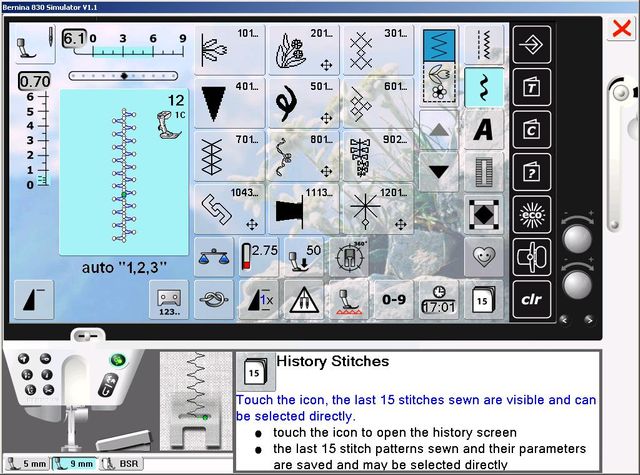 This screenshot of the Bernina 830 simulator (available for download at Bernina8Series.com) gives you an idea of the complexity of the experience. The display mimics that of an actual Bernina 830.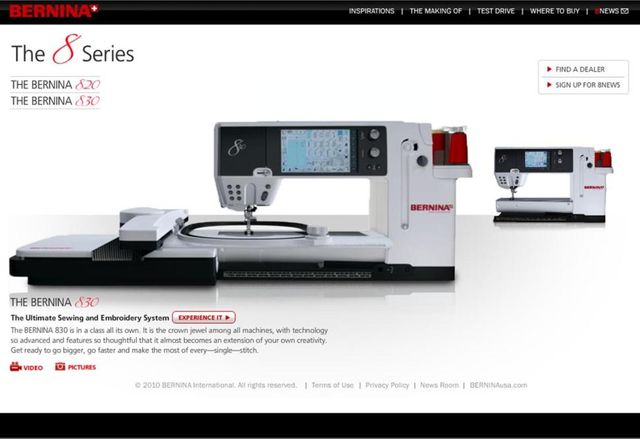 The new Bernina 8 Series website includes videos, tutorials, free patterns and simulators for the 820 and 830 sewing machines.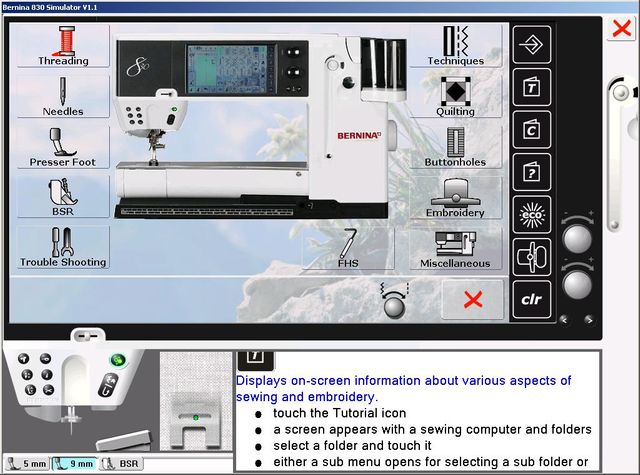 The Bernina 830 simulator's Tutorial section has "Folders" covering features from presser feet to needles, buttonholes and embroidery. Click on one of the folders to see more information - as text, animations or a combination of both.