Book Giveaway: Stitch-Opedia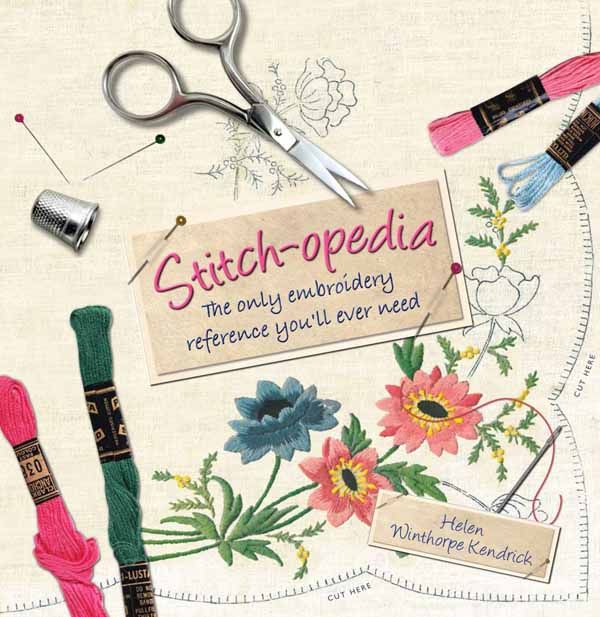 Embroidery adds something beautiful to any project, but can be a bit of an overwhelming task for a beginner. Helen Winthorpe Kendrick's Stitch-opedia is a complete guide to embroidery techniques.
Stitch-opedia details hundreds of embroidery stitches and techniques. The stitches are sorted into categories for easy reference, and each is detailed with beautiful color photographs and diagrams. Stitch-opedia explains the equipment, techniques and stitches for basic embroidery motifs and is a wonderful go-to reference for any embroiderer. The book also contains a collection of motifs that can be either copied or transfered to fabric for embroidery design.
As someone that knows almost nothing about hand embroidery, I found this book to be a wonderful guide to basic embroidery stitches. There are a lot of techniques out there, and Stitch-opedia is a great reference for learning them.
You could be one of two randomly selected winners. Threads will send Stitch-opedia to TWO lucky winners. To enter, FIRST CHANGE YOUR AVATAR associated with your Threads ID from one of our stock images to one of your own. It can be a picture of you, something you made, or even an illustration. If you already have an avatar with an original image, you can enter the drawing now by simply leaving a comment.
To change your avatar, click on "My Threads" above. Next, click on "Edit My Settings" in the upper right corner of the window. Then, click "Change Your Profile Image" and upload the image of your choice from your computer. The image can be up to 4 MB or 1,200 pixels.
To enter the drawing, leave a comment displaying a personal avatar. Leave a comment on this post before the deadline—11:59 pm, Monday, July 19—and you could be one of the TWO lucky winners who will be chosen at random and announced on Wednesday, July 21.