The August issue is on sale!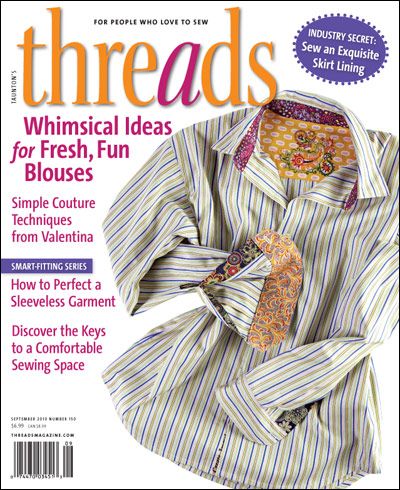 The August issue of Threads is on sale now, and if you're a subscriber, it has probably already made its way to your doorstep. (If not, it will be there soon!) I have to admit, when I browsed through my advanced copy of this issue, I was blown away. I hope that you will be too. We've been working so hard to bring you the sewing information you're craving, with gorgeous photography that will inspire you to create. This issue is a culmination of all that hard work, and it's just jam-packed with articles I know you'll love. Here's a glimpse of what you'll find in this latest issue of Threads:
Techniques
First up, the cover story from renowned sewing expert Linda Lee brings you fun, unique ideas for creating blouses. Taking a cue from menswear designers such as Robert Graham, Lee's blouse ideas are fresh and unexpected. She walks you through the techniques and offers tips to make your blouses truly stand out from the pack. (I can't wait to try these out).
While we're on the topic of tops, Kenneth D. King's fitting series finale focuses on the armhole. This is a tricky spot to fit for many, and Kenneth's expert tips show you how to get a smooth and perfect fit. You'll be surprised at how this simple fix can make a big difference in the fit of the overall garment.
Design
If you love working with embellished lace, but don't love the expense and want to put your own creativity into the design, you can make your own. Susan Crane created a stunning lace garment, which beautifully illustrates how to apply sequins, beads and ribbon to lace. The process takes some time, but the results are worth it. She also created this unique removable floral embellishment.
John Koch wowed us a few issues back with his artful glove designs. This time around, he's back with a tutorial on creating a serious, hard-sided hand bag. His bags elicited lots of oohs and ahhs from the Threads staff, and had us all putting a hard-sided handbag on our list of "must-makes". It's the perfect project to pull your fall wardrobe together.
Claire B. Shaeffer, author of Couture Sewing Techniques, also brings us into the sophisticated world of designer Valentina, with a detailed look at her designs along with a sampling of couture techniques you can put to use in your own designs.
Tools
One way to get super smooth stitching is to choose the right presser foot. Fine Machine Sewing author Carol Ahles explains the variety of flat presser feet that are available, and how to use them to their best effect.
Finally, every sewer needs a sewing space that's comfortable. Lynette Ranney Black, author of Dream Sewing Spaces, shares her tips for setting up your space using ergonomics. You'll learn the qualities of a good sewing chair, and how to find the right height for your chair, your sewing machine and cutting table. The result is a more efficient sewing space designed to suit you.
And more!
And that's just the features…there's lots more to whet your sewing appetite in the departments, too, with reader's tips, notions, embroidered note cards, vent solutions, and a skirt lining how-to.
I hope you enjoy the issue! Please let us know what you think of it (leave a comment below).
Happy Sewing,
Deana Tierney May