Weight a Narrow Hem with Thread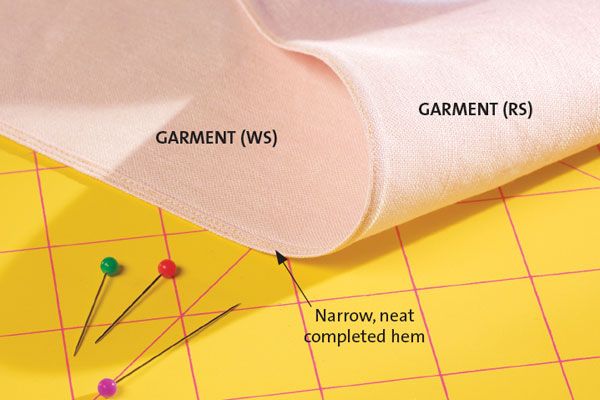 This simple technique allows you to easily add weight to a narrow hem so it hangs straighter than it would if it were sewn with a rolled-hem presser foot. The added weight comes from six threads within 1⁄8 inch of the edge: three from the sewing machine and three from the bobbin.
1. Install a straight-stitch presser foot and throat plate on your sewing machine. This prevents lightweight fabrics from being pulled into the machine. Set your stitch length to 1.5mm. Use a 75/11 quilting needle and 100-percent-cotton thread.
2. Trim away excess fabric.Calculate the finished length of your garment. Add a 3⁄4-inch hem allowance, and trim.
3. Straight-stitch around the hem. With the fabric right-side up, stitch 5⁄8 inch from the raw edge, as shown.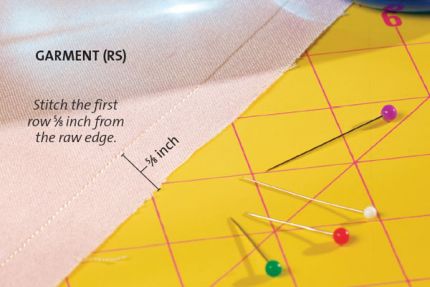 4. Press the hem allowance to the wrong side. Turn the edge so the stitching falls on the hem-allowance side of the fold. Favor the stitching so the fabric fold is barely beyond the line of stitches.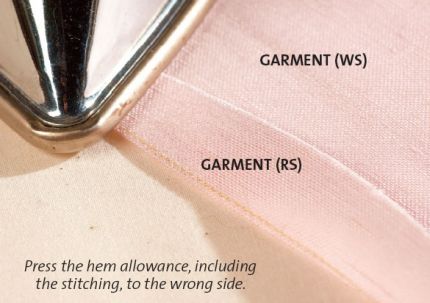 5. Stitch the hem a second time. With the garment wrong side up, stitch 1⁄16 inch from the pressed edge. Stitch through both fabric layers, and use the existing stitching line as your guide. Sew over the first row of stitching (not shown.)
6. Trim the hem allowance. Cut very close to the stitching line you just made (duck-billed appliqué scissors make the job easier).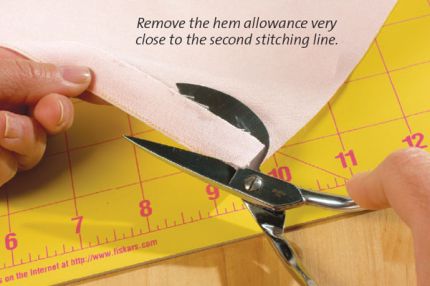 7. Turn the trimmed and folded edge under. Keep the edge snugly in the fold, and press crisply. No hem stitching should be visible on the right side.>
8. Sew the hem a third time. From the wrong side, sew another stitching line 1⁄16 inch from the hem fold through all stitching layers. As you did in step 5, let the previous row of stitching be your guide.
9. Press the completed hem. Press the narrow hem on both sides to ensure it hangs…
Start your 14-day FREE trial to access this story.
Start your FREE trial today and get instant access to this article plus access to all Threads Insider content.
Start Your Free Trial
Already an Insider? Log in