New Designer Ruby Machine from Viking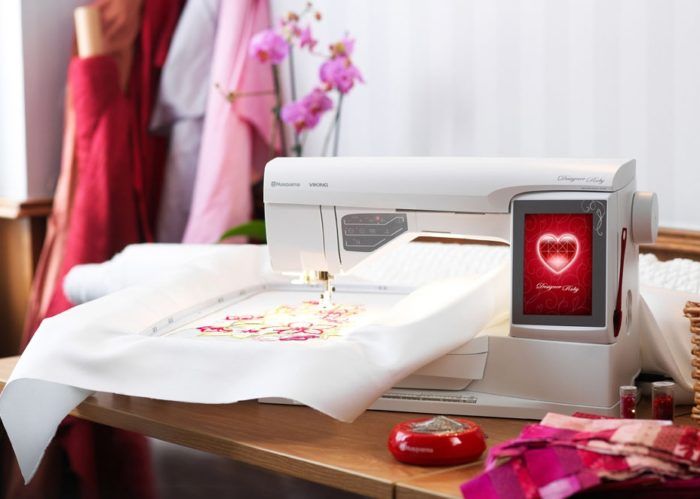 This week Husqvarna Viking announces their newest machine, the Designer Ruby.
From Viking:
HUSQVARNA VIKING®, a global leader in sewing machine design and manufacturing, unveiled the new DESIGNER RUBY™ sewing and embroidery machine, offering sewing enthusiasts everything their hearts desire in a performance machine. Designed and engineered in Sweden, the HUSQVARNA VIKING® DESIGNER RUBY™ sewing and embroidery machine, is the ideal tool to unlock creativity and inspire unique garments, quilts and home décor made with love.
"HUSQVARNA VIKING has been at the leading edge of sewing innovation since 1872," said Nikolaus Wöhrle, Vice President of Product Development for SVP Worldwide, source of the SINGER®, HUSQVARNA VIKING® and PFAFF® sewing machine collections. "The new DESIGNER RUBY is the ultimate expression of that history, offering superior functionality, interactivity and customization. This machine is a true gem."
With the debut of the HUSQVARNA VIKING® DESIGNER RUBY™ sewing and embroidery machine, sewers can now explore the never-ending possibilities thanks to an unparalleled range of capabilities, exceptional convenience and exclusive innovations to optimize the sewing, quilting and embroidery experience:
Capability to Adore

The large interactive, high-resolution DESIGNER™ Touch Screen with a crisp three-dimensional view is simple to use. With a stylus or an optional USB mouse any function, any stitch and any information can be activated with just a touch.
The DESIGNER RUBY™ sewing and embroidery machine features an extra-long free arm and a spacious embroidery area accommodating hoop sizes up to 360 x 200 mm, allowing users to stitch large design areas, such as the back panel of a jacket, in just a single hooping.
DESIGNER™ Selection feature offers more than 800 stitches and lettering options, up to 54.6 mm wide with Omni Motion Stitches, as well as hundreds of embroidery designs.
Convenience to Cherish
Thanks to EXCLUSIVE SENSOR SYSTEM™ technology, the Sensor Foot Pressure can automatically sense fabric thickness resulting in perfect, even feeding and the Sensor Foot Pivot facilitates instant pivoting.
Any fabric type, weight and sewing technique can be entered and the Exclusive SEWING ADVISOR® feature can automatically set stitch, stitch width, stitch length, thread tension, sewing speed and presser foot pressure for each sewing project, while the EXCLUSIVE EMBROIDERY ADVISOR™ feature recommends appropriate needle and stabilizer based on the type and weight of fabric being used.
The Automatic Jump Stitch Trim is a time-saving feature that trims the jump stitches in embroidery and pulls thread ends out of sight.
Innovation to Inspire
­Interactive customization allows a design to be scaled, mirrored, duplicated, rotated or combined with other designs or personal lettering on-screen. Project details can be examined in detail with the zoom feature. All changes appear instantly on the screen with no additional software needed.
The Design Positioning feature makes it easy to place designs and join large embroideries with amazing precision.
USB port allows designs to be transferred directly between a computer and the DESIGNER RUBY™ sewing and embroidery machine.
Software updates can be easily downloaded from the HUSQVARNA VIKING® website so the DESIGNER RUBY™ sewing and embroidery machine will always be up to date with the latest technology.
"HUSQVARNA VIKING provides sewing enthusiasts with state-of-the-art tools that enhance their creative sewing experience and help keep them sewing for a lifetime," said Becky Hanson, Director of Education for SVP Worldwide. "Passionate sewers, quilters and embroiders will absolutely fall in love with the DESIGNER RUBY sewing and embroidery machine."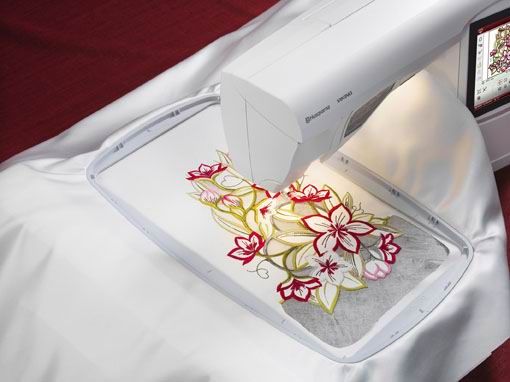 Designer Ruby with embroidery in the machine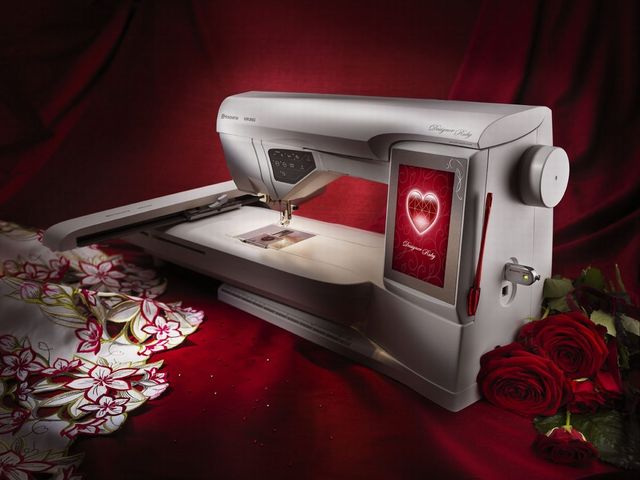 Designer Ruby embroidery machine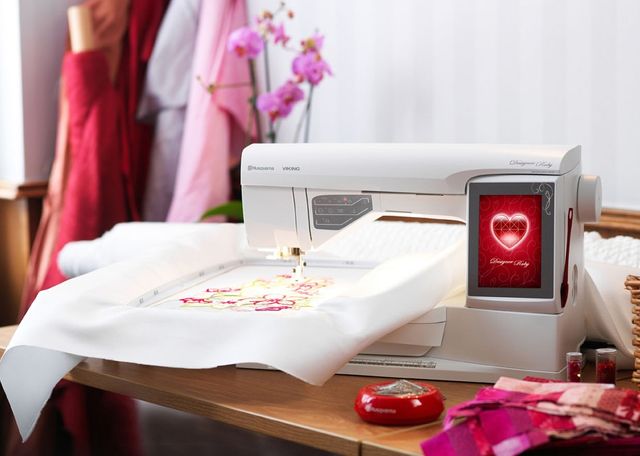 Designer Ruby embroidery machine