New Book Looks at Rare Luxury Bags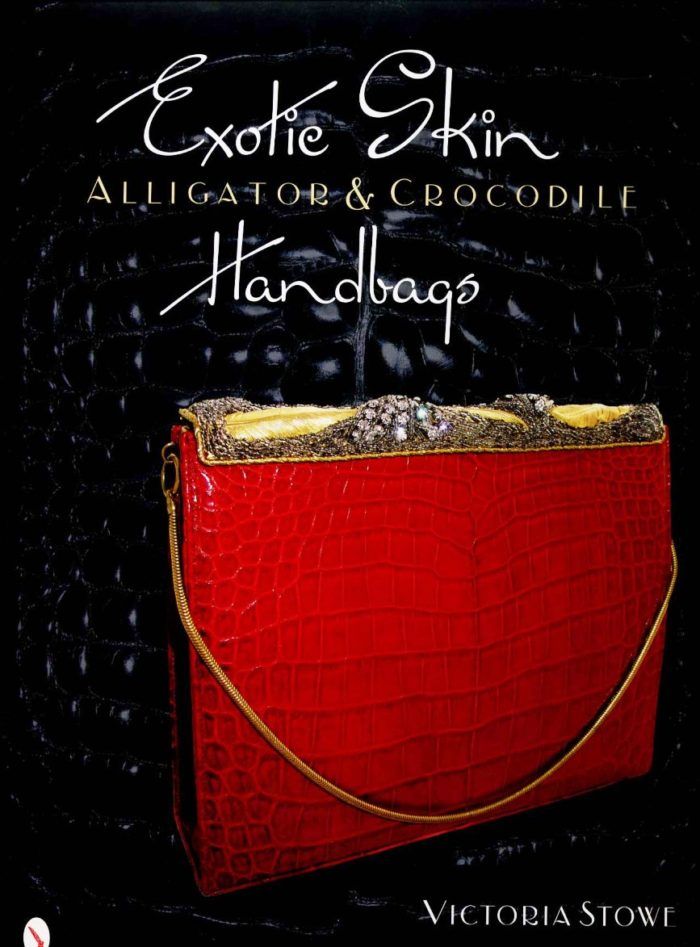 In 1897, the Sears, Roebuck & Co. catalog offered a "Genuine Hornback Alligator Pocketbook" for $3.19 (postage 6 cents extra)! Today, a crocodile tote from Neiman-Marcus will set you back about $3,000.
That's just one piece of knowledge I picked up from the review copy of "Exotic Skin Handbags: Alligator & Crocodile" by Victoria Stowe (Schiffer Publishing, $49.99).
Although it isn't in the title, Stowe discusses and features bags made of not only alligator and crocodile, but turtle, ostrich, snake and lizard. These were the raw materials of bags carried by elegant society women. Manufacturers included Gucci, Hermes, Lederer de Paris, and Mark Cross (Cross bags are no longer made, but you can find them on eBay).
The author owned a business which exported and sold collectible handbags online for 10 years. According to her bio, she appraised and sold more than 5,000 of these rare and luxurious bags. The hundreds of photographs in the book are all from her collection, and she thoroughly knows her subject.
This book's design is as formal and classy as the subject matter. The rarity and quality of reptile skins placed such bags at the pinnacle of accessory style. Her book covers exotic-skin bags from the late-19th century through the 1960's.
Stowe includes an array of vintage editorial and advertising images in addition to the photographs of her bags. It provides context, as you get to see the parallels between fashion trends and bag designs.
I just want to say that I'm not advocating the continued use of exotic reptile skins for handbags, and Stowe discusses the legal restrictions put on use of these leathers in the United States. Beginning in the late 1960s, there was a ban of more than a decade on selling or importing alligator skins.
We live in a more enlightened time, with a better understanding of endangering species. As a historical record of a luxury accessory, the book is fascinating and full of eye-candy; as a collectors' guide, I would imagine it to be indispensible.
Learn to collect
For anyone interested in purchasing a quality bag or developing a bag resale business, Stowe has a lot of great advice.
Stowe has four C's to remember when shopping for a vintage exotic-skin bag – Circa, Condition, Craftsmanship and Color. She also shares some of the complicated finer points to know about these unique materials, including the differences between alligator, crocodile and caiman skins.
Alligators do not have itegumentary sense organs (a pore) on every scale.
Crocodiles do have a pore on each scale.
Caiman skin is loaded with bony plates or ossifications. It's more brittle than good crocodile or alligator, but works best in very structured bag styles.
Stowe also defines the difference between vintage and second-hand exotic skin handbags. A vintage bag, Stowe explains, is an example of the best work of an influential bag maker – such as Hermes, Gucci, Chanel, and so on. A second-hand bag may be beautiful, but it's not an investment if it doesn't have a place in fashion history.
I thoroughly enjoyed looking through "Exotic Skin Handbags: Alligator & Crocodile." It's packed with fashion, information, and an aficionado's appreciation of these luxury accessories.
---
In addition to this wonderful book, if you are looking for Great Sewing Books, we have a collection of our favorites!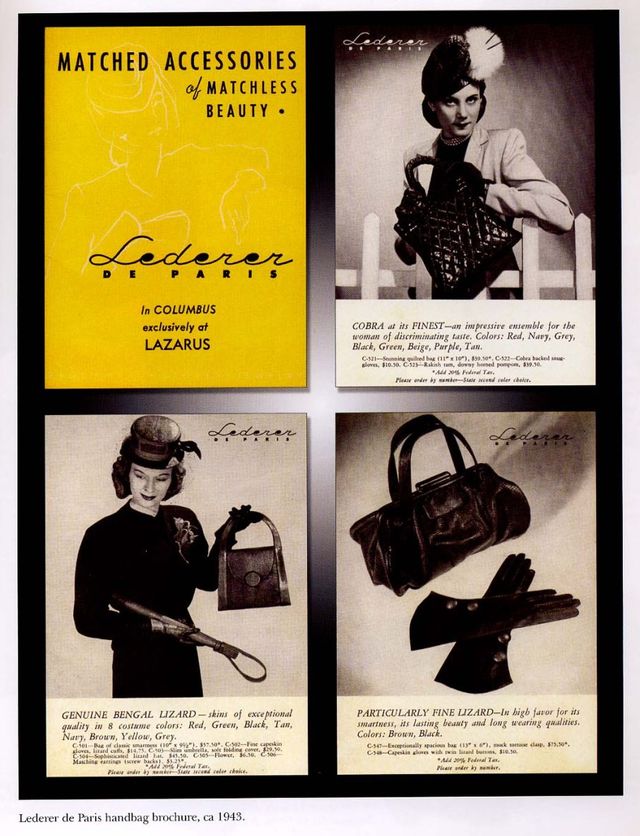 A 1943 Lederer du Paris advertisement, featuring lizard and cobra accessories for ladies.
These two Lucille de Paris bags were made in the 1960s. The black bag is lizard, the white, ostrich.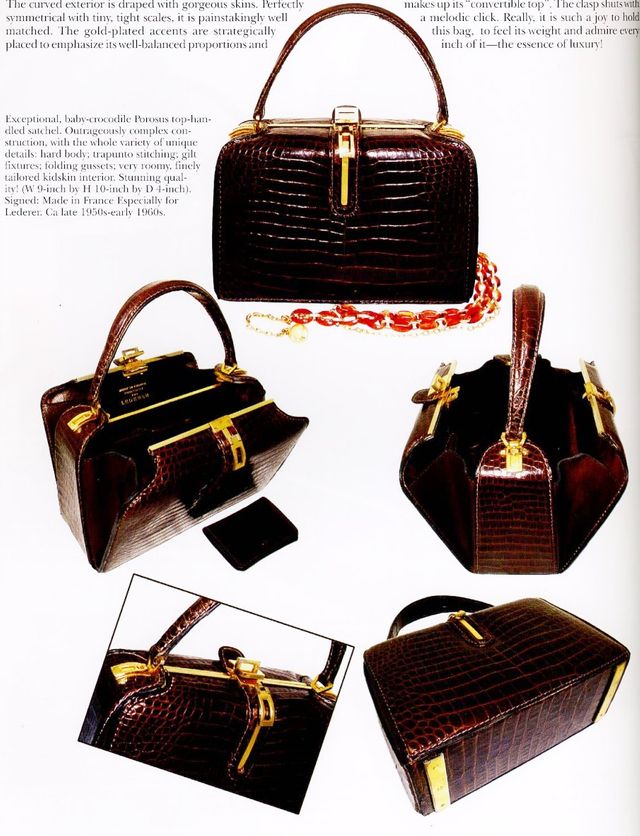 With five photos, author Victoria Stowe gets across the fine details of this circa late-1950s Lederer bag. The skin was Porosus crocodile, frequently used by Hermes.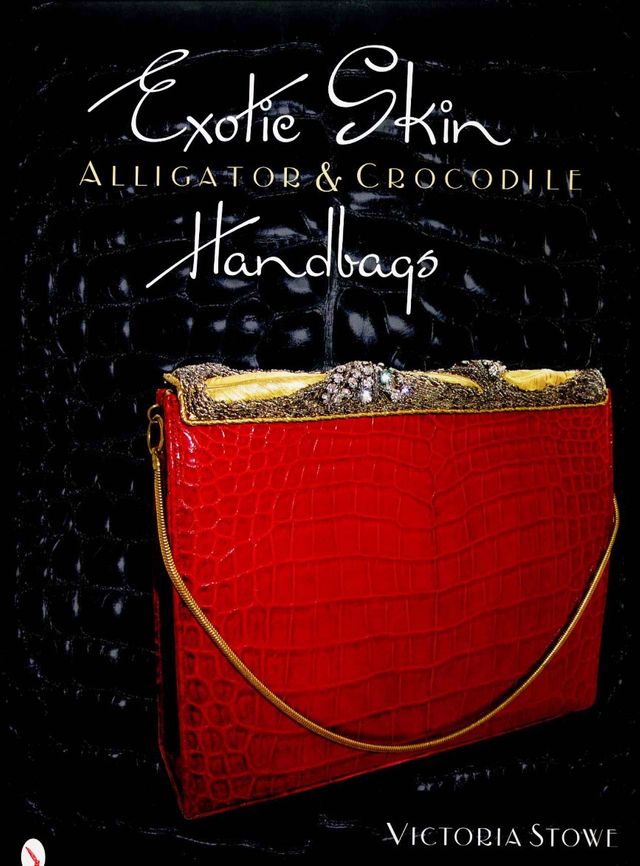 "Exotic Skin Handbags: Alligator & Crocodile" by Victoria Stowe has more than 500 photographs of vintage bags.