Project Runway Season 8, Episode 2 Recap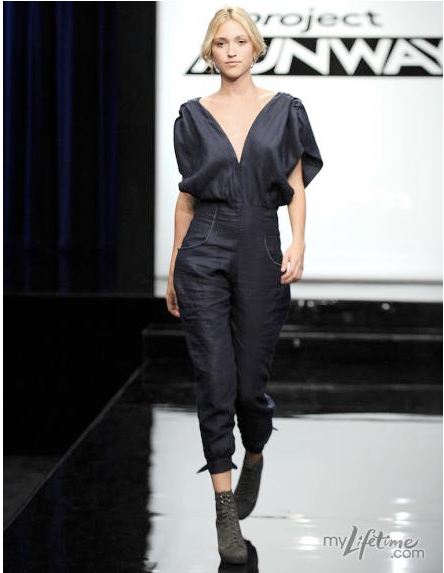 This week marked the first "real" challenge of Project Runway, since last week was actually an extension of the auditions. Or, actually really the second challenge.
Many of the contestants disagreed with last week's decision (as did I), and it was actually a bit refreshing to hear their take on the judges. I don't remember past seasons being so candid so early on.
This week's guest judge was Joanna Coles, the Editor-In-Cheif of Marie Claire. She revealed that the challenge was to create a garment fit for the Marie Claire woman. She described her as fashion-forward, confident, and sexy. And as a surprise, the winner would not win immunity for the next challenge. Instead, they would win something even greater–a 40-foot-tall billboard featuring their design in Times Square.
Challenges like these are always interesting (and probably harder) because they are so broad that the designers really can create anything they want. There's not a whole lot of guidelines or restrictions, other than it has to be sellable.
In the end, many contestants did not live up to the challenge. I thought there were also quite a few people that squeaked by who really should have been scrutinized (I'm looking your way Ivy). The looks ended up to be so disappointing that the judges decided to send two people home instead of the regular one.
Jason's "infinity" dress sent him home, which seemed like an obvious choice. It was the second week that he had a garment held together with saftety pins, and Kors said that it looked like she was wearing a satin bedspread. It was way too conceptual, poorly designed, and poorly sewn.
Nicholas was also sent home, but really it was only his cape that did him in. His blouse was great from the front, but not so great from the back. Although his ensemble did have its flaws, I felt there were others that deserved the boot much more than he.
Again, Gretchen came out on top and was the winner. She created a look including her very first ever pair of pants. I was very impressed, but thought Valerie should have taken the prize with her stunning red dress. That is, until I saw the billboard at the end. I'm not sure if the judges were thinking of that sort of spirit, shape, and theme for the billboard during the process, but I thought Gretchen's outfit was most definitly the best choice for it.
So, what did you think? Did you agree?
Also, do you have any predictions of who you think is going to last or become the next to be out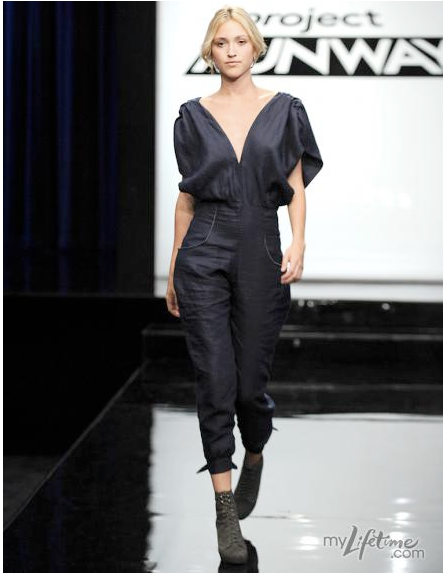 Gretchen's winning jumpsuit design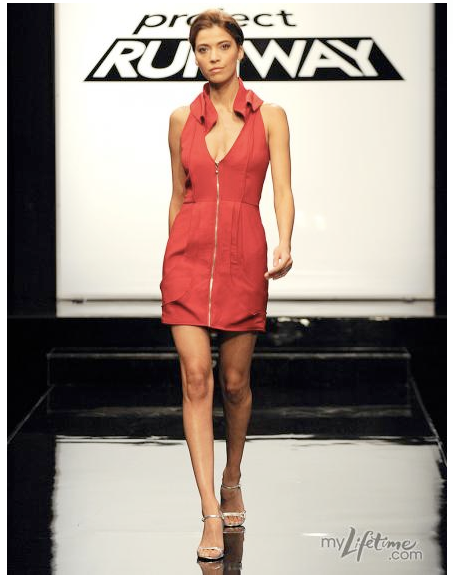 Valerie's 2nd-place design