How have you organized your stash?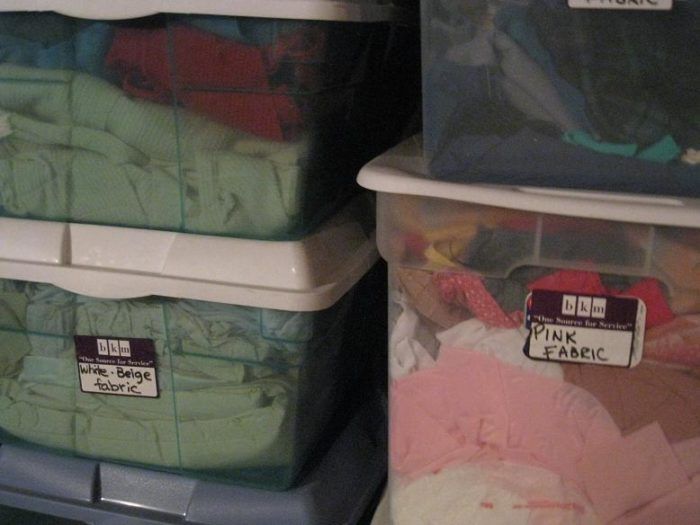 My Out-of-Control Fabric Stash
Although it wasn't a total surprise, I recently discovered that my stash had gotten totally out of control. I had fabric stored in our bedroom, in our basement as well as in two guest rooms and an office–a little here; a little there. I decided to consolidate all of it into color-coded plastic storage bins, and I was dumbfounded by how much fabric I actually had. Some I had purchased for specific projects that never came to pass; some of it had been given to me by sewing friends. Some had been in my mother's stash. I don't even remember the origin of many wonderful fabric pieces. I could probably sew for the rest of my life without buying a single piece of fabric–but I know I won't be able to resist adding at least a few new colors or fabric types to my collection.
The color-coded bins are stored in my basement, and although the bins work really well, in order to get to the bottom bin, I have to remove all of the bins above it. This can be daunting at times. I've thought about logging all of my fabric in a journal or other paper file and include small swatches, but I actually enjoy rummaging through the bins to select my next project. I know there are undoubtedly better ways to store huge amounts of fabric in a logical fashion, but so far this seems to work best for me.
Other Stash Solutions
Our Threads seamstress uses 5 or 6 metal lateral file cabinets to store her fabrics, lace and many notions. This method is ideal because the file cabinets fit in with our office environment.
One Threads reader, Judy Gordon, wrote to me explaining how she totally revamped her sewing room. She purchased kitchen cabinets from Ikea to organize her sewing life, and she's overjoyed with the way the room turned out. She especially loves the kitchen island cabinet that sits in the middle of her sewing room–complete with large cutting board on top. She's tall, and the island is just the right height to make cutting comfortable. In addition, the cabinet has lots of storage. She was able to choose the drawer sizes and shapes for all of her cabinets, and she picked them out with her notions, fabric and machine storage in mind. She has everything she could ever want close at hand and easy to find.
Another reader, Kirsten Ireland, sent me a photo of her pattern storage. She uses a 4-drawer lateral file cabinet, but she found one with moveable dividers. She adjusted them so that her patterns fit perfectly into each section. Now her patterns are as easy to access as they are in most fabric stores, and she no longer has to trip over plastic totes! Her husband also built her custom shelves to house her 170 bolts of fashion fabric. Her organization puts me to shame!
What great storage methods have you discovered? Have you tried ideas that ultimately failed? Have you used methods that turned out to be better than anticipated? Hopefully, we can all learn from each other's successes and mistakes.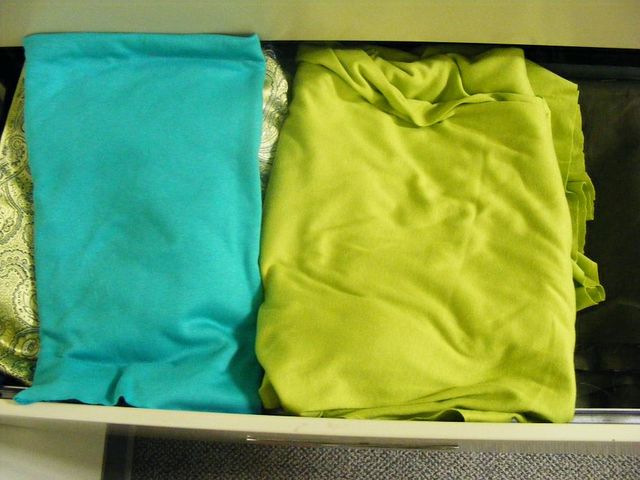 The Threads seamstress stores her fabric stacked in the drawers of a lateral file cabinet.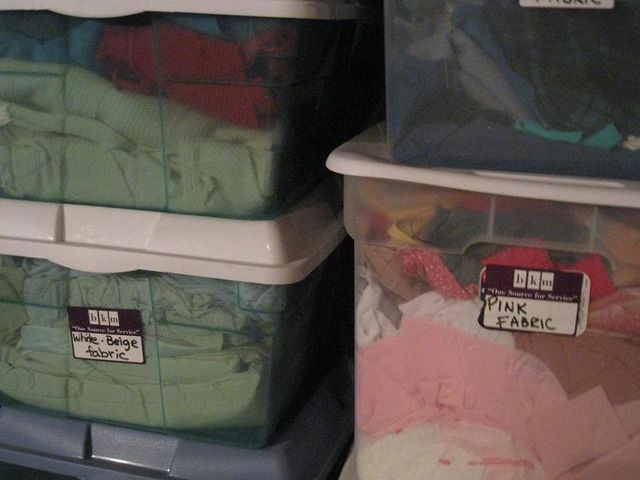 My stash is stored in plastic bins sorted by color.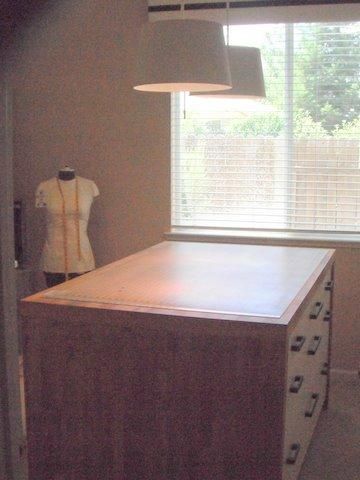 Judy Gordon uses an Ikea kitchen island cabinet as a cutting table. She topped it with a large cutting board.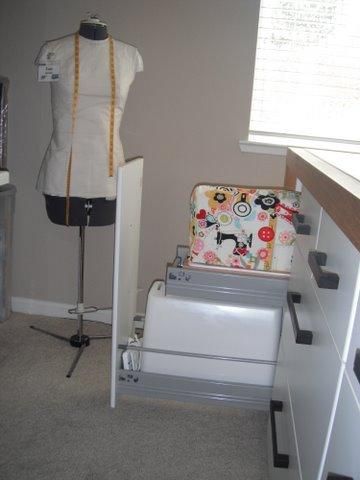 Judy Gordon was able to select the size and shape of the drawers in her Ikea cabinets. These work perfectly to store her machines.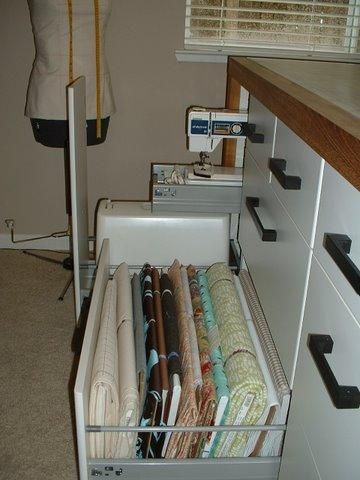 Judy stores her fabric in drawers. She cut cardboard to size so that the fabric-wrapped cardboard fits just right in the drawer.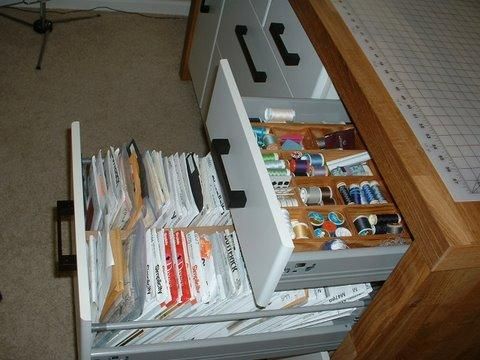 Judy selected drawers just the right size for her patterns and notions.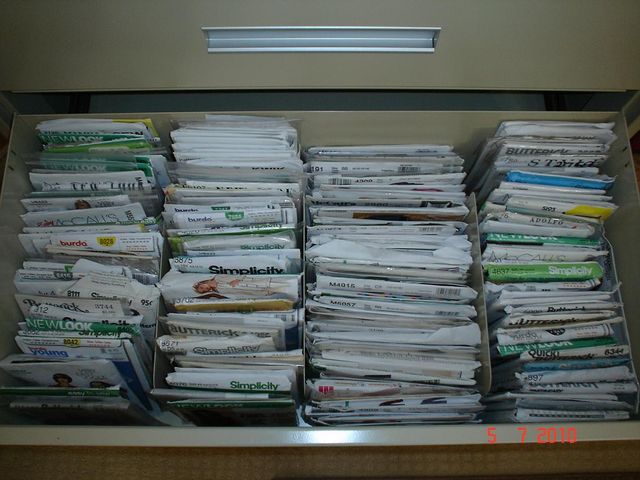 Kirsten Ireland uses a 4-drawer lateral file cabinet to store her patterns. Her cabinet has movable metal dividers which makes it easy to keep her patterns organized.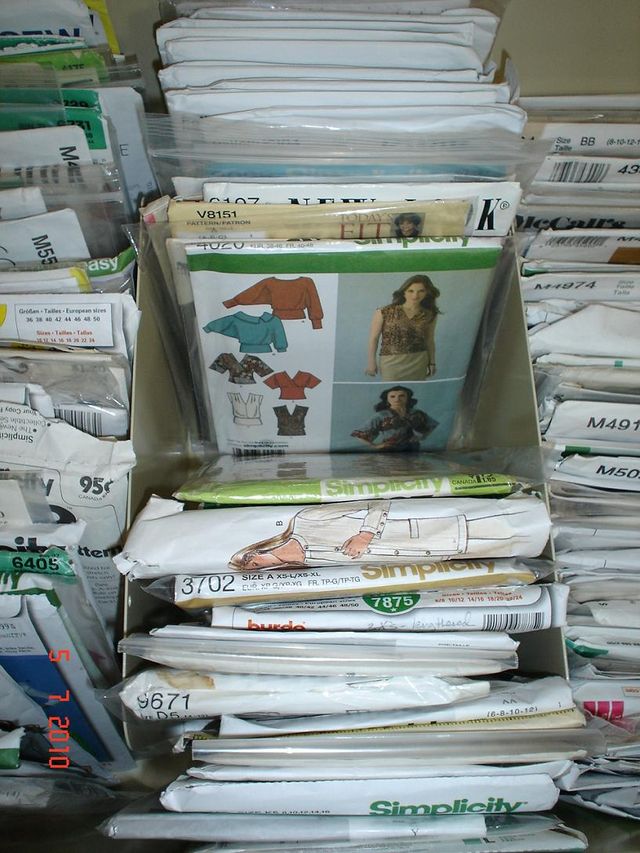 Kirsten Ireland can browse for a pattern from her stash with ease.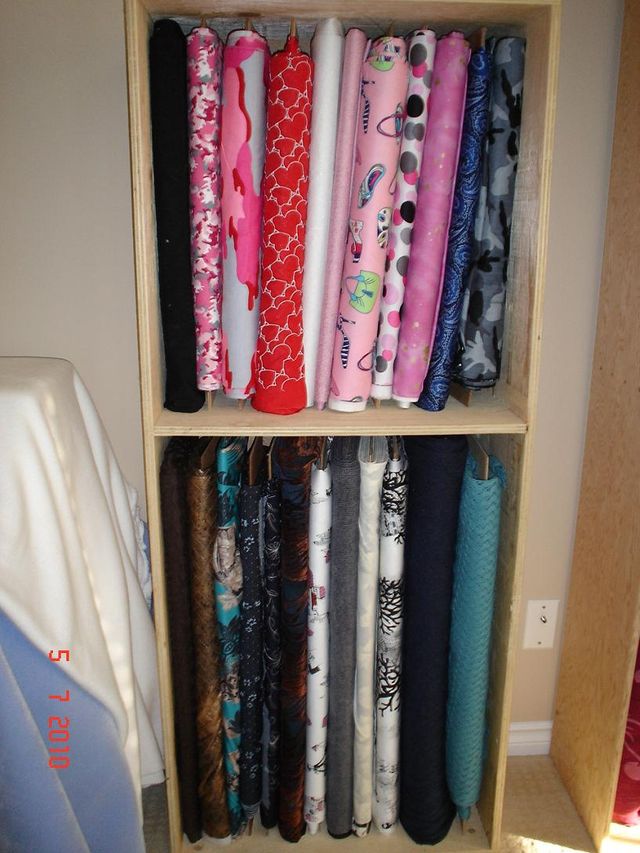 Kirsten's husband built custom shelves in her sewing room to store her fabric in clear view. It would be easy to plan a new project with fabric so plainly visible.