We Love Sewing all Year, but September is National Sewing Month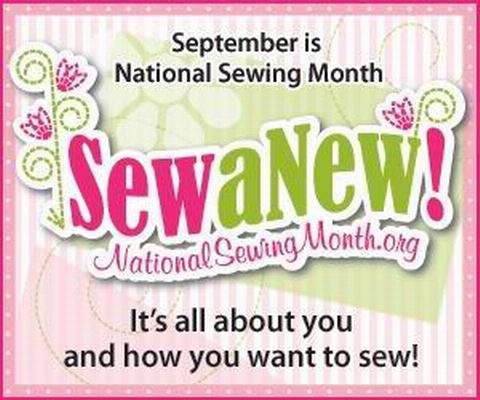 I never really thought about Ronald Reagan in connection with sewing before, but we have the former president to thank for declaring September National Sewing Month.
Back in 1982, President Reagan recognized the importance of home sewing. He proclaimed the month-long observance in recognition of home sewing's importance to the nation (Just think about it. It goes right back to Betsy Ross!) – and 28 years later, there's a lot to celebrate!
National Sewing Month is co-sponsored by the Sewing & Craft Alliance and the American Sewing Guild. The two organizations, with help from company sponsors, have planned fun events and contests to help everyone interested in sewing have a creative, inspiring September.

At NationalSewingMonth.org, you can find:
Free project tutorials – Create a ruffled wristlet with instructions from V.I.P by Cranston or a cute cover for your Kindle or iPad.
A creative contest – In the Accessorize Your Life Contest, you can sew a personal or home accessory (anything that could be used for convenience, attractiveness or safety) based on a pattern or your own design, and you could win one of three Jo-Ann Fabric & Crafts gift certificates.
Daily giveaways – National Sewing Month sponsors are giving away a prize every day during September. The giveaway of the day will be announced on the SEW-lutions blog each day – today's gift is an adorable brass scissors pin from Pure Whimsy Giftables.
Inspiration and education – the organizers say they've been working like "busy little seamstresses" to put together some really fun things to celebrate this year's National Sewing Month. As they put it, "September is a time to celebrate our passion, but we know the creative, therapeutic and calming effects of sewing are joys that we can celebrate throughout the entire year."
Have you been thinking about National Sewing Month? Tell us if you've got a special sewing project or plans for September.