Create an Illusion Mesh Edge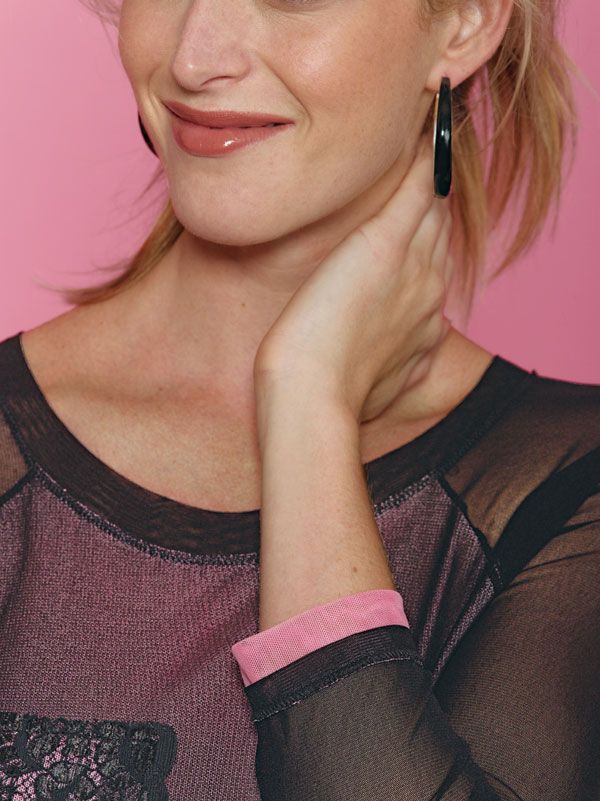 by Susan Lazear
This edge is a semitransparent, double-layered mesh band. You can see the seam allowances through the mesh. If the garment area you are finishing is curved, cut the mesh length 10 to 25 percent shorter than the edge you are finishing, and stretch it to fit as you sew. The percentage will vary depending on the degree of curve in the garment opening and your desired band width. This ensures the band lies flat against the body.

1. Cut the mesh strip. Measure your garment's edge, and cut a mesh strip with equal length. If your desired finish width is greater than 1/2 inch, reduce the length slightly so the folded top edge lies against the body. Cut it twice the desired finished width plus seam allowances.
2. Position the strip. Fold the strip in half lengthwise (if the fabric is slippery, baste the layers together along the center of the strip). With right sides together, place the raw edges of the mesh knit against the garment's edge. Stretch, as necessary, as you pin the band into place.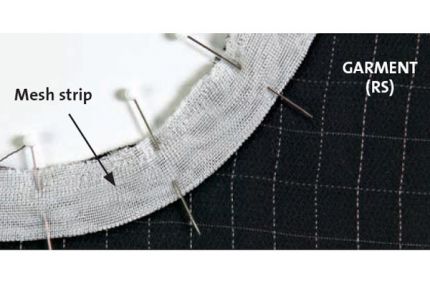 3. Attach the strip. With right sides together, stitch the strip in place along the seamline using your serger or a similar stitch on your sewing machine. Finish the short ends using your preferred method.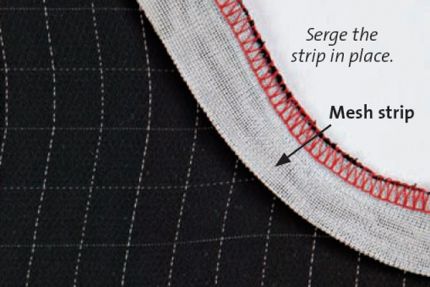 4. Press to finish. Press the band away from the garment. The seam allowance will show slightly, but that is part of the look.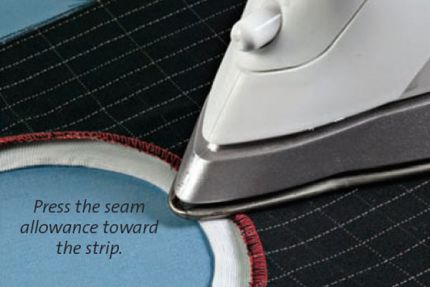 Create a triple-layer edge
Try altering the mesh strip technique to create a more opaque, triple-layer look (not shown).
1. Measure your garment's edge. Cut a knit mesh strip measuring three times the desired width, plus 3/4 inch. Make its length match the garment's edge or slightly shorter for curved edges.
2. Fold and press the strip in thirds lengthwise, being careful to press all parts evenly. If the fabric is slippery, baste the layers together down the center.
3. Pin the band in place on your garment's edge, with the raw open edge aligned with the neckline edge.Stretch it slightly, as necessary, to make it fit around any curves.
4. Stitch the band to your garment using your serger, or a similar stitch on your sewing machine.
5. Turn and press the band in place, pressing the seam allowances toward the garment. Edge-stitch on the garment, or stitch in the ditch, near the seam through all thicknesses to hold the seam allowance in place.
excerpted from "Edgy Alternatives," Threads #151, p. 58