Sewing Books Crop Up for the Kindle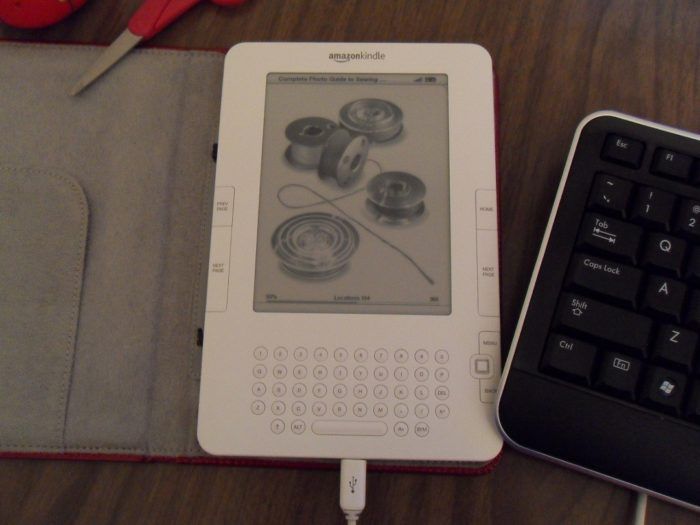 It's only been about seven months, and I've gone from first-ever personal sewing room to critical storage mass. I have to seriously consider each book and yard of fabric I'm going to add to the stash.
So I started to think about ways to save space. I knew my Kindle, the portable electronic reading device from Amazon, was like having a library within the space occupied by a single paperback book.
Most sewing books are so visual, however, I didn't think many would be available for my 2nd Generation Kindle with its 3.5-inch by 5-inch gray E ink display. I was surprised to discover more than 200 sewing titles available for the Kindle, many containing more images than I expected!
The positives
Price – Kindle books are usually about half of the list cost for a book's print version.
Free samples – Like Amazon.com's Look Inside feature, you can try a sample of a Kindle version of a sewing book you're interested in. Read the excerpt and decide if the book is one you'd like to buy. I also appreciate the fact that I don't have to have internet access to look at these samples. They are available, like the books themselves, through Whispernet, an international wireless network (I think it currently taps AT&T's network) that you can use without paying a monthly fee.
Accessibility – Because of the aforementioned Whispernet access, you don't need use the internet to get or research books.
Portability – Just think of the library you can carry in one Kindle!
Format options – Sometimes I use Kindle for PC to manage my Kindle library when I'm at home. That puts my Kindle library up for view and management on the computer. So I can see my Kindle library on the big screen, comparatively.
The drawbacks
Size – The Kindle pages are tiny, so you have to hit "Next Page" pretty often to follow a technique.
Layout – The images are very small and often separated from related text. In the "Complete Photo Guide to Sewing" (Creative Publishing), for example, several pages of text describing specialized sewing machine presser feet are followed by a single image. It's definitely not as easy to follow as a book, but it's solely the fault of the format.
And yet formatting brings me to the next point – I have a 2nd Generation Kindle – but there's newer devices such as the iPad, which has a large, color display. "Fine Embellishment Techniques" by Jane Conlon (Taunton Press) is also available in a wide range of formats, including Kindle for PC and the iPad, and the Kindle edition is optimized for larger formats.
I'd love to hear from someone who regularly looks at the sewing book offerings on Kindle. Or fill me in on the wonders of an iPad. Do you have any tips, tricks or recommendations for finding and managing sewing media?
---
If you are looking for Great Sewing Books, we have an collection of our favorites!