How about a sewing vacation to spark your creativity?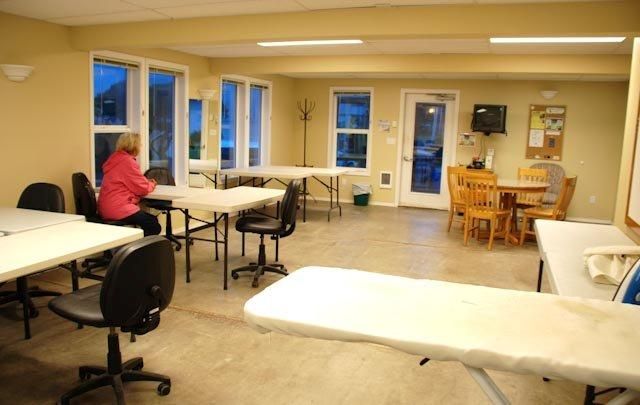 For a passionate sewer, a sewing vacation would be like receiving a very special gift. When Alyce Thomson, owner of a small inn on the Oregon Coast, realized that many motel/hotel managers were less than happy with the residue created by sewing groups, she filled the gap herself. At her Beachcombers Haven between Lincoln City and Newport, Oregon, she created a large room known as the "Sand Box" constructed specifically to house visiting sewing and quilting groups. A low-key operation, the facility is now gaining renown.
Where else can groups (ideally around 25 people) enjoy sewing and chatting while looking out at the crashing waves of the beach directly below the Beachcomber — or be able to work early in the morning or late at night in the Sand Box without disturbing people who are trying to sleep?
Alyce got the idea of creating a specialized meeting room when she, a veteran sewer, was at a group gathering in Irvine, California. "We had to stop sewing in late afternoon, just when we were dying to try out some new techniques we had learned. I thought, hey, I could invite them to my Beachcomber Inn for three or four days at a time. We called ourselves Sew Much Fun and 12 to 15 of us met every November thereafter. But then I had to move all the furniture out of one inn room each year to accommodate the group. My husband grew tired of providing the muscle, as did I."
After a conference with a local architect, Alyce merged four carports to create the handicapped accessible Sand Box. It's equipped with every sewing necessity, including cutting boards, large windows and bright overhead lighting. Since the groups bring their own machines, there are plenty of electrical hook-ups. A bathroom and small kitchen meant only for snacks (no food except catered food is provided by the inn) are provided. Comfortable rolling chairs and wide ironing boards complete the efficient setup. "And no more moving furniture out of a unit every time a group wants to come!"
Loosely structured sewing and quilting groups as well as more organized groups have all used the facility with great success. A typical meeting lasts about five days, and all guests have their own bedrooms for quiet time and privacy. The early birds and night owls can enter the Sand Box any time, as each guest has her own key. They can safely leave their machines and materials in the room, if they wish.
A sewer typically works about three hours in the morning and again in the afternoon. Then she may explore the town for good restaurants or walk on the hard, sand beach for awhile. Often a group brings food, fixes and shares it. A catering company, Oregon Coast Catering, is available, too. Manager Kris Knudsen says, "There is a lot of camaraderie. Some of the women spend the afternoon shopping or sightseeing. They make their own schedules and go back to their own rooms, as they wish. It's a perfect vacation spot with beach activities, glass blowing shops, dune buggy rides for the adventurous, and even golf—all sandwiched between hours of sewing and chatting with others. There are hot tubs and a deck above the Sand Box as well."
Alyce herself is just a benign host. She leaves the guests to their own devices or mingles freely, if she feels that's what they want. She still likes to sew but, instead of creating garments as she once did, now she creates placemats, napkins, or wall hangings and usually gives them away. As she says, "I stopped sewing for my grandchildren when the age of blue jeans and tee shirts came along."
Courtesy of JoAnn Roe, Bellingham, Washington

Get the latest including tips, techniques and special offers straight to your inbox.