Teach Yourself to Sew – the magazine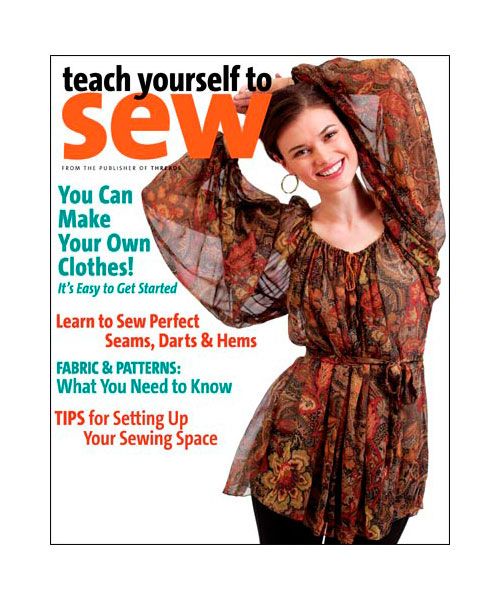 It's back from the printers and on its way to a newsstand near you.
If you have been wanting to learn how to sew (or you know someone who is just starting out) watch for Threads' latest publication: Teach Yourself to Sew. This issue is for anyone who wants to learn, and it's a great refresher of the basics for everyone else. The information it contains, combined with a pattern guide sheet, can have even the inexperienced sewer sewing garments in no time.
Start with the sewing essentials
In this issue, we start from the ground up telling how to transfer key information from patterns to fabric, set up a sewing space, and drive the sewing machine. We explain how to press and even show how to make a few pressing tools. There's also a step-by-step guide for making your own dress form.
Learn to make garments
All the fundamental skills for using seams, darts, hems, facings, and edges are explained, as well as interfacings to make your own one-of-a-kind garment. Read about the fabric fundamentals such as its grain—what it is and how it works for you. You'll learn about patterns and all of the different sources for them—from commercial patterns to hand and computer drafted patterns and draped designs. There's also an explanation about ease so you can make sense of the sizing systems patterns use. We even show how to make two garments without a pattern and then turn each one into six more garments (twelve total).
Get time-tested advice from the experts
You'll find easy fitting solutions, ways to conquer tricky stitching, and things about buttons you never knew. Plus, there are pages of quick reference for choosing the right needle and thread, how deep to make a hem allowance, how the pant leg width influences its length, how hot to set your iron, where to take measurements, and more. We'll also introduce you to a variety of sewers–from all ages, genders, and histories. Their stories are inspiring and their talent amazing.
How to Get it
This magazine is packed with information and is one you'll want to keep in your library. It is getting rave reviews and is an incredible value for $6.99. If it doesn't last on your newsstand visit our store to order your copy. While you're there check out the Teach Yourself to Sew DVD. The DVD is the perfect companion to this special issue. Together they're a wonderful resource for the beginning or returning sewer.