MAGAZINE AND DVD GIVEAWAY: "Teach Yourself to Sew"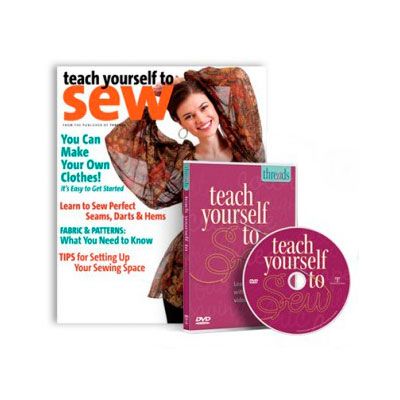 Teach Yourself to Sew—the magazine
Threads has just published two must-have products for anyone who either loves to sew or wants to learn to sew. Even those who have been sewing most of their lives find new nuggets of sewing information in the magazine Teach Yourself to Sew (available at ThreadsMagazine.com; $6.99). It's a fabulous refresher for those who already know the basics, but it's a sewing bible for anyone who's just beginning.
Teach Yourself to Sew—the DVD
The Teach Yourself to Sew DVD (available at ThreadsMagazine.com; $24.99) is also filled with terrific sewing information, but it's presented in video format. Our Technical Editor, Judith Neukam, demonstrates the essential techniques used in the garment-sewing process. The 2-1/2 hour DVD features 30 separate step-by-step video lessons. In no time you'll be sewing like a pro after watching the demonstrations.
You could win a combination set!
The magazine/DVD combined set is also available ($28.75) including both the Teach Yourself to Sew magazine and the Teach Yourself to Sew DVD. Two lucky winners will receive this fabulous set.
Simply leave a comment on this post before the deadline—11:59 pm, Sunday, November 7—and you could be one of the TWO randonly-selected winners. The winners will be announced on Tuesday, November 9.
Good luck!