Find Inspiration in Amazing Artisan Textiles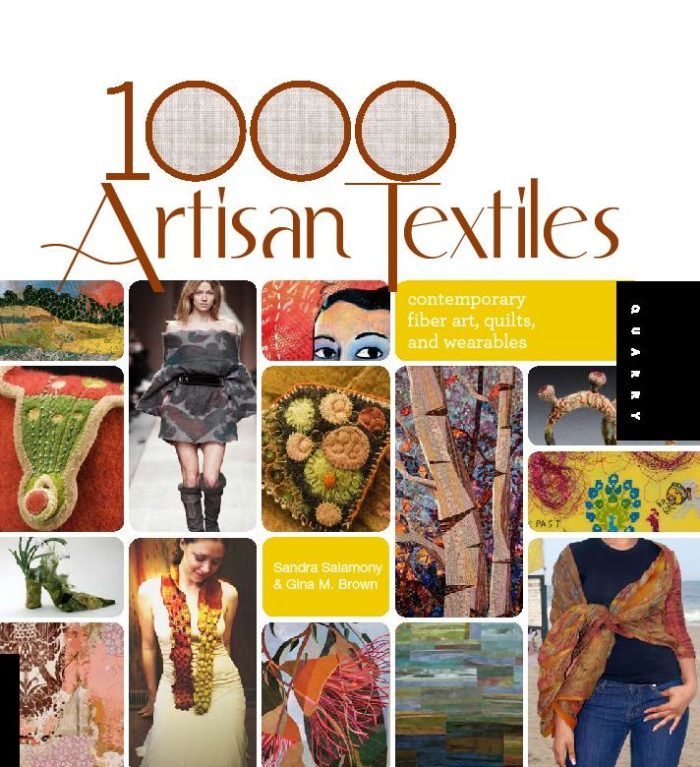 One of sewing's joys is that it brings you into a different, deeper relationship with textiles. When you simply buy a garment, you just know a fabric as it feels to be worn. With the exception of alterations of course, you haven't had the chance to get to know it through cutting, pinning, sewing, trimming, and so on.
The artists featured in "1,000 Artisan Textiles: Contemporary Fiber Art, Quilts, and Wearables," have taken the process a step further, making and manipulating textiles for unique and beautiful garments.
The authors, Sandra Salamony and Gina M. Brown, are sisters. They previously collaborated on the book, "1,000 Ideas for Decorating Cupcakes, Cookies & Cakes" and Sandra wrote another "1,000" book, "1,000 Jewelry Inspirations: Beads, Baubles, Dangles, and Chains" as a solo effort. Their books are published by Quarry Books, part of the publisher's "1,000" series – which includes other books of interest to Threads readers, including "1,000 Garment Graphics" by Jeffrey Everett and "1,000 Poses in Fashion" by Chidy Wayne. Quarry Books is also the publisher of Threads Contibuting Editor Kenneth D. King's "Cool Couture."
In the introduction, Sandra explains how she and Gina called for entries from around the world: contacting teams on Etsy, reaching out to well-known artists directly, and sending out a general call to accumulate magnificent examples of fascinating textiles made from wool, silk, mixed media and more, as well as the techniques used to embellish and mix materials into works of art, from hand- or machine-stitching to dyeing and painting techniques and much more – enough to create 1,000 examples, after all.

"Every piece, whether meant for your home or your wardrobe, reflects a strong personal style: Simple and charming, modern and striking, complex and highly detailed," Sandra writes in the introduction.
An appealing aspect of the book is that it jumps the sometimes rift between garment sewing and quilting. There are five sections: "Wearable Art & Couture," "Fashion Accessories," "Soft Furnishings & Vessels," "Tapestries & Display Art," and "Art Quilts."
The photography is excellent, too, with overall photographs plus nice and close detail images as well, so that the reader can see some technical ideas and draw real information about each item. "1,000 Artisan Textiles" was published in May 2010, and I firs saw it when Mesee Wilson of Fabric Gallery pointed it out to me at the American Sewing Expo in Novi. She recommended it as a great new book for creative sewing inspiration. I've been thinking about it ever since I had that chance to flip through the pages, so I wanted to pass on the tip.
What are you reading (besides Threads of course!) that's sewing-related right now? Are there any new books you'd like to recommend to others or draw to our attention?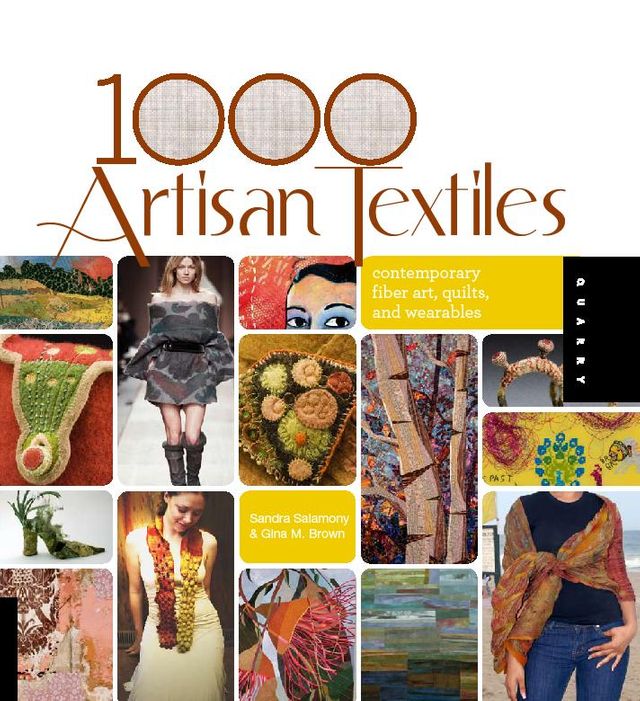 "1,000 Artisan Textiles: Contemporary Fiber Art, Quilts, and Wearables" was co-authored by sisters Sandra Salamony and Gina M. Brown and published by Quarry Books.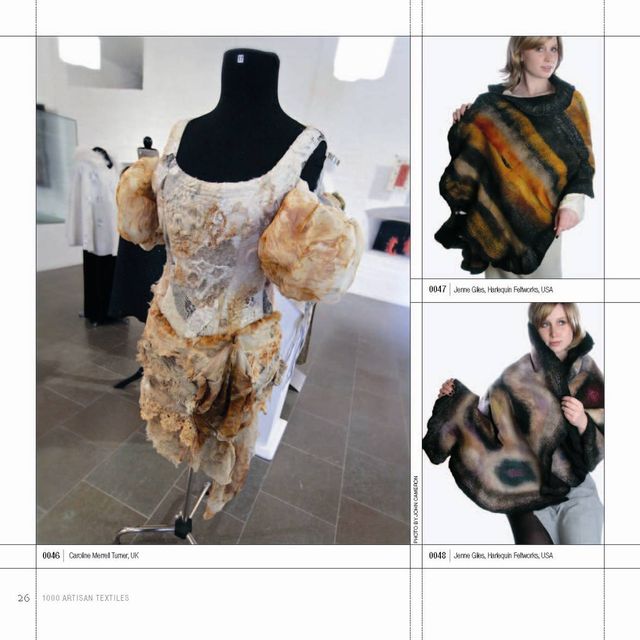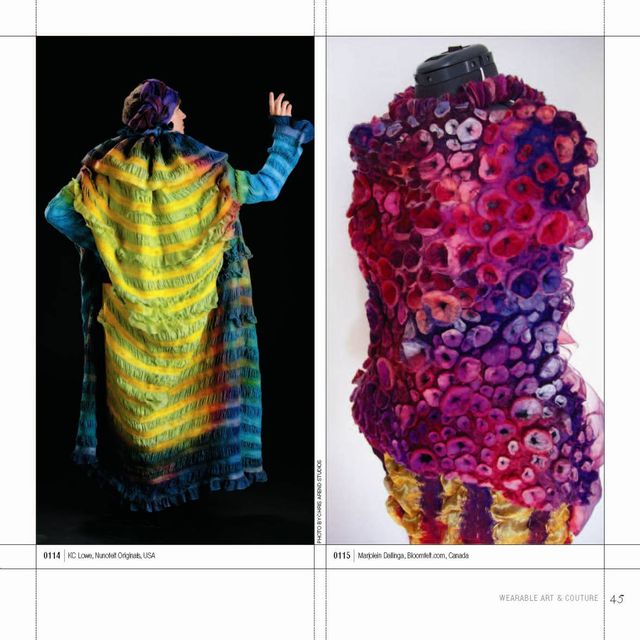 At left, this rippling robe reminds me of exotic birds' plumage. It was created by KC Lowe of Nunofelt Originals in the United States. At right, a dress by Marjolein Dallinga of Bloomfelt.com in Canada, brings to mind brilliant undersea reef creatures and plants.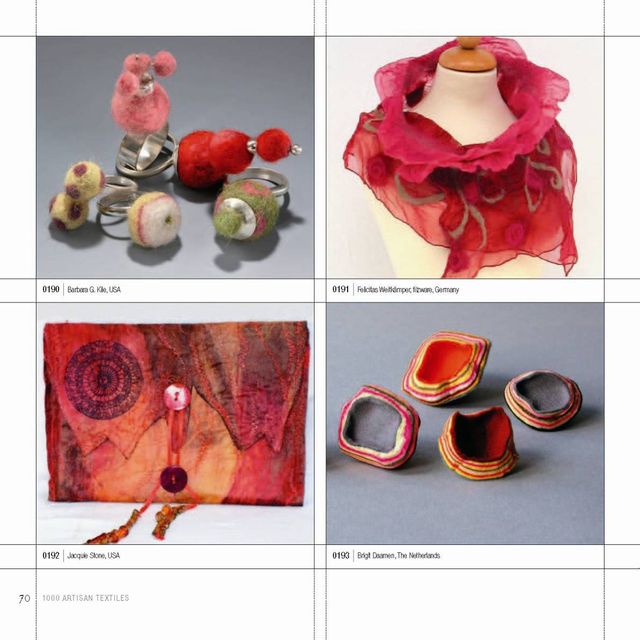 Fiber artists from the United States, Germany, and the Netherlands created the accessories on this page from "1,000 Artisan Textiles."